This Butter Chicken Mac and Cheese Recipe Will Be Your New Craving
Chef Gaurav Anand's spin on the classic dish is a satisfying kid- and adult-approved comfort food.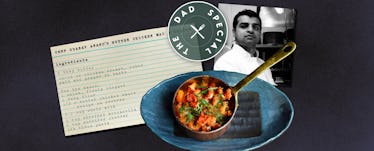 Chef Gaurav Anand has a simple rule when cooking for kids: "Keep it uncomplicated." That is, use simple ingredients that kids can relate to. And, when the need for subterfuge is necessary, don't be afraid to disguise the healthy stuff with simple marinades or the use of an air fryer.
Tried-and-true advice. It also doesn't hurt to have a few go-to dishes on standby that you know kids will enjoy. And Anand's recipe for Butter Chicken Mac and Cheese, a recipe he often makes for his 4-year-old son, Rhyal, is a potential keystone for that list — a creamy, crunchy Indian-inspired spin on the classic dish.
"It's so comforting," says Anand. "We're taking something simple like mac and cheese and elevating it several levels by adding a few ingredients. It's kid-friendly but also gourmet, so it really works for everyone."
Anand is chef and owner of three acclaimed Indian restaurants in New York City (Bhatti Indian Grill, Moti Mahal Delux, and the recently opened Baazi), two restaurants in India (one in Goa, and another in New Delhi), and the high-end catering company CGA. The empire and recognition are all part of a dream realized — Anand came to the United States 12 years ago with the goal of making a name for himself in the New York restaurant scene. But the work means that he often misses meals at home during the week.
"I love coming home after a really long day, after working 18 to 20 hours, and having Rhyal run to me calling me 'Dada,' " says Anand. "My time alone with him is precious, and I love spending time with him on weekends. We also get to travel as a family a lot which gives us more time together."
Weekend brunches are a big father and son bonding session. Anand's home menu for Rhyal includes such staples as maggi noodles (the Indian version of ramen), grilled cheese with vegetables, a simple daal loaded with veggies, and Rhyal's favorites, roti and paratha. Also in rotation are American breakfast items that feature an Indian twist. Gram chickpea flour "chilas" — similar to traditional flapjacks but packed with more nutrients — and a savory version of French toast with vegetables.
"There's a lot of engagement with my son since he's so curious and inquisitive," says Anand. "He likes to help with mixing things, cracking eggs, and adding ingredients."
Eating the meal can sometimes be another matter. Anand says Rhyal is a very picky eater, and time at the table often sees him entertaining his son with Legos and action figures. "That's how he gets bribed into eating his meals."
What parent hasn't been there?
But Anand doesn't have to do much bribing when his Butter Chicken Mac and Cheese is on the table. Rich and fragrant, the recipe sees the classic chicken and spiced tomato curry sauce melded with that how-can-you-go-wrong combination of noodles and cheese. While making the sauce from scratch is a bit of an intensive affair, it's worth it. However, you can save time — and some ingredient hunting — by substituting a store-bought version. (Anand prefers Maya Kaimal.)
Anand says to feel free to adjust the base recipe so it's more to your kid's liking. Add chopped spinach to make it healthier, or more spice to give it some additional heat. Just don't complicate it too much.
Butter Chicken Mac and Cheese by Chef Gaurav Anand
Serves 4 to 6
Ingredients
2 tbsp butter 10-12 oz chicken breast, cubed Salt & pepper to taste 1 onion, finely chopped 1 tablespoon flour 1 and 1/2 cup milk (whole milk is best) 1/2 cup butter chicken sauce (recipe below) 2 cups shredded mozzarella and cheddar cheese (roughly 1 cup of each) 1 box elbow pasta, cooked per instructions (Don't overcook the pasta as it will cook more in the oven) Coriander leaves, to garnish (optional)
Directions
Preheat oven to 350 degrees.
Melt the butter in a large skillet.
Add the chicken and cook for 3-5 minutes. Remove from the pan and set aside.
Add the onion and sauté over medium heat until translucent, about 2 minutes.
Stir in the flour.
Whisk in the milk gradually so it doesn't clump or curdle.
Whisk in the butter chicken sauce (see recipe below).
Whisk in the mozzarella and cheddar cheese.
Once the cheese has melted into the mixture, stir in the cooked elbow pasta and the cooked chicken.
Sprinkle some more cheese and breadcrumbs on top.
Place skillet in oven and bake for 15 minutes, until the cheese is brown and bubbling on top.
Garnish with coriander.
Butter Chicken Sauce
Yield: 3-4 servings
Ingredients
4 tsp Amul butter or oil
Whole spice mix: 1 bay leaf, a few black cardamom pods, 4 green cardamom pods, 3 dried red chilies 3 large onions, peeled and diced 9 medium tomatoes, chopped 4 tsp ghee 1 tbs fresh ginger, chopped 8-10 fresh green chilies, chopped 1 tbsp garam masala 1 tsp jeera powder Red chili powder 2 tsp kitchen king spice blend 1/2 tsp cumin powder Salt to taste 3 1/2 tbsp butter 1/4 cup fresh cream Fresh coriander
Directions
Place the Amul butter or oil in a pan and heat it up.
Add the whole spices mix and sauté for 30 seconds.
Add the onions and sauté till golden brown.
Add the chopped tomatoes and let cook for a good 20 minutes.
Add the ghee and all the spices and salt to taste.
Transfer this mix to a blender and blend for 2 minutes — you will see the color of the sauce has changed.
Strain the blended sauce into a pan until the whole masala residue is left in the sieve.
Cook the strained sauce over medium heat, (if you are making butter chicken, you'd add the chicken, marinated prior to making the sauce, at this point), add butter and heavy cream. Cook, stirring until the ingredients are incorporated and sauce thickens. Garnish with fresh coriander.