What to Do When You're Bored at Home: 56 Things to Watch, Play, Listen to and Learn From
Cooking classes. Streaming workouts. Concerts. Brand new brought-to-you-by-quarantine content. Here's what to check out.
by Fatherly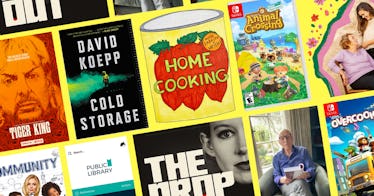 Thanks to coronavirus, the world outside has, for many of us, been postponed. That leaves us with the Internet. And books. And video games. But mostly the Internet. Luckily, there is a ridiculous amount of stuff online to keep us occupied when bored at home: Movies. Streaming workouts. Cooking classes. Concerts. Brand new brought-to-you-by-quarantine content. There's a lot being offered right now. So, where to start? What to watch? What celebrity live-stream to tune into? What to play? What to hear? That's why we came up with this list. It features a variety of things to do, movies to watch, books to read, albums to listen to, classes to take, projects to try, and weird random Internet ephemera that, we hope, keeps you occupied and sane during these weeks ahead. Take a look and come back often — we'll be updating this list regularly with more interesting stuff to occupy your time.
TUNE IN TO: Tip Your Wait Staff on Instagram TV every day at 2 p.m. EST. To help raise money for the staffs of now-closed comedy clubs, comedian, and modern-day chronicler of dad life Mike Birbiglia is having conversations and workshopping jokes in real time with such fellow comedians as Roy Wood Jr., John Mulaney, Maria Bamford, and Nikki Glaser on his Instagram. Tuning in feels like overhearing delightful banter between funny, clever friends. And that's exactly what it is.
TOUR: Our National Parks. "The Hidden Worlds of the National Parks," a joint venture between the National Park Service and Google, lets you virtually wander around some of the most beautiful protected areas in the U.S, from the surreal spires at Bryce Canyon National Park in Utah, to the white sand beaches (and abandoned jail) of Dry Tortugas in Florida, to the green-splendor of Hawaii Volcanoes National Park.
RIDE: A Rollercoaster. A bunch of great front-row-point-of-view videos of Rollercoasters are on YouTube, ready for you to experience virtually. Our favorites include the Incredicoaster at Disney's California Adventure, the Manta Flying Coaster at Sea World in Orlando, the Sky Scream in Germany, to the Takabisha coaster in Japan. Make like this dad and put your kid in a laundry basket and hold them up to the screen to simulate the experience.
PLAY: Pub Trivia. Pub Trivia is a religion in the UK. Now, some pubs are bringing services online. Every night at 7pm (which means every U.S. weekday at 2 p.m EST) the team from Edinburgh-based Goose's Quizzes is live-streaming some trivia sessions on Instagram. People can fill out answers on a google form to play along and win prizes. But the real joy is partaking in some very Scottish trivia while chatting with a bunch of various people around the world. Yeah, you'll probably want a pint in front of you.
LIVE-STREAM: An Intimate Concert. In light of coronavirus, Rolling Stone started a new series called "In My Room". Every day, a new musician or musical group tapes themselves performing a 10-minute or so concert in their home. And it ain't a bunch of nobodies: So far, they've featured Brian Wilson, Graham Nash, John Fogerty, Nicole Atkins, and more all performing intimate concerts.
WATCH: Tiger King: This Netflix documentary television series about Oklahoma zoo-owner Joe Exotic and all of the people drawn into his atmosphere is a series too strange to believe. We won't spoil it. But there are lions, tigers, murder, tattoos, mullets, animal-themed music videos and one of the craziest cat ladies you ever did see. It's perhaps the only reality that is weirder than our own current one — and somehow, that's comforting.
READ: Cold Storage It might be strange to read a book that centers around a virus-like organism that could end humanity. But in this tight thriller by Jurassic Park screenwriter David Koepp has all the beats of a popcorn flick. It's also fun, too-silly-to-believe, and a great way to kill a few days with a Kindle.
LISTEN TO: "Home Cooking:" A new "emergency" podcast by Salt, Fat, Acid, Heat star and author Samin Nosrat, Home Cooking offers advice and tips on how to make delicious meals with the items that are in your pantry. It's great.
TOUR: NASA Mission Control with the Space Center Houston app. The free (!) app from NASA allows you to wander around mission control, take audio tours, and more.
LEARN SOME GUITAR: In an attempt to #flattenthecurve, Fender is offering three months free of their Fender Play tutorial service. It offers lessons for all types of guitarists in a variety of styles, from acoustic to heavy metal. Rock out.
PLAY: Exploding Kittens. The popular card game, which is sort of like UNO except there are, well, exploding kittens that you must defuse before they blow and eliminate you from the game, has an app. Get your friends to play, FaceTime to talk some trash as you compete to enjoy a game night from home.
PLAY: Animal Crossing: New Horizons. The chillest of chill games, this sequel to the wildly popular Animal Crossing lets you hang out with friends on relaxing island. Players create avatars and live among the humanoid animals who populate the island. Players can scavenge for materials, construct houses and other buildings, and interact with the various characters. Did we mention it's super chill? Play along with the kids or just escape there yourself.
MAKE Pasta with an Italian Grandma. Nonna Nerina, who lives in outside of Rome and runs one of the most popular pasta-making classes for tourists, is now offering her "Pasta with Grandma" classes online. The 84-year-old Nonna doesn't mess around.
GET PRISON FIT: with Conbody. Coss Marie, a former drug kingpin and three-time felon, devised a workout system that helped him stay in shape in a very small, confined space. The company offers live streamed and pre-recorded workouts ($9/month) to stay fit.
BINGE: Community. All six seasons of this NBC comedy, which spawned from the brain of Dan Harmon, just hit Netflix. It's well worth a deep dive. Starring Joel McHale, Alison Brie, Gillian Jacobs, Donald Glover, Chevy Chase (well, until he left), and a cast of fantastic characters (including the one and only Jim Rash as Dean Pelton), this show is one of the weirdest, funniest, sweetest, most inventive comedies on television.
FREE YOUR MIND. Or at least try to with UCLA's free guided meditation courses. The university offers a number of meditation workouts, from simple breathing exercises to those that intend to help you evaporate work stress.
GIVE CONGRESS A HAND: The Library of Congress' By the People project lets citizens lend a hand by transcribing, reviewing, and curating items from their digital archives in the hopes of building a deeper archive of American history.
SIT FRONT ROW AT THE NATIONAL THEATER: Every Thursday at 7p.m. EST, London's famed National Theater will upload one free-to-watch-for-a-week production under the name "National Theater at Home." The first, One Man, Two Guvnors launched the career of James Corden. But if farce isn't your thing, there will be uploads of everything from their acclaimed runs of Hamlet, starring Benedict Cumberbatch, Coriolanus, starring Tom Hiddleston, and more.
STREAM: Jeopardy! The quiz show, streaming on Netflix, might be boring in its incredibly routine format. But there's something so damn comforting about the combination of Alex Trebek's soothing voice, the bloop-bloop-bloop sound effect that happens when the categories are announced, and focusing your brain on questions that aren't of the COVID-19 kind.
TRACK GIRAFFES IN KENYA. Seriously. Wildwatch Kenya, an open-source opportunity for Internet users all over the world to look at — and classify — field photos of various wildlife captured by trail cameras in hopes of helping the conservation efforts.
BROWSE YOUR LOCAL LIBRARY with Libby. The library app lets you access digital downloads from your local library. It's great for audiobook lovers and e-book readers and even allows you to place holds on popular items and will automatically download them to your device once the book is checked out.
GET FIT LIKE THOR with Chris Hemsworth's Centr. The fitness app started by Hemsworth has a free six-week membership. It features workouts, advice, and nutrition plans starring he of Asgard.
FIND THE SECRET TO HAPPINESS with "Psychology and the Good Life." One of the most popular courses to ever be offered at Yale University, PSYCH 157 as it's known, is taught by professor Laurie Santos and delves into big questions about finding meaning, happiness, and fulfillment in life. Titled the Psychology of Well-Being, the class is now being offered for free at Coursera.
STREAM: Free concerts and stand-up on Stageit. In the days before quarantine, Stageit has been live streaming performances from a large variety of artists and comedians. Just go to the site and choose one to watch from the comfort of your couch.
ATTEND A CLASS: at Harvard. Want to learn about moral and political philosophy? Understand the human response to conflict and disaster? Brush up on your quantitative reasoning skills — or just understand what the hell those words actually mean? Harvard offers these and many more classes online that you can enroll in for free.
PLAY: Cards Against Humanity online. The wildly popular party game, which is like Apples to Apples except the cards have way more sex, swear words, and weird prompts, can be played online with up to six people. Simply head to this link to get started. It's not as fun as the real-life game, but with a web cam set up to chat, it can feel pretty damn similar.
WATCH: Baseball. Our National Pastime might not be on, but Ken Burns' Baseball is online to stream. The 1994 documentary is fantastic. And oh-so-soothing.
LEARN: How to be a Disney Imagineer. Khan Academy and Pixar joined forces to launch "Imagineering in a Box", a free course that offers lessons and advice on Disney park design as well as a behind-the-scenes look at everything from how they created their rides and theme park attractions.
HAVE DINNER: with a comedian. Jim Gaffigan, bard of Hot Pockets and schlubby, tired dads everywhere, is live-streaming his family dinners every night on his YouTube channel. In "Dinner with the Gaffigan's", which is airing on YouTube every night, Jim, Jeannie Gaffigan and their five — count 'em five — kids congregate to eat dinner and act silly in their Wisconsin home. And yes, there are a lot of brats.
LISTEN TO: "The Dropout". The podcast tells the wild, brain-scrambling story of Theranos founder Elizabeth Holmes, the once-darling of the startup world who said she had created a simple, affordable testing kit that could determine a host of diseases from one drop of blood. Come for the fall from grace. Stay for the absolutely wild Silicon Valley stories.
WATCH: MTV Unplugged at Home. Similar to Rolling Stone's "In My Room" series, MTV is airing intimate live-streamed acoustic performances from a variety of artists. The shows will be available on MTV's YouTube, Twitter, and Instagram channels. So far Wyclef Jean, Melissa Etheridge, Shaggy, FINEAS and more artists have agreed to appear.
FIND YOUR CENTER: with JB Smoove. The comedian, best known for his stint on Curb Your Enthusiasm, launched Guided Meditation with JB Smoove on Instagram TV. It's meditation, but with a lot of swearing (As soft music swells, he begins the three-minute session with "It's time…to get on your ass") It's exactly the kind of expletive-laden relaxation we could all us right now.
READ A STORY: with Josh Gad. Every evening during quarantine, the comedian and voice of Olaf in Frozen is reading a children's book on Twitter. Just let it go and give it a try.
LISTEN TO: "Staying in With Emily and Kumail." Emily V. Gordon and Kumail Nanjiani, the married writers, actors, and comedians who are no strangers to the podcast world (they previously hosted the podcast "Indoor Kids"), launched this podcast during quarantine. In it, they offer tips for avoiding cabin, recommend movies, books, and games, and engage in witty banter.
WATCH: "Some Good News." John Krasinksi, who some of you may recognize from a show called *checks notes* The Office?, launched this YouTube channel to highlight some positive news stories from around the globe. It features inspiring stories and check-ins with special guests like Steve Carrell.
PLAY: Mario Kart Tour. Mario Kart is perhaps the most universally beloved game of all time. Mario Kart Tour brings the action to anyone with a smartphone or tablet (free-to-start on iOS and Google Play devices) and features all the wild cartoonish characters and tracks that make the series so much fun for all ages. Recently — and talk about good timing — Nintendo updated the app with multiplayer. So, hit the gas and work out some family grievances on the track. Wa-hoooo!
LISTEN TO: "Murder Most Foul." Bob Dylan, yes that Bob Dylan, dropped this nearly 17-minute track last Thursday. It's a big, complex, poetic, and genuinely beautiful song about the murder of President John F. Kennedy. Listen to it. Then listen to it again. Then kill some more time trying figure out all the allusions baked into the track.
ESCAPE with Echoe Mine, the new album by Califone. Califone is one of those bands that sneaks up on you. Their sound — atmospheric, twangy, full of percussions, capped with the beautiful voice of Tim Rutili— is absolutely unique. Echoe Mine feels like a walk in a foreign land, which is exactly where we are right now.
WATCH: Sharks, otters, and more aquatic life do their thing. California's Monterey Bay Aquarium offers has 10 different live streams, including an aviary cam positioned on the aquarium's ocean-view deck to see ocean birds; a Kelp Forest Cam, which features, among other things, looks at leopard sharks and sardines; an Otter Cam, which looks out on Abbi and the other famous sea otters at the museum; and a Shark Cam, which, well, shows off their finned family. Best of all might be the Jellyfish Cam, which provides a rare look at pods of the invertebrates bouncing around in their tanks.
ENJOY SOME BEATS: At Club Quarantine. *Stefan voice* The coolest club in New York right now is…Club Quarantine. Famed DJ D Nice started a live-streamed dance party from his Bronx apartment on Instagram TV called Club Quarantine. Last weekend, hundreds of thousands of people tuned in to enjoy the tunes Nice spun, including Will Smith, Michelle Obama, Queen Latifah, Mary J. Blige, and more. Better than the actual set is watching Nice's reactions when he sees who pops up in the chat. "Michelle Obama! FLOTUS in the house!"
READ: The Wax Pack: On the Open Road in Search of Baseball's Afterlife. Writer Brad Balukjian bought a pack of Topps baseball cards from 1986. He opened up the eBay-purchased pack, and in 2015, drove cross country, following up with 14 baseball players from said pack 30 years later. Like all good sports books, this isn't really a book about sports. It's about fathers, sons, life, and lessons therein. It's a great read.
WATCH: Battlestar Galactica. One of the best space-operas to ever air, BG is a rich, entertaining exploration of everything from intergalactic politics to religion to marriage. It's also constantly surprising, realistic, and full of the well-crafted Sci-Fi escapism that we all need right now.
CHECK OUT: "Martin Guitar Jam in Place." The guitar company is also getting into the live-streamed concert game, asking a variety of brand-players to perform sets from their home. It's worth tuning in for Bluegrass Artist Molly Tuttle alone, who casually lays down some seriously skilled acoustic playing.
JAM OUT TO: Real Estate. Real Estate is the best background music you'll ever put on. That's a compliment. There's nothing offensive in their chill, catchy tunes that jam on and on. The new album The Main Thing is like a pleasant afternoon walk on the beach.
UP YOUR CULINARY SKILLS: With Naveen's Cuisine. Chicago Chef Naven Sachar has been teaching private online cooking classes for nearly two decades. Get in touch and you can arrange a private lesson for a group of your friends online.
TAKE IN A BROADWAY SHOW: on BroadwayHD. The platform offers a free 7-day trial with which you can stream musicals and plays that have appeared on the big stage.
JOIN: A boot camp. Beloved group fitness class Barry's Boot Camp is offering free workouts twice a day on their Instagram TV channel. One is all body weight; the other utilizes exercise bands.
MAKE: The Retox. A riff on the Margarita by NYC Bartender Sother Teague, author of I'm Just Here for the Drinks. Yes, as its name suggests, the drink also takes inspiration from the juicing trend the Master Cleanse. So, here's to your health.
BASK IN THE BARD'S WISDOM: with Sir Patrick Stewart. Every day, Jean Luc Picard/Charles Xavier/one of the finest Shakespearian actors of his time, is reading one of Shakespeare's sonnets #ASonnetADay on his Twitter page. Want gravitas? Oh, you'll get gravitas.
DO a pilates workout with Kit Rich. Rich is a celebrity trainer whose workouts consist of a combo of pilates, plyometrics, and yoga. It's an ass-busting workout that is unlike any cardio conditioning or weightlifting you've done before. Rich published 14 days of pilates workouts ranging from 30 minutes to a full hour that will be on YouTube until the end of April, all of which are low to no equipment.
PLAY: Overcooked 2. This sequel available for Xbox, Playstation, and more devices, is chaotic fun. As in the original, 1-4 players (It's fun for kids, too) are part of a team of chefs whose job it is to prep, cook, and serve food in a busy kitchen. The kitchens on each level feature different layouts and obstacles, from moving walkways to magic portals, that get progressively more complex as you and your family make your way through the game.
LEARN SOME COOKING TECHNIQUES: On the Los Angeles Times Food Instagram account. Every day at 6 p.m. PDT, the newspaper's food team is sharing techniques and recipes to help us all cook better food in these very bizarre times.
STAY IN SHAPE: With Retro Fitness. Retro Fitness is offering free livestream classes Monday through Friday at 6pm on its Facebook page.
GROUP-STREAM A SHOW WITH FRIENDS: With the Netflix Party app. It allows up to seven users to watch and chat about any Netflix title at the same time in a private room.
WATCH: SXSW Short films. The South by Southwest has helped make names for a swath of of independent fillmakers. Now you can watch 75 short films from the 2020 SXSW festival online for free.
This article was originally published on