The 50 Best Places to Work For New Dads 2018: Booz Allen Hamilton
Our list of 50 Best Places to Work For New Dads in 2018 recognizes companies with exceptional paternity leave and benefits programs.
by Fatherly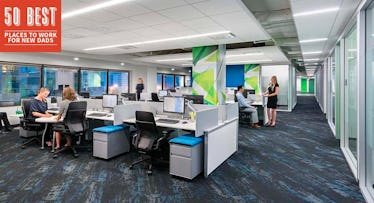 Booz Allen Hamilton
Fatherly's annual "50 Best Places to Work for New Dads" ranking is a celebration of corporations committed to helping men manage their dual roles as providers and caregivers. Though only one company can be ranked number one, every company featured has provided real support for working parents with exceptional and thoughtful offerings.
Booz Allen Hamilton
Rank: 48
2017 Rank: N/AFull-Time Employees: 24,750Median Salary: N/A
This McLean, Virginia-based information technology consulting firm is an influential behemoth — they once headed up the reorganization of the IRS — that employs a small army of engineers, scientists, software developers, technologists and consultants. How do they retain the best and brightest? Family benefits certainly help. Eligible employees can take up to 12 weeks of unpaid in the immediate aftermath of birth and new dads can also use two weeks of leave flexibly in the first year after birth or adoption. Booz Allen offer an additional 20 days of paid leave for those adopting children and having children through surrogacy, for which the company provides a reimbursement of up to $5,000.
Booz Allen also supports a Parent's Forum that connects working parents in the company to share best practices, resources, ideas, referrals, information and experience. The group helps parent in real life, sponsoring family outings to baseball games and museums, setting up forums to help employees save for college and work with local charities.
Fatherly's 2018 rankings are based on a scoring metric inclusive of data related to company policies on the following issues: paid parent leave, ramp-back time, flextime, onsite childcare, childcare subsidies, backup childcare, number of sick days, support groups, fertility aid, adoption aid, student loan assistance, education funding, bereavement leave, elder care planning. Length of paid leave, onsite childcare, and ramp-back time were the most heavily weighted ranking factors.