Blackface Doesn't Improve White Kids' Halloween Costumes. That's Ridiculous.
If you can put together a costume without the use of racial, ethnic, or cultural markers, and without acting out stereotypes, it's most likely a good costume.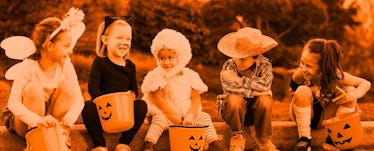 The argument that blackface is racist is a straightforward one. Even a cursory study of how the practice was used in minstrel shows, Vaudeville, and on Broadway to cast black people in an unflattering and stereotypical light for the enjoyment of white audiences reveals why it's a practice that needs to stay retired. While both Jay-Z and Childish Gambino have referenced blackface as a means of poignant social commentary, it's widely accepted that the use of blackface by whites is inappropriate.
And yet, every October, the discussion gets pulled out and rewarmed when a prominent white person decides to question the offensiveness of blackface, or even worse, use it as part of their Halloween costume.
Last year, it was the resurfaced photos of Canadian prime minister Justin Trudeau in blackface. The year before, it was the notorious episode of the now-canceled Megyn Kelly Today, in which four white semi-celebrities engaged in a discussion about racially offensive costumes. When Kelly questioned the inappropriateness of blackface, her panelists offered tepid counterarguments while at times making racist jokes themselves.
The following story was submitted by a Fatherly reader. Opinions expressed in the story do not reflect the opinions of Fatherly as a publication. The fact that we're printing the story does, however, reflect a belief that it is an interesting and worthwhile read.
As a black man, I found the entire scene exasperating but unsurprising. We can now spend the next week recirculating the historical analysis and social commentary from the past few years and then hope that perhaps white people will better check themselves next Halloween. It's not likely, but it's possible.
In the meantime, what about paving a new way forward? I happen to be a strong proponent of white folks dressing as notable people and characters of color if they can do so in a respectful manner. Many women demonstrated how it could be done a few years ago when Ali Wong's signature red glasses and striped dress from her Baby Cobra Netflix special became a popular selection, all without the use of modifying racial or ethnic features.
Further proof that it's possible is that my daughters, who are Vietnamese-American and Ethiopian-American, have dressed up as characters of other races in the past without changing their skin color. With a little creativity, we were able to put together costumes that contained distinct fashion elements, and they made cute renditions of any number of characters. People could easily tell that they were Rey, Princess Leia, Elsa, or Moana simply from the clothes they were wearing. It was so easy, even a grade schooler could do it.
But while most people of color will at some point in their lives dress up as a white person or character, it's far more rare to find a white person eschewing whiteness as the cultural norm to dress as someone of another race. The number of white kids I have seen dressed as Princess Tiana or Frozone is currently holding steady at zero.
While some might argue that they're afraid of being called racist, it's unlikely that would be the case if a white person showed up at a costume party simply wearing a Lebron James jersey and holding a basketball. All it takes is a striped shirt, pink skirt, stethoscope, medical bag, headband, and pigtails to transform a kid of any color into a convincing Doc McStuffins. Want to have an authentic costume and make a point to your fellow white friends at the same time? Throw on the basic black suit and you usually reserve for weddings or funerals (and a thin black tie), and when people ask who you are, tell them you are Will Smith from Men in Black.
The guidelines aren't that complicated. If you can put together a costume in good faith without the use of racial, ethnic or cultural markers, and without acting out stereotypes, it's most likely a good costume. If any of those elements are required, then get more creative or chose something else. It may still mean that some well-known fictional characters are off limits, as Hollywood isn't immune from exploiting stereotypes to make money, but that shouldn't stop you from finding one that works.
Although whatever you do, please, under no circumstance should you use ⏤ or argue in favor of ⏤ blackface or any of its associates. Shut your friends down if they try to do so. And seriously consider how you can construct a costume that deconstructs the notion of whiteness as normative.
Christian Dashiell is a father of four living in rural Kansas. He is passionate about justice issues and decompresses by telling jokes and honing his BBQ Jedi skills.
This article was originally published on