Bert and Ernie Aren't Gay and That's Good News for Boys
Frank Oz debunked the idea Bert and Ernie are lovers. As the male friendship crisis deepens, that matters.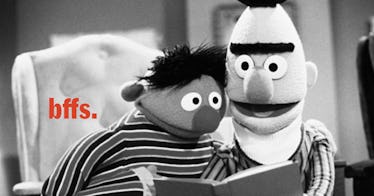 PBS
Bert and Ernie are not gay, according to muppet legend and Jim Henson collaborator Frank Oz. The semi-retired puppeteer, who created the Bert character, felt the need to correct the record after one-time Sesame Street writer Mark Saltzman claimed he'd written Bert and Ernie as a gay couple. "It seems Mr. Mark Saltzman was asked if Bert & Ernie are gay," Oz wrote in a Tuesday tweet. "It's fine that he feels they are. They're not, of course." And a good thing too. It remains fact essential for Bert and Ernie to just be friends. Young boys are exposed to many models for romantic love — perhaps too few gay ones, but even so — and very few models of lasting friendship. Bert and Ernie are powerful role models precisely because they are not having sex.
It's important to say at the outset that representation is important. There are all types of kids who should have the opportunity to see themselves reflected in the muppets. For that reason, I wholeheartedly support the creation of a gay Sesame Street character. And I trust the child psychologists and educators associated with the Sesame Workshop would do a damn fine job in making a gay muppet both relatable, empathetic, and educational. That said, I'm totally against painting Bert and Ernie in rainbow hues.
American men are suffering through an epidemic of loneliness. Friendship, particularly among men, is in decline. Studies show that as boys grow into men their friendships become less close and emotionally fulfilling. Older men have fewer friends. They report feeling isolated and disconnected. Loneliness exacerbates conditions like Alzheimer's, heart disease, and diabetes. Men die younger and many men — 77 percent of suicides are male — kill themselves. It some very serious, very sad stuff.
And that's what makes Bert and Ernie's relationship so special. What is that relationship, exactly? According to statements from the Sesame Workshop, the two are best friends. And more than that, they've been best friends for a very long time. In light of how increasingly rare those kinds of friendships are for men, Bert and Ernie are a profoundly felt (and felted) symbol of fraternity. They represent the type of relationships we should want boys to seek out and maintain for their own longevity and mental health.
It needs to be noted that the very desire to cast Bert and Ernie as lovers is an indictment of the attitude that tends to foster emotional distance between boys. At some point in adolescence, the intense best friendships become self-conscious. Boys suddenly don't want people to assume the adoration they show for each other is based on sexual desire. The fear of a friendship being labeled as "gay" comes out of nowhere. It's reinforced by careless jokes from dads, peers, and media: "What, are you guys gay or something?" For kids who are just beginning to understand their sexuality themselves, there's nothing more terrifying.
Sadly, the sweetness shown between Bert and Ernie isn't the masculine ideal. But it should be. In fact, the friendship between Bert and Ernie should be held up as a perfect example of what friendship means. Friends can be annoying sometimes. But that shouldn't keep friends from offering emotional intimacy. Friends can fight and make up. Friends will support our weird obsession with pigeons or defend us when we cry at a sad movie.
What's strange is that the world is far more inclusive for the LGBTQ community than it was when Bert and Ernie came on the scene. But at the same time, it remains decidedly recalcitrant on the idea of deep and loving male friendships. While it would be great if there were a gay character on Sesame Street, the long-time roommates are far more useful as a model for male friendship.
The fact is that every man needs his Bert or an Ernie. Every man needs friends. Sometimes two dudes hanging out is what progress looks like. Sometimes it's that bond that makes a difference.