The 50 Best Places to Work For New Dads 2018: Bank of America
Our list of 50 Best Places to Work For New Dads in 2018 recognizes companies with exceptional paternity leave and benefits programs.
by Fatherly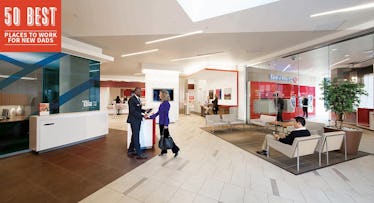 Bank of America
Fatherly's annual "50 Best Places to Work for New Dads" ranking is a celebration of corporations committed to helping men manage their dual roles as providers and caregivers. Though only one company can be ranked number one, every company featured has provided real support for working parents with exceptional and thoughtful offerings.
Bank of America
Rank: 10
2017 Rank: 8Full-Time Employees: 200,000
At Charlotte, North Carolina-based Bank of America, the nation's second largest bank with over 4,600 banking locations, things are going very well. Thanks in part to a strong economy and tax cuts, the bank posted $6.9 billion in profits in just the first quarter of 2018. And employees are seeing the benefits of corporate growth in the forms of perks like paid parental leave, which the company's now offers to 200,000 full time workers and 9,500 part-time workers. Under the company's parental leave program, these employees are eligible for 16 weeks of paid leave. According to the company, an unusually high 96 percent of eligible male employees who welcome a new child take advantage of this benefit, which clearly speaks to a healthy work culture.
Bank of America also provides employees with childcare subsidy and support for emergency childcare. As a mostly symbolic benefit, every new parent receives a new child welcome kit containing a branded onesie, a digital thermometer, and a booklet with information about company programs. This may be a small gesture compared to the other benefits on offer, but it is indicative of how the company has convinced employees to actually take time off — by communicating genuine interest in the wellbeing of families.
Fatherly's 2018 rankings are based on a scoring metric inclusive of data related to company policies on the following issues: paid parent leave, ramp-back time, flextime, onsite childcare, childcare subsidies, backup childcare, number of sick days, support groups, fertility aid, adoption aid, student loan assistance, education funding, bereavement leave, elder care planning. Length of paid leave, onsite childcare, and ramp-back time were the most heavily weighted ranking factors.