50 Badass Dog Names for Creatures Large and Small
You're a badass, but your dog's more of a badass — give her a name that counts.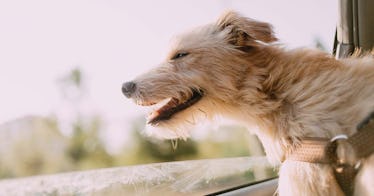 No creature is so small that it doesn't deserve a rad name — something you're comfortable shouting out in the dog park but that might also turn heads at the Westminster Dog Show. In short, a badass dog name. If the name feels right, you probably can't go wrong — your dog's own uniquely rad personality will make any name you choose inherently badass. Take Fido. As a name, Fido may have lost some its luster over the centuries through overuse, but it's a name with a badass pedigree — Fido was Abraham Lincoln's most beloved dog, and also Italy's most famous canine during World War II (true to his name, Fido waited faithfully for his deceased person for years after the war).
Male or female, from the grandest Dane to the most minute Chihuahua, this list of wild, surprising, and badass names provides plenty of fodder. Whether you're into art, music, history, politics, or just the ring of the unusual, we've found some of the indisputably coolest dog names for small dogs, big dogs, and every dog in between.
Badass Dog Names From Music
Elvis
Johnny
Sandman
Cobain
Crotchet
Otis
Stallion
Orville
Patsy
Gina
From the Arts
Venice
Sistine
Vinci
Dada
Painter
Canvas
Surry
Vincent
Kahlo
Googie
From Movies
Rosebud
Rebel
Joker
Hemsworth
Tombstone
Rat Pack
Cheadle
Marlon
McQueen
Redford
From Pop Culture
Torta
Rita
South Bend
Mirage
Gawker
Light Beer
Bezos
Recon
Oppo
Ratio
Badass Pet Names From Politics
Filibuster
Georgia
Caucus
Runaway
Warren
Minnie
Lightfoot
Whitmer
Precinct
White House
This article was originally published on