Author and director Stephen Chbosky of 'Wonder' can't resist his daughter's fart jokes
The director and writer answers our probing questions on parenting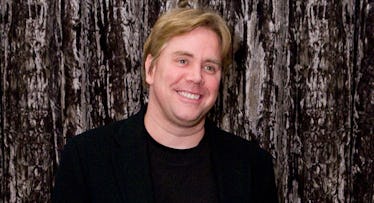 GETTY
Stephen Chbosky is perhaps best known for his 1999 YA novel, The Perks of Being a Wallflower. But for the last decade, he's been touching some of the most important movies of your children's lives. He is the mind behind the live action version of Beauty and the Beast, one of the few updates that exceed the original, and both wrote and directed the new adaptation of R.J. Palacio's book, Wonder. Chbosky was recently a guest on the Fatherly Podcast. He spoke to me about writing Beauty and the Beast for his daughter and Wonder for his son and wife. And, of course, he sat for our required The Fatherly Questionnaire.
What's your name?
Stephen Chbosky
Occupation?
Writer and director.
What is your age?
I'm 47.
How old are your children?
Five and two.
What are their names?
My daughter, Maccie, is five. My son, Theo, is two.
Were they named after anyone in particular?
Maccie is my wife's maiden name. We named her that to honor her father whom we love very much. Theodore I found; his middle name, Frederick, is my father's name, but I found the name Theodore by looking at what were the most popular names from the 1940s. I hadn't heard Theodore for a long time, and I just loved it.
Do you have any cute nicknames for them?
We just call them Maccie and Theo. She used to be Nugget, when she was really small. But now we think their names are cute just on their own.
What do they call you?
Maccie calls me Daddy, and Theo calls me Dada.
How often do you see them?
Every day. Unless I'm traveling for work, every day.
Describe yourself as a father in three words.
Fun and patient.
Describe your father in three words.
Fun and impatient.
What are your strengths as a father?
I like to have a great time, and we play a lot of games. I like them to laugh, and I like to make them laugh. Ultimately, they know fundamentally I very rarely lose my temper in life at all, and almost never to them. They have to really pull out all the stops for dad to lose his temper.
What are your weaknesses as a father?
My one genuine weakness as a father is that occasionally my kids get away with very bad behavior if it's funny. That's my one blind spot, I can't help it. I know sometimes I should be more strict or more formal, but if Maccie does something inappropriate that makes me laugh, I crumble, I can't help it. Mostly fart humor.
Relatedly, what is your biggest regret as a father?
My biggest regret as a father is unfortunately unavoidable in our business. Making movies is a very demanding job, and my regret is having to spend as much time away from them as I have, especially when I was directing Wonder. There's one part of the movie that means the most to me where you see little Via, and it's her fourth birthday party. That part means the most to me because my daughter plays little Via. When I was making Wonder I missed her actual fourth birthday, it was unavoidable. I was able to recreate it on film, so I could always say that I was always at every one of my girl's birthdays.
What is your favorite activity to do with your kids that's your special dad and daughter, dad and son thing?
Disneyland. We love Disneyland. It's always been a very special place to the family, and now even more so.
What has been the moment you have been most proud of as a parent, and why?
One of my daughter's best friends, a little girl named Harper, fell off a jungle gym and she broke her arm. She was incredibly self-conscious about her cast. My daughter, knowing how much Harper was affected by this, told my wife that she wanted to go to the store to get Harper a dress with long sleeves so she could cover her cast so she wouldn't feel bad.
What heirloom did your father give to you, if any?
I have my grandfather's watch. My grandfather, whom I'm named for, was a steelworker, so nothing fancy, but it was the watch that he wore, and I'm very proud to have it. That makes me think of my grandfather when I first started my career. In regular life, I'm known as Steve. But when my book The Perks of Being a Wallflower was going to be published and I saw the cover art, I decided to put Stephen on the cover, because I was named for my grandfather. H didn't finish eighth grade, and I thought for the rest of my career my grandfather's name will be on everything I do.
What heirloom do you want to leave for your children, if any?
My wife and I both feel that we would love to leave behind our body of work for them, as a family tradition. I also think that's why I put my grandfather's name on all of my work, because as far as I'm concerned it's his work too. It's my father's, it's my mother's, it's my sister's, so I think pieces of art.
Describe the dad special for dinner.
Tacos, I'm really great with tacos.
Are you religious and are you raising your children in that tradition?
I'm more spiritual than religious. I was raised Catholic, and so was my wife, so we will always identify with being Catholic. Because they're still very young, I don't know if we'll raise them as religiously as we were raised, but I do know that certainly Christmas and Easter will always be part of the family's tradition, and proudly so.
What is a mistake that you made growing up that you want to ensure your children do not repeat?
I can't think of a single one. I learned from them and the mistakes were actually, in hindsight, far more important to eventual happiness than the successes.
Besides telling them, how do you make sure your children know you love them?
They'll always know their father loves them because every time they need me to listen, I do.
This article was originally published on