An American Family in 2020: A Child With a Mystery Illness and Medical Bills to Pay
The Bass family's eldest child is suffering from a mystery illness. They have good insurance but the out-of-pocket costs are still considerable. Life is a tightrope walk.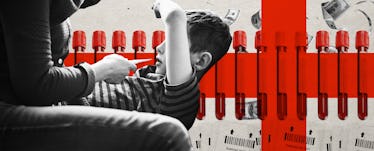 Most Americans do not live very political lives. Many don't think about politics at all. Some 47 percent of the population didn't weigh in on the 2016 presidential campaign, one of the most polarizing in American history. On average, some 100 million Americans who are eligible to vote in each election in the past 12 years choose not to. Why? According to a Knight Foundation study, it's because they have less faith in electoral systems, are less engaged in the news, and simply aren't sure who to vote for. For so many parents, it's simpler: They don't have faith that policy will help them get through the day. Affordable healthcare and child care are a distant hope for many, as is having enough of a cushion to get back up when jobs are lost. Who has time to follow debates when you have two jobs? Who has time to get political when you have only a handful of hours to see your kids?
The stakes have only risen in 2020. With a sky-high unemployment rate, a pandemic-fueled exodus of working parents (especially moms), and economic disparity that has not been seen in our lifetime, it's easy to paint a bleak picture. Politicians are doing just that — stoking fears and painting in broad strokes that depict an aspect of American life, but hardly a full picture.
So what does American life really look like for parents in 2020? We wanted to know and went out in search of a more realistic portrayal of it. In our search, we found Chad Bass and Leah Robilotto, a couple from Sharpsburg, Georgia with two kids: 8-year-old Graham and 10-year-old Miles. The family's focus right now is on the health of their son Miles, who has been stricken with a mysterious illness that began with four bouts of pneumonia. Like one in four Americans, they're also having trouble paying medical bills. The Robilotto-Bass family has spent some $40,000 on out-of-pocket costs for Miles' care, and while the family's priority is to find the answers to Miles' condition, they also are working hard to not fall into crippling debt while doing it.
Chad Bass and his wife, Leah Robilotto, would love to move out of their Sharpsburg, Georgia, neighborhood. They moved to the suburb of Atlanta in a bit of a hurry after leaving Houston, where they had lived for more than a decade. Twin events hastened their departure: First, Hurricane Harvey devastated the area, and secondly, Chad had secured a job at Porsche, working as an engineer for their electric vehicles. When the Robilotto-Bass family moved, they hadn't done as much research and they now dream of moving to a nearby neighborhood that's more aligned with their values and taste. But finding a new home isn't at the top of their to-do list or budgetary priorities, and for good reason.
About a year ago, their eldest son Miles grew sick. An athletic kid who was on his school's track team, Miles, who was then 9, contracted pneumonia four times.
This wasn't his first time Miles had a medical emergency (at 6 months, he had an anaphylactic reaction and was diagnosed with a life-threatening allergy to avocado). But it was by far the most serious. He first came down with croup in 2019. Then, the repeat pneumonia. After the final bout, Miles remained so tired that he couldn't make it through a school day.
At the advice of their doctor, Leah and Chad placed Miles in Hospital Homebound, a program for kids with conditions that make it difficult to attend full-time school. There, Miles would attend school in-person in the morning. Then, he'd get picked up by 11, and work with a tutor for an hour or two from home. Afterward, he'd sleep.
That was the regular plan, at least. As Miles' illness remained a mystery, he had to miss a lot of school for doctor's appointments. Over the course of half a year, Chad and Leah brought him to a pulmonologist, an Ear, Nose, and Throat doctor, a neurologist, a gastroenterologist, and, of course, their pediatrician. In February, they flew from Sharpsburg to Houston's Texas Children's Hospital for a test that they couldn't get in Atlanta because the waitlist was so long.
Doctors prescribed steroids, medications, physical therapies, two procedures. The Robilotto-Bass family went to the hospital at least four times. Chad and Leah had to take Miles in for weekly tests and blood draws. They dealt with delays and wait times and plenty of disbelief: At one appointment a doctor who had drained fluid from Miles' lungs the week prior had the gall to suggest that Miles just didn't want to go to school.
"We couldn't figure out what was wrong with him," says Leah. "I just felt like everyone had a slightly different take — but no one was really talking to each other."
The constant stream of appointments — not to mention the frustration of not finding any answers — took its toll on the Robilotto-Bass family. One of Miles' appointments was the day of his great-grandmother's funeral. They couldn't be there to say goodbye.
Finally, Leah got Miles admitted to the Mayo Clinic. They were supposed to go in March, and then, COVID-19 hit. Miles suffered for a few more months. Then, in mid-July, they got on an airplane (Leah wiping down Miles's seat for fear of contact allergy) and flew to Minnesota, where, for the first time in a long time, Leah felt like her child might be able to get his life back again.
"We literally saw seven doctors in five days," she says. "We had 30 appointments." It was at the Mayo clinic that doctors first noticed that Miles' kidneys weren't working properly and that his adrenal glands didn't work. They also noticed that he wasn't absorbing iron and that his trachea was malformed.
"There were so many things that no one had addressed — or they mentioned it here or there but they said, 'That's not that big of a problem,' " Leah says.
The Mayo Clinic re-instilled the family's faith in health care. Leah met a team of doctors who coordinated, who actually spoke to one another. The week at the Mayo clinic was physically and financially draining. But it was also the first time in a long time she felt relief.
But all of this — the months of doctors' appointments, of helping an exhausted kid get through the school day, of slugging around a three-ring-binder full of medical records and fighting doctors and the pain — is really only one piece of the puzzle for the family. A chronic illness has a way of consuming every aspect of a family's life. Except that it can't. Bills still have to be paid, work still has to be completed, a house still has to be taken care of, meals cooked, a family loved.
Miles's condition, and all the testing it required, was also expensive. Chad is lucky to have great health insurance. But even after meeting deductibles, there are costs incurred that are never covered by health insurance. Gas. Hospital parking passes. Unexpected meal costs. Plane tickets. Hotel rooms. Rental cars. Since Miles first got sick in July of 2019, Leah estimates they've spent at least $40,000 out of pocket on the costs associated with his medical care.
"It's definitely changed the way we live," Leah says. "We're fortunate to have the resources to do it. But a lot of people declare bankruptcy over illness."
At one point, Leah left the corporate job that she juggled alongside her food allergy work because she found she couldn't be an involved parent and employee at the same time. Now, she runs her own business, a reality that makes Chad's employment all the more imperative. With all of the shifts to professional lives that COVID has forced, he's stressing. When asked if the 55-hour workweeks he's putting in — some of those hours done at 3 or 4 in the morning — feel sustainable, he answers with a simple "no" and a laugh.
Of course things are worse because of COVID-19. But for a family who helps manage chronic illness, they're not all that much different.
"We already have to be extra cautious," says Chad. "In a way, we're used to the higher pressure of watching out for him. He's not just an everyday kid that has no allergies or medical problems. It was never like, 'Let's just head out.' We're used to that by now. It's just the new normal."
Ever since COVID-19 hit and schools shut down, the family has been fully quarantined, with only one other family in their "Quaranteam," as Leah refers to it. Otherwise, they're totally hunkered down for the safety of Miles. When school reopened in late August, Leah and Chad were 100 percent committed to continuing online schooling, even if the building eventually opened. After all, transmission rates in Georgia are high. The positivity rate in Atlanta alone is above 5 percent. And although Miles would never go back to in-person schooling in the middle of a pandemic, even opening the bubble to allow Graham to go back could have disastrous consequences.
They stuck to this plan as long as they could. Until life happened.
Graham, who is in 3rd grade, is on the spectrum and has a language processing disorder as well as ADHD. This made virtual learning a near-impossibility for him.
"There are tears every day, he lays on the floor crying," says Leah. "We created a perfect learning space for him, clear of all distractions. But he just cannot learn on the screen."
After a particularly bad breakdown, Leah decided to take Graham for a walk. That's when she and Chad decided he needed to go back to school. She was looking at her 8-year-old, a normally happy boy, who was developing signs of clinical depression, and realized that it wasn't just about COVID-19. It was about Graham's emotional well-being too.
The decision is obviously one that carries inherent risk. In what used to be a guest room in their house (but is now Chad's as he works from home, he suspects, nearly indefinitely) is a full bathroom. When Graham comes home from school, he immediately takes a shower and they throw his clothes right into the laundry.
"[Graham] understands his brother is really sick. He's lived with this his whole life," Leah says. It's an incredible pressure for one young boy to bear. Letting him see his friends is the least she can do, she feels.
Like all parents, Leah and Chad have organized their lives around their children. This is not radical, especially in the United States. But the organization of their lives, it would seem, does not have to be this severe. In another world, healthcare might be unrelated to having a great job. Deductibles might not exist. A pandemic might not be as severe. The Robilotto-Bass's might not have to pore over their budget every month to ensure their household is stable. But the might not's, and could not's, don't exist in the real world. Instead, they make do however they can.
"We're not saving in their college accounts right now. We're not putting savings away, we don't have as much left over at the end of the month," Leah says. "We can't go on vacation. We had planned on taking our kids to Legoland this spring break — because they're obsessed with it. And, yeah, COVID is one reason why we're not going, but, financially, it's not happening."
Things were less tight before COVID when Leah's business working with clients who have children with food allergies was more consistent. But slower business, alongside health care costs, parking costs, food costs, the sheer cost of time spent at the hospital, has made a tight budget tighter.
"There are very few people in the world I would say that feel comfortable financially, that have nothing to worry about," says Chad. "We're much better off than the average family, but there's always that stress. There's always that financial target in the back of the mind — and you're just doing the best you can."
It's clear that plenty could be done to help the family during a double whammy of a difficult time — navigating a chronic illness and a pandemic at the same time. In Georgia, positivity rates for COVID have stayed high since the state was hit by the pandemic back in March, and the family feels shut in, unable to go on the occasional family outing, to see a basketball game, to feel like a normal family.
But, their laundry list of what the government could do for them is relatively brief. Leah wants confident leadership. Chad wants someone who can look at the big picture.
"I think we could be doing more for society," he says. "At some point, we're going to have to realize that having this many people at the poverty line is not sustainable. It's not about just making money for the shareholders anymore."
Chad says this from his guest-room office built out of a kitchen table that's crammed between a bed and a wall. It's the same room that Graham takes a shower in every single day as soon as he comes home from school. It's not ideal. But, for now, for Chad and the entire family, it will have to do.
This article was originally published on