The 50 Best Places to Work For New Dads 2018: American Express
Even among companies that offer outstanding perks, American Express stands out.
by Fatherly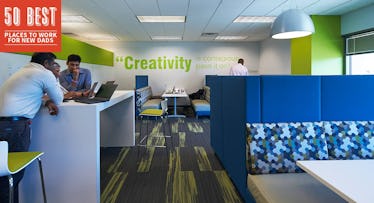 RBPI.TV.
Fatherly's annual "50 Best Places to Work for New Dads" ranking is a celebration of corporations committed to helping men manage their dual roles as providers and caregivers. Though only one company can be ranked number one, every company featured has provided real support for working parents with exceptional and thoughtful offerings.
American Express
Rank: 1
2017 Rank: 3Number of Employees: 20,000 in Domestic, 32,000 International
Since drastically updating its parental leave policies in January 2017, American Express has done a remarkable amount to provide continued and increasing support to the parents in its workforce. Notably, American Express does not only offer 20 weeks of paid parental leave (as well as additional leave for mothers giving birth), the company actively lobbies its employees to take the time off. The #dontmissamoment campaign specifically targets fathers, urging them to take all the time off that they can and providing opportunities to hear about other fathers' experiences while on leave. That program is augmented by a Focus on Fatherhood program, which brings together Amex dads for breakfast discussion about work-life balances and connecting with kids.
Even before new dads start to attend events, they are eligible for significant reproductive benefits. Amex offers would-be parents $35,000 to defray costs associated with fertility treatments, surrogacy, and adoption. Parents can take advantage of that perk twice.
Though Amex only offers on-site child care at its location in Sunrise, Florida, it subsidizes 20 days per year of at-home care as well as discounts at child care centers all over the country. In addition, American Express offers a both Care Crisis Assist, a program that reimburses parents $80 toward the cost of hiring backup caregivers (including family members) in the case of an emergency as well as flex time in order to allow parents to stay home if need be.
In addition to offering considerable support for parents, Amex offers considerable support to employees who have parents, including eldercare support workshops and budgeting education to help make financial ends meet. The company also offers bereavement leave, allowing its employees to find the time to grieve as well as celebrate, proof of an overall understanding that its work that interrupts life, not life that interrupts work.
While some other companies at the top of this list are not profitable or have had pressure on them to reduce employee benefits, American Express, which has returned to its original focus on providing high-end services to high-worth individuals, had a banner year in 2017.
Fatherly's 2018 rankings are based on a scoring metric inclusive of data related to company policies on the following issues: paid parent leave, ramp-back time, flextime, onsite childcare, childcare subsidies, backup childcare, number of sick days, support groups, fertility aid, adoption aid, student loan assistance, education funding, bereavement leave, elder care planning. Length of paid leave, onsite childcare, and ramp-back time were the most heavily weighted ranking factors.
This article was originally published on