5 Things Men Can Do to Support Women in States With Abortion Bans
There are plenty of things men can do to support the women in their lives.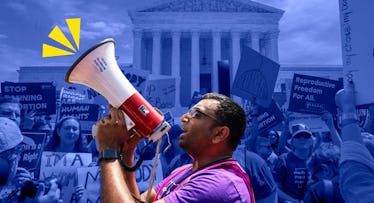 Abortion is a family planning tool. All across the United States, of the 25 percent of women who will get abortions before they turn 45, 59 percent of them are already mothers. Abortions are had in the context of financial and family planning decisions, and the laws that are being passed across the country right now to limit those decisions are harming families. Dads and moms know this. As the wave of near-total abortion bans in states like Alabama, Georgia, Missouri, and Louisiana show, it's clear that a real fight over the right to choose is ongoing. So what can men who want to protect the right to choose do to support women? Here are five actions men can take.
1. Donate to the National Network of Abortion Funds
The National Network of Abortion Funds, or NNAF, is a network of state-level abortion funding organizations that helps women in financial need acquire the money they need to terminate their pregnancies. These groups are volunteer-run and run out of money every single year. One NNAF sponsored organization is the Yellowhammer Fund — a fund specifically meant to help people in Alabama get abortions at one of the only three functioning abortion clinics in the state. Because abortions are, on average, between $350 and $950, for some women, particularly those without health insurance, the procedure is too expensive for them to afford on their own. By donating directly to NNAF, an organization in your state, or by volunteering your time to work at a state-level abortion fund, you can help people get the access to health care that they need.
2. Become a Clinic Escort
In particularly hostile states, women who are simply walking from their car to a Planned Parenthood or other reproductive health clinic can be met with anti-choice protesters, vitriol, and video cameras. In many states, volunteer escorts can serve as a support system and help those going to the clinics get from their car to the front door without having to wade past protestors. To find out where the closest clinic is to volunteer to be an escort, log on to the National Abortion Federation or the Abortion Care Network, which has a map of all abortion clinics in each state. Be sure to call the clinic before volunteering.
3. Become a Trained Volunteer for Planned Parenthood
Anyone concerned about abortion access in red states should become Planned Parenthood Defenders. Planned Parenthood Defenders are trained volunteers who are on-call with PP to help out clinics by calling Congress, join letter writing campaigns, organize and take part in rallies, or even work as a volunteer at the local abortion clinic.
4. Provide Rides for Those in Need
While there are outright challenges to Roe v. Wade being litigated today, another part of the abortion issue is the slow erosion of access to abortion in states that are hostile toward the right to choose. In states like Alabama, where there are only three abortion clinics, this is especially true. Another way to get involved is to volunteer to drive those in need to clinics. State-level activist groups like the Kentucky Health Justice Network, Women Have Options in Ohio not only provide funds for those who can't afford abortion, but they also provide legal assistance for clinics, rides to clinic for those who don't have cars, lodging ahead of the appointment, and meals for those who might be in states that require a 72-hour-waiting period and don't live in one of the few cities with clinics. To see what organizations help provide lodging, funds, and rides to those who need abortions, check out the Post Roe Handbook, written by Robin Marty. It's regularly updated. Donating money or time to these organizations would go a long way.
5. Vote for Politicians Who Protect Abortion Rights
One of the biggest ways that people can exercise their political power is through their vote. The 2020 presidential election is around the corner and state and local elections for mayor, community board members, and more are ongoing as state-level Senate races also heat up. The votes cast in the next few years will determine the future of the Roe v. Wade and the right to choose. Voting for those who have plans to keep abortion safe and legal, particularly in red states will help the cause.
For instance, in Alabama, Doug Jones, who narrowly beat Roy Moore is up for re-election in 2020. Voting for him would help protect abortion rights in the state. In Georgia, Teresa Tomlinson, a pro-choice Democrat, is running to flip a Senate seat. Louisiana governor John Bel Edwards, although a Democrat, will vote to enact an abortion ban as 'soon as a heartbeat is detected.' So do research. Campaign for the candidates who will support the right to choose in states that have the most to lose. And donate to those candidates and talk to friends about them.
This article was originally published on