Where Did You Get That Awesome Food Tradition?
All homemade dishes have a story. Some go deeper then others.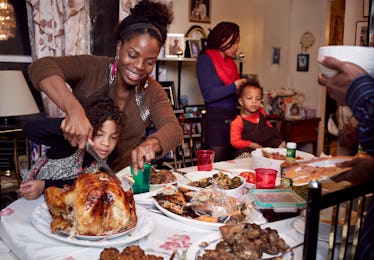 Getty Images
Behind every homemade holiday dish is a story. Take Grandma's seemingly innocuous cranberry sauce, the one with the chunks of apricot in it. That came to be when she, desperate to impress her new in-laws, chopped up and threw in the first dried fruit she could find. They were impressed, and the recipe has had a place at the holiday table ever since. So it goes with uncle's stuffing, aunt's green beans, and nearly every other homemade dish that sits on the table. Some dishes, however, reveal a deeper history, one that goes back generations and acts as a way to chart the evolution of a family's culture, values, and history. These recipes are not so much lists of ingredients as they are anthropological touchstones — dishes that point a family toward their past and offer a glimpse of the past further than those gathered at the meal can provide. Such recipes look a bit like the ones these three dads turn to during the holiday season, to provide sustenance for their families — and stories about their identity.
Latkes, Fried
by Moshe Moeller
My favorite holiday of the year has always been Hanukkah. As a young boy, I basked in the glow of candlelight and warmth and anxiously waited to open my Hanukkah presents. But there was nothing like the smell of freshly made latkes (potato pancakes). This centuries-old Jewish holiday food has been passed down for generations, based on the custom to eat foods that are fried in oil to commemorate the Festival of Lights. My family, of German-Jewish descent, would eat applesauce together with the latkes in order to balance the savory and sweet flavors.
As I grew older and my parents' blood pressure and cholesterol levels rose, our latkes changed – for the worse. Fried foods were deemed "unhealthy," and newer versions of latkes were created in my mother's kitchen. Latkes were baked in the oven instead of fried on the stove. White potatoes were replaced by sweet potatoes. Salt was exchanged for, I don't know, no salt? Oil was replaced with PAM spray. I no longer recognized the smell, taste, and appearance of latkes — they were basically just baked sweet potatoes. Come on! It was very disappointing.
Now that I'm married and have two children of my own, I wanted to make sure my children experience the process of making, frying, smelling, and tasting authentic latkes. I want them to enjoy those same warm, anticipatory, and exciting feelings about the holiday that I had at their age. I love to cook and my wife knows that I am in charge of latkes on Hanukkah since I have a passion for this tradition. Our neighbors in our apartment building also know of my latke making, and they stop by as soon as they smell the potatoes frying on Hanukkah. It is such a joy for me to serve this traditional food to my children and to share with my friends. However, when I bring my children nowadays to my parents' house and my mother serves her latest version of "latkes," I cover their ears when she says, "Latkes are served."
Jhalmuri Krispie Treats
by Aziz Hasan
Jhalmuri is a traditional street food found primarily in India and Bangladesh, where my family has roots. It's a casual street food — you can find it everywhere there — but also an important part of my family tradition and one of the dishes we break fast with during Ramadan.
Jhalmuri is traditionally made with muri, a puffed rice, that has a nice crunch. It's easy to make: Just mix the muri with spices (cumin, chili, tamarind), add some lemon juice and toss it for good measure. Mix in some basic vegetables like cucumbers, tomatoes and onions, and dig in. We eat the dish with our hands, picking up a small fist of Jhalmuri and chucking it into our mouth. The result is a fireworks of spice and crunch in your mouth.
Every Ramadan we get to indulge in this concert of flavors, but one year, as we were a few hours away from breaking fast my mom realized we had no puffed rice for the Jhalmuri. In a moment of panic she substituted muri with a box of Rice Krispies. We sat down at the table, staring into this bowl that smelled familiar but looked odd. It's a breakfast cereal with spices? Huh?
We went for it and, it was delicious. The extra airiness and crisp from the Rice Krispies complemented the sharp flavors of the lemon and chili, giving it an extra punch. We were sold.
Nowadays, we have friends and family who exclusively request this version from my mom each year. It's funny, because as I think about this Jhalmuri fusion, it seems so obvious: My life has been a mix of American and Bangladeshi experiences tossed up, and mixed together into some thing completely new. There is a familiarity to it all but when you are staring it right in the face sometimes you question how it's going to work.
I have a daughter of my own now, 16 months, and I plan on introducing her to Jhalmuri. When I do, I plan to tell her this story, have her do the official taste and to see how she interprets her own mixed palate.
Pizzelles in the Basement
by Rob Pasquinucci
If you're an Italian kid, you're no stranger to all sorts of decadent pastries. In my family, the staple of the holiday season was the pizzelle – a flat cookie that resembles (and tastes like) a waffle ice cream cone. I remember them as a core dish at my grandma's house around the holidays, but I also remember bypassing them to grab a sweeter, more chocolate-y treat. Today, I have a greater appreciation for the cookie.
The pastry traces its roots way back to Roman times, but the more modern versions were first made in Ortono, in the Aburzzo region of Italy (where my grandmother's side of the family came from) in the 8th century. In other words, the pizzelle probably has a long history in my family.
What I know for sure is that for years my grandmother made them, along with my aunt. Sometimes they'd put in anisette, giving them a licorice flavor. My dad picked up the tradition, using the same pizzelle iron. He jazzed his up by adding some chocolate. My sister would join him to make batches of them as Christmas approached and as the operation got bigger, my mom confined them to the basement, since making them can be a messy process. My family always had a Christmas Day open house with all sorts of foods and treats and the pizzelles were always a favorite.
When my dad died and we were packing up his things, I grabbed the pizzelle iron almost as an afterthought. When the holidays rolled around, I unpacked it and found the recipe tucked in the box, printed in his tidy handwriting. It was relatively simple to make the cookies, and, yes, my counter was coated with dried blobs of excess dough when I was through. But they tasted just like the ones he made, and having them made the first holidays without him a little easier. I've carried on the tradition each year since, and needed to replace the worn-out iron with a non-stick model that he would've loved.
I'll think of him, and my grandmother when I dust off the iron as we approach the holidays this year. I always do. Buon Natale!
This article was originally published on