How a Professional Chef Prepares Tuna For His Family
Chef Brian Lewis makes his family this classic recipe, which conjures memories of his own father bringing home fresh fish from coastal Carolina.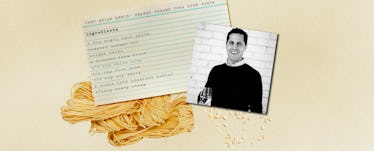 BDG/Shutterstock
When he was a child, Chef Brian Lewis remembers his father returning from a deep-sea fishing trip off the coast of Nags Head, North Carolina. In his arms was a cooler filled with some of the most gorgeous tuna young Lewis had ever seen. That evening, his father crusted a few of the loins with sesame seeds, seared them, and served them over a bed of chilled angel hair pasta coated in sesame oil. "He topped it all with a soy beurre blanc sauce — so 1990s!" Lewis jokes. "But to this day it's one of my most memorable dishes of all time."
Today, Lewis, the restauranteur behind the Southern America BOCADO Bar & Diner in Charlotte, North Carolina, and Atlanta's acclaimed BOCADO, as well as the proud father of three boys ranging in age from 10 to 15. And he continues to prepare his late father's rendition of sesame tuna beurre blanc for them three or four times a year.
"The excitement for this particular dinner reached 'squealing' levels when the boys were younger," he says. "That reaction always makes me smile and brings a fond memory of my first time eating this dish."
Mealtimes in the Lewis household are pivotal moments where the family catches up on the simple activities of the day. "There are definitely no phones, and everyone pitches in from setting the table — we always use linen napkins, expertly folded by my boys — to plating and clearing 'to the dish'," says Lewis. "Everyone has an alternating job from day-to-day. "
When he prepares his father's sesame tuna beurre blanc recipe, Lewis orders a two-to-three-pound loin that he then portions out. And while it is certainly a treat, the whole meal comes together pretty fast: The fish needs only a few minutes in the pan and the sauce reduces quickly. Chilling the pasta takes the most time.
Regardless of whether you serve this on a special occasion or just some weeknight, perhaps it will conjure — or plant —similar reminiscences to Lewis. Because what is a great meal, if not a memory?
Chef Brian Lewis' Sesame Crusted Tuna Beurre Blanc
Ingredients:
1 box of angel hair pasta
Toasted sesame oil Sesame seeds 4 6-ounce tuna loins 1/2 cup white wine 1/2 cup rice wine 1/2 cup soy sauce 8oz (cold) unsalted butter 1/4 cup heavy cream
Directions:
For the Pasta
Cook the angel hair pasta as indicated on the box
Drain and toss with a generous amount of toasted sesame seed oil (about 4-5 ounces) and 1/8 cup sesame seeds
Cover and refrigerate until cold
For the Tuna Loin
Cover each portion of loin entirely with sesame seeds
Add a thin coat of toasted sesame seed oil in the pan, and heat on medium. Once the oil is hot, sear the loins for one min per side or until desired temp (Lewis' family prefers rare). If medium rare is the desired temperature, Lewis recommends cooking for about one minute and 20 seconds. (NOTE: Stovetops vary in calibration. Press on the center of the loin to register tenderness.)
Rest tuna loin for three to five minutes before cutting.
For the Soy Beurre Blanc Sauce
Combine white wine, rice wine, and soy sauce in a medium saucepan and bring to a simmer. Reduce until only half the starting amount of sauce remains.
Whisk in cold butter a little at a time until incorporated.
Whisk in cream until the sauce is to your desired consistency. Serve immediately.
To plate, twist pasta into a beehive shape at the center of the plate, slice rested tuna into ½-inch portions (three per plate), and prop against pasta. Add two (generous) spoonfuls of the still-warm sauce over pasta and tuna and enjoy.
This article was originally published on