Toys 'R' Us Is Expanding To Airports. Parents, Rejoice!
Toys 'R' Us is hoping to win its way back into the hearts of parents across the country.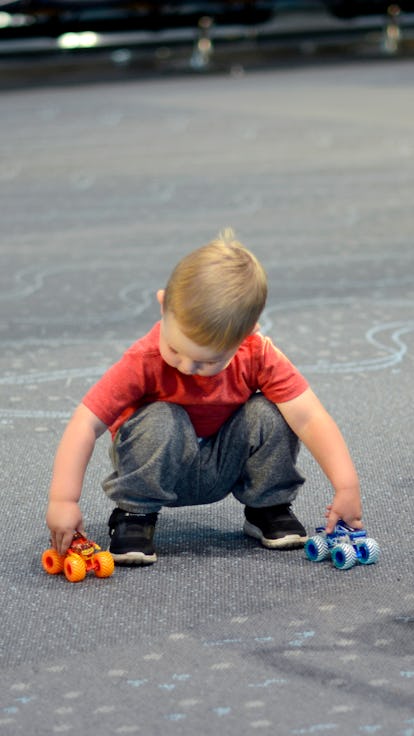 Robert Alexander/Archive Photos/Getty Images
Toys 'R' Us hopes to win its way back into the hearts of parents across the country, and its latest move is a step in the right direction. After announcing its return to the toy market with brick-and-mortar stores, the company recently shared its plans to branch out into airports. Perhaps you sense the dollars already leaving your bank account. Oh, great, you may be thinking, now I can lose time and money when I'm stuck at the airport.
According to USA Today, WHP Global, the parent company of Toys 'R' Us, announced an "Air, Land, and Sea" expansion that will include opening Toys 'R' Us stores inside airports. The company plans to roll out these in-airport toy stores, prioritizing "prime cities," starting first with Terminal A of Dallas/Fort Worth International Airport, the second busiest airport in the world. The store will open in November.
Before you all get all stressed out, here are some reasons to get excited about it. Any parent who has navigated an airport with a kiddo (or two) knows that the airport is exceptional: It's like a lawless world. On the one hand, there's loads of space to roam, and if you're an on-time type of traveler, all you have is time to burn. There are also throngs of people trying to make it to their next flight, and if your kids take a single step in the wrong direction without holding your hand, you'll be met with the steely glare of a solo adult traveler slaloming the crowds to their gate.
You're expected to navigate labyrinthine terminals with your pint-sized sidekick, and you'll do almost anything to make it all go smoothly — a $30 chicken nugget meal? Sounds reasonable! Why not throw in an $8 bottle of water and treat yourself to a $19 beer? Every airport is another country, where the exchange rate is hazy at best. Anyway, what else can you do? Sit, surrounded by your bags in a sea of strangers, and keep telling your kids to stop pestering each other?
In short, airports have never been kid-friendly. And they're not cheap either. Adding a Toys 'R' Us to the mix might just transform that experience. A toy store sounds like a very welcome mirage for a parent desperate for a Hot Wheel or coloring book to take over as entertainment director during a layover — or on the flight to come. Against all odds, the airport is about to become every kid's favorite part of the trip.