How to Talk to Your Boss About Taking Paternity Leave
Even though you're essentially "telling" your manager that you'll be taking your rightful time off, it's best to do so with tact and graciousness.
by Jesse Will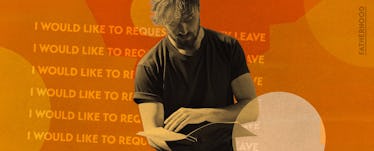 BDG/Shutterstock; GETTY IMAGES
Taking paternity leave is one of the best things a new father can do. Among the many benefits, dads who take leave from work tend to be more confident in their parenting, build a better emotional bond with their child, and have a stronger relationship with their significant other. More generally, paternity leave allows men to experience some of the most fulfilling weeks of their lives. In short: If you have a baby on the way, you should take it.
But you need to make plans to do it — which is easier in some work situations than others. To maintain your reputation as a team player and retain the management of your most favored projects, you want to let your boss know your needs well in advance. Even though you're essentially "telling" your manager that you'll be taking your rightful time off, it's best to do so with tact and graciousness.
"When you're telling your manager about taking paternity leave, you want to try to do so in a way that doesn't harm your employer, doesn't create conflict with your boss, and most importantly, doesn't create more stress for you at this pivotal point in your life," says Liane Davey, author of The Good Fight: Use Productive Conflict to Get Your Team and Organization Back On Track.
Here are five things to do before and during the conversation.
1. Learn Your Legal Rights, And Your Company's Policy
Before letting your manager know of your plans to take paternity leave, become fluent with your company's policy. Get on the HR site of your company's intranet and look for details and documentation of the plans offered. It may have changed since you were hired: in order to attract and retain employees in a hot job market, companies are quickly improving their offerings. If you don't see the details of your company's plan, check in with your HR rep to clarify. Crowdsource, if you can: if you know of colleagues who have taken paternity leave recently, ask them about their experiences. They may have tips, or they may be able to point out any pitfalls in the process.
If the company you work for doesn't offer parental leave, you still have the right, in most instances, to take time off. The 1993 Family and Medical Leave Act (FMLA) guarantees new parents up to twelve weeks of leave per year after the birth, adoption, or placement of a foster child. That's assuming you work for a company with over fifty employees, and that you've worked 1,250 hours in the past year. It's important to note that this federally-mandated leave is unpaid.
"Unfortunately in the United States, the only true job protection we have in this area is through the FMLA. And it does an important thing: makes it illegal to terminate you while you're out. So you might want to file that paperwork in addition to anything your workplace might offer," says Tamica Sears, an executive coach and HR consultant. In addition to the FMLA, you'll want to check and see what the paternity leave laws are in your state. California, New Jersey, New York, and Maine are among states with paid leave acts, and the list is growing.
2. Provide Advanced Notice — Three Months, if Possible
The amount of notice you give your manager, either formal or informal, depends on your relationship with them. If you have a good relationship with your boss and feel comfortable saying "My wife, partner, or spouse, is pregnant, and I need to take the time off starting x y&z," then it's probably best to tell them as soon as soon as you feel comfortable with the pregnancy or plan.
The FMLA requires leave to be requested at least 30 days in advance, but you might want to give your manager three months' notice — or even longer if your position is especially difficult to backfill.
"The reason to give that advance notice is so that you can say to that person, if I'm going to be gone for six to twelve weeks, I want to make sure that I'm setting the team up for success, and to make sure that I'm not causing any single points of failure," says Davey.
Even if you have a great relationship with your boss and can speak to them casually about important topics at work, you still want to send a formal email detailing your request to both them and your HR representative, so that you're officially on the record.
3. Walk In With a Plan
It's in your best interest to make your time away from work go as smoothly as possible — and that means, considering your tasks and projects far in advance. What will you have going on in the coming months, and who on your team might be able to handle the work? Is there a more junior member of the staff who might be ready to step up?
"Take a problem-solving energy to your list. Give your boss a real plan, and try to empathize with them. You want to provide them with as many options as possible so they're not backed up against a wall," says Davey.
With several months' notice, you'll have time to loop colleagues in on meetings that may give them an idea of the scope of projects that they'll take on in your absence.
4. Consider How Connected You Want to Be
In terms of being connected to your workplace while on paternity leave, there are several schools of thought. Some new dads go into blackout mode, fully unplugging from their Microsoft Outlook for the duration of their leave. Others check in occasionally on their favored projects, challenging scenarios, or big year-long initiatives. And some favor a dual approach, starting with a no-contact period, then choosing to engage more as the leave goes on.
Give some thought to what you might like to do. And know that it's better to underpromise on what if anything you'll be able to contribute while out of the office.
The point here is that even before you leave for paternity leave, you should think about how you'll return to work — doing so will make your return easier, and ratchet down your stress level while caring for the new member of your family.
5. Understand That the Choice Will Be Worth It
As much as you know that you are an indispensable part of your team, it's unreasonable to expect that your choice to take paternity leave won't have consequences. Water will find another way. Your tasks will be picked up by others. Perhaps some will drop off the map. When you are out of sight, you can go out of mind. And in this instance, that's absolutely okay. Do not let that distract you from taking time.
"Even if it seems like you can't quantify the value of paternity leave, your child will benefit from in ways you might not immediately understand, in six days, in six months, and in six years," says Davey. "And you will, too."