4 Smoked Cocktail Recipes To Take Your Home Bartending To A New Level
Smoking cocktails is an easy — and impressive — skill to learn. Here's how to get started, and some game-upping recipes from top mixologists.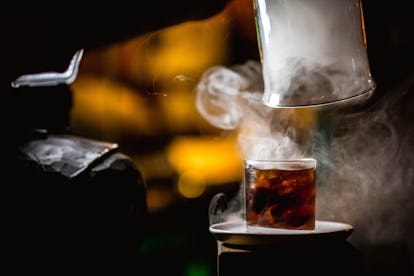 We may receive a portion of sales if you purchase a product through a link in this article.
Smoked cocktails are a cool and visually dramatic way that the culinary world has blended with the world of mixology. Part spectacle and part flavor enhancement, smoke can be introduced to a drink in many ways. You can smoke individual cocktail ingredients, you can make your cocktail ice with smoked water, or you can finish the cocktail with smoke using various tools ranging from simple chimney smokers to restaurant-grade smoking guns.
The process of smoking cocktails is rather simple: you ignite wood chips or other aromatic flammable ingredients, and, using a cocktail smoking tool of your choice, you apply the smoke to a mixing glass or cocktail glass before serving the drink. One rule of thumb is that you be thoughtful with how you use smoke, and about the kinds of flavors you layer it with. For example, darker spirits tend to work better with smoke than lighter and more floral ones — hence, you'll find more top bartenders experimenting with smoked Manhattans than with smoked Mojitos. It's also good to expand your smoky horizons. You don't have to just think of wood smoke — you can smoke herbs, tea leaves, a cinnamon stick, or a dried citrus peel for different flavor notes.
If you want to get into smoking, here's some gear to consider as well as recipes from some of today's top mixologists for everything from smoked Old Fashioneds to smoked ice cubes.
3 Cocktail Smoking Tools For The Home Bartender
To smoke cocktails at home, you must have a few tools. But there's more than one way to smoke a cocktail.
A chimney smoker is a simple option that works a bit like a pipe: it's a wooden disk wide enough to fit on the rim of a mixing glass or cocktail glass with a hole in the center with a pipe chamber and screen to ensure no ashes get into your cocktail. Ignite chips over the screen and the pressure from a butane torch will cause the smoke to flow into the glass below it. This is particularly cool if you want to be able to pour the smoke alongside the liquid from a mixing glass into a cocktail glass.
Smoking guns use a battery-powered fan to blow smoke from a chamber into a cloche, mixing glass, or cocktail glass. You add wood to the designated holder, can light them with a lighter or match, and the fan does the rest of the work for you. They are very easy to use, and some are also intended for adding smoke flavor to food, but they're generally more expensive than a chimney smoker and torch combination.
A glass cloche is used by putting a cocktail under it, and filling it with smoke — either with a smoking gun or simply by igniting the ingredient on an inflammable surface beside the glass before lowering the cloche. As the glass chamber fills, the smoke enters the cocktail glass to add a flavor element, and when the cloche is removed the smoke spills out dramatically for a visual finale.
Smoked Cocktail Recipes To Try
For some inspiration to help you down your smoked cocktail path, we asked for recipes from some of the country's best bartenders.
1. The Smoked Old Fashioned
LP O'Brien is a multi-talented bartender, brand ambassador, and food and beverage industry veteran, as well as the season one winner of the hit Netflix bartender competition series, Drink Masters. She shared her Apple Maple smoked Old Fashioned recipe, which is smoked with maple oak.
LP O'Brien's Apple Maple Old Fashioned
Ingredients
2 oz. Bourbon
0.25 oz. Candied Apple Maple Syrup
2 Dashes Aromatic Bitters
2 Dashes Gingerbread Bitters
Directions
Stir the bourbon, Candied Apple Maple Syrup, and bitters in a mixing glass with ice, add the smoke of maple and oak chips, then strain into a tumbler. To finish, express the oils of an orange peel and garnish with an apple fan.
2. The 1806 Old Fashioned
Bartender Rob Floyd once helmed the bar at Hollywood's (in)famous Chateau Marmont hotel, he's created cocktail programs for José Andrés, and he currently travels the world hosting his Cocktail Theater presentations, among his many mixological endeavors.
"This is my favorite smoked cocktail because it is easy, delicious, and timeless," says Floyd. "Remember, taste is 90-percent smell, that's why smoked cocktails look so pretty and taste exceptional." Floyds' 1806 Old Fashioned is named for the year when the first written cocktail recipe was recorded in America. "I love to use dried Rosemary for smoking and a large glass lid so you can watch the drink smoke up beautifully."
Rob Floyd's 1806 Old Fashioned
Ingredients
2 oz. Bourbon or Rye
.5 oz. Rosemary simple syrup
2-3 dashes of Old Fashioned bitters
twist of Lemon
twist of Orange
Dried Rosemary leaves
Directions
In a mixing glass add spirit, rosemary simple syrup, and bitters. Add ice and stir 10-15 times. Pour over ice into a rocks glass. Express lemon peel over the cocktail, but do not put the lemon peel into the drink. Express orange peel over the drink and add orange peel to the cocktail. Finish the cocktail with smoke of dried Rosemary leaves.
3. The Smoked Manhattan
Miguel Buencamino, aka Holy City Handcraft, is a home bartender who dazzles cocktail lovers around the world with his cocktail photography and videos. He uses smoke to create cocktails with specific spirits that meld well with smoke flavors, like Widow Jane's Applewood Aged Rye in this smoked Manhattan recipe.
Miguel Buencamino's Applewood Manhattan
Ingredients
2.5 oz. Widow Jane Applewood Aged Rye
.75 oz. Sweet Vermouth
2 Dashes Orange Bitters
Apple Wood Chips
1 Maraschino Cherry (Garnish)
Directions
Combine rye, vermouth, and bitters in a mixing glass with ice. Stir, smoke, strain, and pour the cocktail into a chilled coupe. Garnish with one Italian cherry. Serve and enjoy.
4. The Smoked Bloody Mary (And Maria)
The Bloody Mary is a cocktail you typically crave the morning after, when you're not in the mood to put on a show with glass cloches and smoking guns, making it a perfect candidate for using pre-made smoked ice.
Whether you want to buy a good Bloody Mary mix or make it yourself, the ratio is simple: one part vodka (I like the Icelandic lava-rock-filtered Reyka, the peppery Polish-made Chopin Rye Vodka, and the Greek olive-based vodka, Kástra Elión) to three parts Bloody Mary mix. Pour over 2-3 smoked ice cubes in a highball glass.
Tequila and Mezcal also hold up well to smoke in a Bloody Maria or Mezcal Bloody Maria.
For the Maria, start with a 100% agave tequila such as Tequila Ocho Plata, or something with a flavor that will pair well with the smoke, like Tanteo Jalapeño Tequila.
Mezcal has an inherent smokiness that pairs well with smoked ice, because the agave used in making it is roasted instead of steamed. For a Mezcal Maria, Montelobos Joven or Convite Esencial both offer high quality and good value, making them ideal for mixing.
***
Making smoked cocktails is a low-effort, high-reward endeavor. Whether you're looking at smoking cocktails as a party trick or a heightened mixology technique, it's a fun approach to tinker with no matter how far or how seriously you take it. (It's also a great way to indulge your outdoor barbecue side during the cold winter months.) With a bit of practice, you'll be pushing out smoke-tinged drinks that take your home bartending to a new level.