Award-Winning Chef Ron Hsu's Shrimp and Pork Potstickers Are Worth the Effort
Chef Hsu grew up in his parents' Chinese restaurants helping his mom make these dumplings. Now, he continues the tradition with his three-year-old daughter.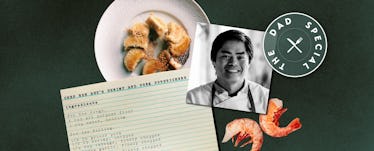 BDG; Andrew Thomas Lee; GETTY
Chef Ron Hsu is no stranger to the culinary spotlight. The director and co-founder of Atlanta's Lazy Betty, Juniper Café, and the soon-to-open Humble Pie, Hsu has worked in some of the finest restaurants in the world (including LeBernadin where was Executive Sous Chef and later, Creative Director), won numerous accolades (Lazy Betty was a 2019 James Beard Award semifinalist for Best New Restaurant), and competed on Netflix's "Final Table." But his favorite place to cook is in his own kitchen alongside his three-and-a-half-year-old daughter.
Hsu, who has been an outspoken voice for restaurants and food service workers during the pandemic, started cooking with his daughter when he was home more in March 2020. She was about 18-months-old then. He'd strap her to his chest in a baby carrier and get to work. One of the first things they made together was calamari ("She loved it," he says) and they've continued to spend time together in the kitchen ever since. Two of his favorite meals to prepare with her are fried rice — which Hsu emphasizes is a great way for parents to sneak vegetables into a child's diet — and his late mother Betty's recipe for pork and shrimp potstickers.
"My mom could make dumplings with her eyes closed, and she taught me and my siblings how to make them," says Hsu, who is a third-generation restauranteur and grew up working in his parents' Chinese restaurants. "We'd help out making them for hours, and it was always a great bonding time."
The recipe enables Hsu to bond with his daughter in a similar fashion and, importantly, pass something down from his mom's generation to her in the process. Betty was an enormous influence on Hsu's life and a powerhouse presence in the Atlanta area. She emigrated from Malaysia in the '70s, worked to bring her parents and many siblings over to America, opened a string of Chinese restaurants, and raised three children, all of whom are successful restauranteurs today. Hsu named his restaurant Lazy Betty as a sarcastic wink to her incredible energy and work ethic.
Hsu makes a big batch of these potstickers, which are beautifully crispy on the outside and soft and fragrant on the inside, a few times a year. He freezes them on a sheet tray once they're sealed and places them in a freezer bag for easy prep later. His daughter helps with the forming and shaping of the filled dough.
Homemade potstickers are certainly a labor of love, and there's a technique in crimping the dough just right. In terms of potsticker-making advice, Hsu says repetition is key. Besides that, he says to simply enjoy the experience. After all, following this recipe is less about perfecting the potstickers, and more about continuing a tradition.
Here's how to make them.
Pork and Shrimp Potstickers
This recipe should yield 25-35 potstickers, depending on how large you make them.
Ingredients
For the dough
2 cups AP Flour1 cup water, boiling
For the filling
½ lb. ground pork½ lb shrimp, chopped¼ cup cabbage, finely chopped2 cloves garlic, finely chopped2 tbsp scallion, finely chopped1 tbsp ginger, finely chopped1 tbsp sesame oilSalt and pepper2 tbsp of water
For the dipping sauce
1 jalapeno, sliced into thin rounds2 tbsp rice vinegar½ cup soy sauce½ tsp garlic and ginger, minced
Special equipment list
A small, thin rolling pin (like the end of a broomstick)Nonstick pan and lid¼ cup size measuring cupWooden spoon
Directions
Making the dough
Bring 1 cup of water up to a boil, and place the flour into a mixing bowl.
Using a ¼ cup measuring cup, add ¼ cup of boiling water into the bowl of flour. Incorporate the water into the flour using a wooden spoon.
Add another ¼ cup of boiling water into the flour. Incorporate the water again using the spoon.
Add one last ¼ cup of water into the flour and mix until the dough forms a nice smooth ball. (Total should be about ¾ cup of water used for the dough.)
Cover the dough and set aside for 30 minutes.
Making the filling.
Combine all the ingredients in a bowl and store in the fridge until ready to use.
Making the sauce
Combine all ingredients (This can be made 24 hours in advance.)
Forming the potstickers.
Take the dough and shape it into a cylinder about 1 inch thick wide.
Cut the cylinder into pieces about ½ inch wide.
Take the small pieces of dough and roll them out into ⅛ inch thick rounds about 3.5 inches wide using the rolling pin.
Place a spoonful of the filling onto the middle of the dough.
Fold up the dough around the filling like you're holding a taco. Pinch one end of the dough to seal.
Fold the dough by creating "dimples" on one side of the dough and sealing the dimple against the other side of the dough. Do this method all the way up the dough until it is completely sealed off.
Repeat this with the rest of the dough and line up the potstickers on a tray sprinkled with flour. *Note, here, you can freeze them. Place the tray in your freezer until the potstickers are solid. Then, place them into freezer bags.
Cooking the potstickers
Place 2 tbsp of canola oil into a nonstick pan.
Fit as many potstickers in the pan without them touching. Leave at least a ⅓ inch of space between each potsticker as they'll expand after cooking.
Pour water into the pan so that the water goes ½ way up the potsticker.
Turn on the heat to medium and cover the pan and allow to cook until you start to hear a sizzle, about 10-12 minutes. Once you hear the sizzle take the lid off and check the potstickers. If they have golden brown bottoms they are ready.
Remove from the pan and serve with dipping sauce.