How To Open Up About Sexual Fantasies With Your Partner
While sometimes difficult, discussing fantasies can bring your relationship to new levels of intimacy. So long as you follow a few ground rules.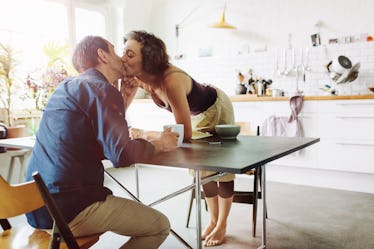 Getty Images
It's completely natural to have sexual fantasies. For most people, that's obvious. However, navigating some of these fantasies can be a bit more complicated if you're in a relationship.
According to a recent survey, one in two partnered Americans confess to fantasizing about other people while having sex with their partner. Because some fantasies — like non-monogamy — are seen as more taboo, they're often withheld, driven by fears of shame or concerns for partners who may feel like a fantasy undercuts their own sexual ability. Still, repressing fantasies predictably leads to miscommunication and diminished sexual satisfaction.
This is a major contributor to the pervasive lack of sexual satisfaction in America. A recent report that I contributed to, alongside married dating site Ashley Madison, titled Unbound Love: Sex, Fantasy, and Desire, explored this topic and found that nearly half of the partnered population in the U.S. isn't very satisfied with the sexual aspects of their relationship, while nearly half also say they're not comfortable sharing sexual fantasies with their partners.
While it's sad that many people can't express their sexual fantasies openly, it's unfortunately not surprising. Even as we slowly embrace greater sexual diversity, our culture continues to stigmatize many sexual desires and fantasies, especially those that don't fit within a narrow societal box of acceptable behavior. We also continue to censor information and conversations about sexuality more broadly. Ultimately, this robs people of language and confidence to speak about their sexual fantasies with their partners and makes them feel shame, guilt, and fear.
The key to stopping these harmful feelings is being more open.
Studies show that sexual communication is linked to higher sexual satisfaction, while sexual repression and miscommunication are linked to higher dissatisfaction. So, even if it may feel uncomfortable to talk about fantasies with a partner, especially if they involve someone else, it's still important to speak your mind and be more transparent about what you're fantasizing about.
Being open can also increase the quality of the relationship as a whole, as fantasies often represent a very vulnerable part of us, which is why many don't share them. Disclosing them builds intimacy and trust, which in turn leads to greater relationship happiness and love. The best part about fantasies is that you and your partner never have to act on them, and you'll still reap the benefits.
There is of course a risk your partner might react negatively, so it's important to tread lightly around the subject and the circumstances of when, where, and how it's shared. However, according to a large survey of Americans' sexual fantasies by renowned social psychologist Justin Lehmiller, a majority of those who have shared their fantasies with their partner have encountered a positive reaction.
If you're still unsure about how exactly to start disclosing your sexual fantasies and being open with your partner about them, here are five things to consider doing.
1. Swap Stories
Chances are, you've had other partners in the past with whom you've explored things. Your partner probably has, too. Delicately talking about things you've each done in the past can be a good way to gauge how open you both are to certain sex acts. If you're open to it, you can share both positive and negative experiences, and what made them positive or negative.
2. Choose a Sexual Fantasy of the Month
Make a list of all your fantasies, but don't share all of them at once. Instead, both of you should choose one item each month to share with each other, and use that period to talk about those two fantasies, develop them in different contexts, and engage in them. This is a great way to see what fantasies you have in common and which ones you wish to actually explore rather than just talk about. If two fantasies a month sounds like too many, pick only one and alternate each month.
3. Watch Porn Together
Some people see watching porn while in a relationship as a big no-no, but it can be a great relationship builder when done together. Watching sexual acts that you may want to explore from a third-person perspective gives you a great idea of what it looks like and what it might be like to experience it.
4. Go To a Sex Shop Together
You may wish to explore certain kinks that require toys but don't know which ones are right for you. The best way to figure this out is to go to a sex shop with your partner, where you can look at various items that can be used for many different kinks and desires. And there will undoubtedly be staff there who can answer any questions you might have.
5. Use Apps to Discover Shared Kinks
Sexual fantasy apps such as Kindu allow couples to explore their desires together. They offer a long list of X-rated activities you and your partner can swipe Yes or No on, and then your mutual fantasies are revealed. This way, you don't have to worry about your partner finding out about fantasies they may not be open to, and it makes it easier to discuss the ones you have in common.
In short, the ability to express sexual desires within a relationship can be life-changing. It improves the quality of your sex life and helps you feel happier, healthier, and more connected to your partner. It may be difficult at first, but establishing boundaries as you begin to talk about how you feel can unlock the secret to ending sexual dissatisfaction.
Dr. Zhana Vrangalova is an NYC-based sex researcher, speaker, writer, consultant, and adjunct professor at NYU where she teaches several courses on human sexuality. From 2017-2019 she hosted the Science of Sex podcast.