When The Layover Becomes The Family Vacation
One of the world's busiest airports is so well designed, it is the destination.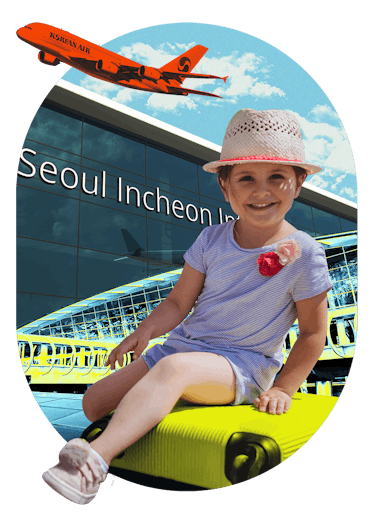 Emma Chao/Fatherly; Getty Images
Layovers are one of the more challenging aspects of family travel. While, yes, carrying a kid in one arm and dragging all your luggage with the other while sprinting at full speed to make your next flight is a particular type of torment, a three-hour wait for your next flight with little more to do besides dodge crowds and count the Auntie Anne's pretzel kiosks might be an even worse fate.
Unless, that is, you find yourself in South Korea's Incheon International Airport. The 7.5-million-square-foot facility, the main hub of Seoul, is more of an oasis than a traditional hub, featuring museums, technical displays, a movie theater, an inline skating rink, seven — yes, seven — pristine gardens, and even an 18-hole putting course and full-service driving range. Incheon is practically a destination in and of itself — or at least somewhere you might actually consider intentionally opting for a more extended layover. Be it in quality, quantity, or value, few airports offer more for families.
When my wife and I passed through Incheon with two of our kids in 2019 on our way to Vietnam, we held moderately high expectations, thanks to friends who had enjoyed time at the airport in the past. But we weren't looking forward to anything specific about the layover besides seeking out delicious BiBimBap. This is an airport, after all.
That quickly changed when we glimpsed the Narae-view gardens in Terminal 2. Set under a giant skylight, the area features dozens of full-grown trees arranged across a multi-leveled terrace and a color-changing waterfall. Let me tell you, when you're used to recirculated air and the sounds of clanging luggage, the natural sounds and smells are a welcome sight.
Incheon Airport hosts the biggest landscape gardening operation in South Korea, one that employs 90 horticulturists to tend the nearly 300 plants and trees. While vegetation is spread throughout the buildings, each of the seven gardens is distinct — a cactus garden, a flowering tree garden, a water garden, a rock garden.
The kids weren't exactly wowed by the gardens. But they were drawn into the STEM showcase area near the hub on the west end of Terminal 2. There, we found a digital printer that made pocket-sized replicas of the air traffic control tower for them to keep, VR games (the full-body gliding simulator is a great time), and a robot that functioned as a full-service barista that made a darn good vanilla latte. It was a perfect spot for all of us to hang out. It helped that aside from the hot beverages, everything in the room was free.
Groggy families can head to one of the airport's Relax Zones, which are open 24 hours and feature a suite of recliners. There are also four Nap Zones throughout the airport that feature padded benches and beds. The social expectation is that everyone remains quiet so as not to disturb other passengers.
That's clearly not going to work if your kids are bouncing off the walls, but there are numerous options to help them let out the wiggles. One of the best is a digital gym filled with exercise options disguised as video games. From a video wall setting heights to reach with the help of a mini trampoline to competitions clearly inspired by Dance Dance Revolution, little and big bodies alike can dance, step, jump, and even dunk basketballs. There are plenty of showers in the airport in case you work up a sweat — or want to wash off your previous flight.
Even a simple walk around the airport offers an abundance of sights. It's common to stumble upon musicians playing traditional Korean music or instrumental renditions of K-pop hits as well as enactors showcasing the styles of the royal family during the Joseon dynasty. There are also traditional changing-of-the-guard ceremonies that re-create what one would see on a visit to any of South Korea's grand palaces.
Hands-on cultural opportunities that double as souvenirs are also available for those feeling crafty. Kits to make bracelets or traditional Korean fans are available at the Korea Traditional Culture Experience Center on the main concourse. Those wanting to up the degree of difficulty can learn a bit about Korea's distinct writing system by scrawling their name on a scroll in Hangul.
As much as there is to do inside Incheon, perhaps the most enticing reason to schedule a long layover while passing through is that every effort is made to help travelers get outside. From complimentary bag checks to free transportation and guides around some of Seuol's most notable attractions, a well-oiled tourism and hospitality machine makes it easy for families to experience a brief cultural immersion.
Even with all of the activities and excursions, Incheon still gives a nod to those who are mesmerized by planes. One of its most underrated features is the observation decks that give panoramic views of takeoffs and landings.
Watching planes from all over the world taxi and take off is perhaps the purest form of airport entertainment. It's an opportunity to test exactly how many times in a row a toddler can excitedly shout "Airplane!" before the wonder wears off, and an invitation for parents and older kids to have fun guessing where each plane is headed. Fun? In an airport? Welcome to Incheon.