5 Seriously Great Scotch Cocktails To Sip This Winter
From a smoky hot toddy to an herbaceous riff on the classic Penicillin, these cocktails put the beloved whisky front and center.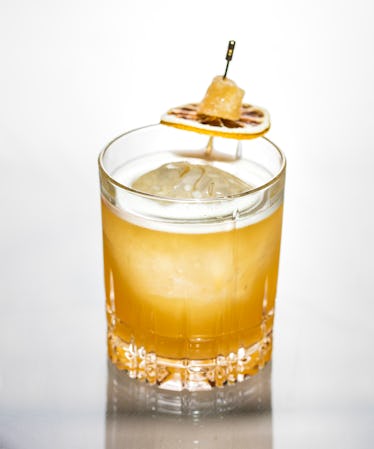 Few things pair as well as a Scotch and a cold winter evening. The warmth and complexity of the spirit and the slower, more contemplative mood of the season are perfect complements. And despite the facts that many Scotch purists believe that "neat" is the only word that should come near it in a drink order (even asking for a few drops of water in the glass is akin to blasphemy), there are many fortifying, delicious wintry Scotch cocktails that highlight the often peaty, smoky, notes of the spirit fit the season beautifully. We asked five Scotch-loving mixologists to offer their favorite whisky cocktails to make during the winter months. From a smoky hot toddy to an herbaceous riff on the classic Penicillin cocktail that features Scotch and Sherry, here are five excellent cocktails with Scotch to try.
1. The Islay Hot Toddy
The Hot Toddy, that classic warm-me-up drink, is elevated when you use a smoke-forward Scotch instead of regular whiskey. "The Islay Hot Toddy brings an already cozy cocktail to any fireside or cold weather setting," says Cameron George, National Brand Ambassador for Ardbeg. "The smoked lapsang souchong and herbal notes of Ardbeg Ten add layers of complexity to this rich, warm and soothing cocktail. It's perfect for sipping all winter and early spring."
Ingredients
Directions
Make tea as you normally would, by steeping the tea bag in the hot water, for 10 minutes. In the meantime, fill a mug with hot tap water and let it heat the mug before dumping the water. Then, squeeze the half lemon into the mug, and add in the Scotch and honey. When the tea is done, remove the bag and pour it into the mug with the rest of the ingredients. Stir until the honey is dissolved, then garnish with the lemon slice.
2. Godfather's Tea
Spike McClure, Brand Ambassador of Marussia Beverages, suggested a winter riff on the classic Godfather cocktail. Typically, the drink is served with ice in an old fashioned glass. "However," says McClure, "removing the ice and adding warm tea really brings out the toasty vanilla flavors of Mossburn Speyside Scotch coupled with addition of true amaretto by Bepi Tosolini, who only uses real almonds in their distillation."
Ingredients
Directions
Mix the Scotch, amaretto, and orange juice in a mug, then top it off with hot black tea. Garnish with the dried orange slice and cinnamon stick.
3. The Perfect Pear
"In Scotland, the phrase 'coorie in' means to get cozy, and this cocktail is the perfect pairing for those evenings while we enjoy winter and all its snug traditions," says Rory Glasgow, National Brand Ambassador for Glendronach, Benriach, and Glenglassaugh Scotches. He adds that winter pear is the perfect pairing for Scotch whisky, especially when used with a fruit-forward Speyside single malt like Benriach."
Ingredients
Directions
Add the Scotch, amaro, pear nectar, honey, lemon juice and bitters in a mixing glass, and stir with ice to chill it for about 30–45 seconds. Then pour it into a coup glass and garnish with ripe pear slices.
*For the thyme-infused honey
Add 4 fresh thyme springs into a jar with ½ cup of honey sugar and ½ cup of warm water. Shake to infuse the flavors and dissolve the honey into a runny consistency. Then allow it to rest and cool completely. Strain out the thyme springs before using it in the cocktail.
4. The Cure
The Penicillin cocktail — which sees Scotch paired with ginger, honey syrup, and fresh lemon juice — was created in the mid-2000s by bartender Sam Ross at New York City's Milk & Money. It borrows its name from the antibiotic as a wink to the fact that it may help cold symptoms dissapear. Regardless, its combination of smoke, citrus and ginger is soothing as they come. Sean Patrick McClure, Beverage Director at New York's Ivory Peacock, says his go-to Scotch cocktail is a salted honey Penicillin that he calls "The Cure". A riff of the basic Penicillin recipe, "it's slightly smoky, spicy, citrusy, and refreshing."
Ingredients
Directions
Combine the Scotches, syrup, juice, and salt in a shaker. Shake vigorously, then strain over fresh ice. Garnish with the lemon twist and a piece of candied ginger.
*For the honey ginger syrup
In a saucepan, combine a 4" piece of ginger root—peeled and chopped—with a ½ cup of honey and ½ cup of water. Let it simmer for 20–30 minutes before straining it into a jar to store in the refrigerator for up to a week.
5. The Antidote
Another riff on the Penicillin, The Antidote was offered up by master mixologist Justin Lavenue of Austin's Roosevelt Room. While it features lemon, ginger, and Scotch, the additions of rosemary and Sherry give it a different dimension. Says Lavenue, "It is sure to cure the winter's frosty bite."
Ingredients
Directions
Add the ginger, rosemary, lemon juice, and honey syrup to a shaker tin and muddle the solids into the liquids. Then add in the Scotch, liqueur, and Sherry. Top it with ice cubes, seal, and shake for 5–7 seconds. Strain it into a rocks glass with a large ice cube, then garnish with ginger candy, a dried lemon wheel, or a rosemary sprig.
*For the wildflower honey simple syrup
Dilute one part honey into one part water in a saucepan over a medium heat until there's an even consistency. Store for future use.