12 Great Bottles of Single Malt Scotch to Sip This Winter
Scotch and winter are a perfect combination. Here are 12 bottles worth savoring this season — and some sipping advice from a few noted experts.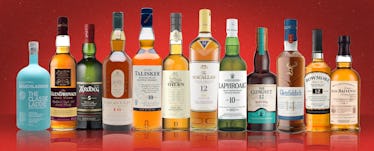 Winter is the time of year when the body craves a warm fire, a leather club chair, and, if you're a drinker, a glass of Scotch whisky. Maybe a smoky Islay nightcap, or a smokeless Speyside with notes of soft ripe fruit and vanilla. It's a lovely pairing. But what Scotch is worth sampling? Scotch is a crowded, complex category as diverse as wine. In terms of where to begin, we've identified 12 distinct bottles of single malt Scotch that fit the season well — and illustrate this fact.
Before that, however, we wanted to offer some basic rules of appreciation and some pointers on how to drink Scotch from a few noted experts.
"Whisky is for enjoyment, and you should enjoy it as you choose," said Charles MacLean, the world's most interesting (and least pretentious) authority on Scotch. The 69-year-old whisky sage lives in the heart of Edinburgh and is the author of 18 books on the spirit, including Whiskypedia, a pocket-sized primer that should be in every Scotch drinker's library. "But if you want to really get to grips with it, there are two very simple rules: One, use an appropriate Glencairn glass, and two, don't add ice."
MacLean's two rules stand because you need a glass that collects the aroma of the Scotch and delivers it to your nose in a way a tumbler will not. And as for the ice? The solid stuff is great for enjoyment but not for appreciation. As it melts, ice closes down the aroma and flavor. Instead, add water. "And don't be shy," Maclean said, pointing out that actual Scotch blenders dilute to 20% alcohol when they're tasting, though he prefers less dilution, to around 40%.
Aside from those pointers, MacLean simply wants everyone to enjoy Scotch without pretense. "The great thing about malt whisky is that there's such a diversity of flavors, aromas, and tastes, so the fun is to explore," he said. "And for goodness sakes don't rely on age or always go to one particular brand." A whisky's age, according to MacLean, is one good guide to quality but shouldn't be the only one, as it sometimes indicates inflated prices.
To hammer this home, MacLean recounted a time when he and some friends went salmon fishing on the River Tweed in the winter. He bought a cheap bottle of Scotch from a local grocer, the only thing he could find, and it was, in his words, "rough as guts and cheap as chips." It was a very cold day, and the sun went down at 4 pm. But somebody caught fresh salmon, and they all piled into the fishing hut and got the Tilly lamps and the stove going, and divided that swill into six tumblers. "Everybody said it was the best Scotch they'd ever tasted," said MacLean. "I mean it was shit, but in the circumstances…" he recalled with an infectious laugh.
His point is clear. With good company and the right circumstance, any bottle of Scotch can be transcendent.
Hans Offringa, author of the excellent resource A Field Guide to Whisky, also has some advice for Scotch drinkers: "Trust your nose." The nose is where the true character of a whisky reveals itself with more nuance than taste, mouthfeel, and finish.
For his part, when the dark days of winter come, Offringa enjoys the smokier styles associated with Islay (pronounced eye-luh), a Scottish island where coal was hard to come by, so peat was used as an alternative heat source. Lagavulin is a winter favorite of Offringa's. When performing the sometimes difficult task of converting Bourbon drinkers to single malts, Offringa recommends what he calls "more-ish" whiskies — those that make you want to take another sip, such as Glenlivet 12 and Glenfiddich. He also recommends diluting with water down to 40% alcohol for tasting. "It's about dissecting the whisky, the different layers, and not letting your preference lead you — asking, is it complex, is it well balanced?"
Whether you ask those questions or not is, of course, up to you. Scotch is for enjoyment, and you can enjoy yours however you see fit. Here, then, are 12 Single Malt Scotches with a broad range of personalities to explore during the cold winter months, and beyond.
This article was originally published on