Kick Off Grilling Season Right With Rodney Scott's Pork T-Bone Recipe
The award-winning pitmaster offered up some tips for backyard barbecuers as well as a recipe for his sweet, spicy grilled chops.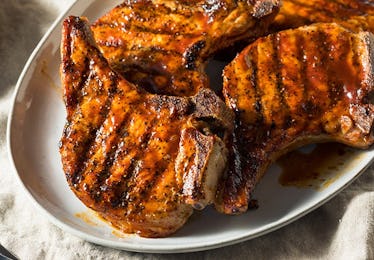 Spice House
Rodney Scott is pretty much the patron saint of low-and-slow Carolina-style barbecue. The award-winning pitmaster and owner of Rodney Scott's BBQ has dedicated his life to the art of whole-hog cooking and is one of the most respected pitmasters in the country. In 2018, he was named Best Chef: Southeast by the James Beard Association (he was only the second pitmaster to ever win a James Beard); he was featured on an episode of Netflix's Chef's Table; and in 2020, he was inducted into the Barbecue Hall of Fame. Whether he's smoking an all-day brisket or grilling a few chicken wings, Scott's technique is largely unmatched.
Recently, Scott partnered with The Spice House to collaborate on a line of namesake rubs. Including Garlic Butter Pepper Herb, Carolina Fire Chile, and Black Chile Coffee Cocoa, the various blends provide backyard barbecuers with some of Scott's favorite flavors. As the start of grilling season is upon us, Scott offered Fatherly some of his go-to barbecue tips as well as a recipe for grilled Pork T-Bones that is sure to become a part of your summer meal rotation.
What are some common mistakes you often see people make when firing up the grill?
A common mistake I see people make all the time is starting the grill too hot, then walking away and not paying attention to the grill itself, which results in overcooking or burning your meat. It's easily avoided. Just keep your eyes on the grill and never put too many coals on to start.
What are some techniques you use to infuse flavor into meats while grilling?
One technique I use is brushing the sauce over the meats while they are still on the grill. This lets the flavors and marinades penetrate and cook through the meat during the grilling process. I'm saucing both sides of the meats twice during the cooking process, one side about an hour in and the other side towards the end. And if you want to add a little bit more once you pull it off the grill, you can do that.
Everyone has their own style, opinions, and interpretation of what barbecue is and what it means to them, and that's what's so beautiful about it.
Do you have any secrets for telling when a piece of meat is done cooking on the grill or in a smoker?
If you're a seasoned backyard barbecue warrior, you can usually tell visually when meat is done smoking. When the protein looks like it's done, you should always confirm with a temperature check using a meat thermometer to ensure it's cooked to perfection.
Some of the visual signs to look for are caramelization and charred marks that will appear on the outside of the meat. If you're smoking ribs, the bones will start to stick out and pull away from the bone and that's a sure sign your ribs are ready.
If you're smoking a brisket, the best visual to look out for is a nice crust on the brisket. It will be almost completely black and it will feel like a layer of crust on the outside. The meat itself should jiggle a little bit if you shake it.
But of course, if you're new to grilling, having the timing and temperature as accurate as possible is always going to give you the best result. When checking the temperature, you always want to probe the thickest part of the meat to make sure it's cooked properly.
What is the most important thing to focus on when smoking?
The internal temperature is the most important. The low and slow way is going to result in much more tender and succulent meats, and will also lower the chance of burning your proteins. Some people may not know, but if you start smoking meats at a higher temperature, the outside of the meat starts to burn before the inside starts to cook – and that can be a recipe for disaster.
Finally, what is something you know now that you wish you knew when you first started cooking?
To listen more, have a lot more patience, and always be open to different techniques and styles. Everyone has their own style, opinions, and interpretation of what barbecue is and what it means to them, and that's what's so beautiful about it. Be open-minded and willing to listen and you can learn a lot.
Rodney Scott's Pork T-Bones with Ginger Chile Espresso Maple Rub
Ingredients
2 teaspoons Diamond Crystal kosher salt
4 pork T-bone steaks (8 ounces each), 1 inch thick
1 cup Rodney's Sauce (recipe below)
Canola oil, for the grill
Instructions
Combine the Ginger Chile Espresso Maple Rub and salt and mix thoroughly. Season the T-bones all over with the rub mixture, place them in a large zip-top bag, and refrigerate for 6 to 8 hours.
Remove the pork chops from the refrigerator to take off some of the chill before cooking, about 20 to 30 minutes.
Fire up your grill. Heat the grill to between 400°F and 450°F. Measure out ¼ cup of the sauce and place in small bowl for mopping. Set the rest of the sauce aside for serving.
Use grilling tongs to lightly brush the grill grate with a canola oil-soaked cloth. Place the T-bones on the grill and lightly mop with the sauce in the bowl. Close the grill and cook until the meat begins to develop nice deep brown grill marks, about 8 minutes. Flip, mop again, close the grill, and cook until the second side also has deep brown grill marks, about another 8 minutes.
Stand the T-bone up on the bone side and cook covered until it is also nicely browned, about 4 minutes. Remove the pork steaks from the grill and set on a platter. Allow to rest in the remaining sauce for at least 5 minutes before serving.
Rodney's Sauce
(Makes 1 gallon)
Ingredients
1 gallon distilled white vinegar
1 lemon, thinly sliced
1/2 cup ground black pepper
1/3 cup cayenne pepper
1 ¼ tablespoons red pepper flakes
2 cups sugar
Instructions
In a medium saucepan, combine all ingredients.
Cook over medium heat, stirring frequently to prevent the sauce from sticking to the bottom of the pan, until the sugars are melted and the sauce is smooth, about 10 minutes.
Remove the lemons. Allow the sauce to cool at room temperature and refrigerate in an airtight container for up to 3 weeks.