400 Surprising Meanings Of Popular Baby Names
Every baby's name has a story behind it.
by Emily Kelleher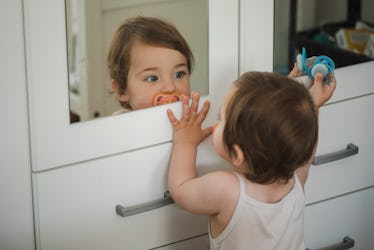 Emilija Manevska/Moment/Getty Images
No one chooses a baby's name lightly. And yet, for all the considerations that parents bring to the job — whether to go with an old-fashioned name or try for something unique — a name's meaning may not come into the initial conversation at all. Obscured by time and geography, the original meaning can take parents by surprise.
Some of the world's most popular names — names that connote strength, charm, and success — have surprisingly humble beginnings. Javier, for instance, means "owner of a new house," while Glen means "from the secluded narrow valley." Jameson means — you guessed it — "son of James."
Dozens of popular baby names — from all over the world — are simply variations on "gift from God." The truth is, the vast majority of us don't know the original meanings of our own names — much less the thousands of baby names up for consideration. But if a name's ancient and deeper meaning speaks to you, it might just be the essential key that unlocks the perfect name for a baby girl or boy.
Surprising Boy Baby Name Meanings
Aaran – strong mountain
Aaron – enlightened
Aariz – respectable
Abba – father
Abbey – father rejoiced
Abbot – Hebrew word for "father" or "head of community"
Abie – servant
Abir – strength
Abraham – father of multitudes
Addison – son of the mighty warrior
Ace – one
Adair – from the brook by the oak grove
Adam – made from the earth
Adler – he who is brave
Adrian – derived form the ancient place in Italy
Ahmed – praiseworthy, comfort
Aidan – he who helps
Alan – attractive man, fair one
Albert – he who is brilliant
Amos – burdened
Andrew – courageous
Baldwin – bold friend
Bao – treasure
Ballar – brave, strong
Baxter – baker
Barney – dweller from the barn
Beau – French for "beautiful" (masculine)
Beck – dweller near the brook
Benedict – blessed
Benito – blessed
Benjamin – right hand's son, favorite son, son of my sorrow
Benson – son of Ben
Bentley – bent grass meadow
Bert – shining, bright
Bingham – one who lives by the bridge
Bill – willful one, strong-minded
Blake – dark or fair
Blythe – cheerful
Braden – from the wide valley
Bram – father of multitudes
Cain – acquired
Caleb – bold
Carl – strong
Carlin – little champion
Carlton – from the strong, courageous town
Carmen – vineyard of the lord
Carmelo – fruitful
Carter – cart maker
Casey – brave, aggressive
Cato – cautious wisdom
Chandler – candle maker
Charles – full grown, a man, a historically royal name
Chekani – to cut
Chimango – builder
Chipati – to part
Clark – learned scholar
Claud – weak
Cortez – courteous
Cosgrove – from the cows grove
Costa – little, constant, steadfast one
Covey – from the cove
Craig – from the rock
Creed – one who believes
Crosby – from the village with a cross
Dale – living in a valley
Dalton – from the town in the valley
Damien – tamer
Daniel – God is my judge
Darby – freedom
Daren – born at night
Dario – wealthy
Davis/David – beloved
Dempsey – proud
Denley – from the meadow
Dillon – faithful
Dimitri – immeasurable, gracious
Donovan – dark warrior
Dorion – gift
Drew – wise, esteemed
Duka – to dance
Duncan – steadfast warrior, strong in faith
Earl – promise
Earl – friend of the sea
Edmond – wealthy protector
Edwin – wealthy friend
Eli – uplifting
Elijah – the Lord is my God
Eloi – chosen
Emery – industrious, hardworking ruler
Emre – brother
Eric – forever ruler
Ezekiel – God strengthens
Felix – lucky, happy
Fidel – faithful
Fortino – fortunate
Gabriel – God is my strength
Garcia – brave spear carrier
Glen – from the valley
Golden – gold friend
Grady – noble, illustrious
Grant – grant
Guy – guide from the forrest
Hamilton – from the proud town
Hedwig – fighter
Henry – ruler of the house
Herald – story bringer
Herb – brilliant warrior
Hermes – messenger
Hillel – new moon
Hiram – exalted, noble
Horace – time keeper
Howard – watcher, guardian
Howell – little, alert
Hubert – bright mind and heart
Huey – intelligent
Hugo – intelligent
Humbert – bright giant
Hugh – having a bright mind
Humphrey – a peaceful warrior
Ike – one who brings laughter, god smiles
Ira – alert, watchful stallion
Isaac – one who brings laughter, God smiles
Israel – he who wrestles with God
Jabbar – one who consoles other
Jacob – supplanter
Jaime – he who supplants
Jamal – a handsome man
Jason – healer
Jared – descending
Jax – son of Jack
Jay – victory
Jayce – healer
Jayden – thankful
Jaylan – calm
Jeffery – man of peace
Jeremiah – the Lord exalts
Jonah – accomplisher
Jordan – to flow downward
Joya – to have restraint
Jude – right with the law
Justin – righteous, just
Kacey – brave
Kade – from the wetlands
Kadir – spring
Kadish – holy
Kai – willow tree
Kalani – heaven, chief
Keanu – sea breeze
Kent – lord
Kin – golden
Kirby – from the church by the meadow
Kingsley – from the king's meadow
Kyle – from the straight
Lamar – famous
Lavern – springtime
Leif – beloved
Leo – lion man
Leon – lion-like
Leonard – bold, strong
Leor – light of mine
Levi – joined
Leroy – king
Louis – famous fighter
Luke – bringer of light
Marcus – warrior
Maren – sea
Marion – sea
Marlow – from the hill by the lake
Micah – who is like the Lord
Michael – who is like God
Milan – loving
Millar – grain mill worker
Milo – peaceful, merciful, mild
Nathan – gift from God
Nicolas – people's triumph
Noah – to comfort
Norman – composed of French words for north and man, once used to identify a group of Scandinavians living in Normandy
Oakley – from an oak tree
Oliver – derived from either French Olivier (olive tree) or German Alfihar (elf warrior)
Oren – pale, pine tree
Otis – wealthy
Paco – French man
Paul – derived from Latin word for small, Paulus
Quigley – loving nature
Quincy – fifth, patient
Quon – bright light
Rafi – musical, friend
Raleigh – jovial
Ralph – advisor to all
Randy – secretive
Ravi – sun god
Rio – River
Rich – wise
Roan – red-haired
Robert – bright fame
Robson – son of Robert
Rocco – battle cry
Roger – famous spear
Roland – famous country
Ronan – little seal
Sandros – defender and freer of mankind
Sander – defensive
Schneider – stylish
Seamus – replacement, bonus
Sebastian – dramatic, honorable
Serge – gentle man
Sergio – handsome
Vincent – conqueror
Vito – full of life
Surprising Girl Baby Name Meanings
Abigail – source of father's joy
Abra – mother of multitude
Acacia – honored one
Ada – prosperous, nobility
Adair – she who is beautiful, exalted
Adalia – honor
Adina – she who is delicate
Adele – graceful and noble
Adelaide – noble, kind
Adrianne – woman from Adria
Agatha – she who is kind
Agnes – sacred and chaste
Aida – helper, derived from the French aider, to help
Ainsley – a meadow
Alana – fair
Alea – honorable
Alessa – protector of humanity
Alethea- truthful
Alexis – defender, helper
Aliana – light
Alice – noble, kind
Almira – royal one
Amira – leader
Amani – faith
Amelia – ambitious
Amy – beloved
Anaïs – graceful, full of grace
Anastasia – resurrection
Angela – angelic
Anika – graceful
Anita – grace
Anna – full of grace, mercy
Anne – full of grace
Annalise – grace, devoted to god
April – open
Araminata – defender
Audra – noble strength
Aviva – fresh, springlike
Aziza – beloved
Beatrice – one who brings happiness
Bailey – from the French word for bailiff, justice officer
Bao – gem
Barbara – stranger, foreigner, once used to refer to non-Romans or those considered uncivilized
Basimati – to be finished
Bea- bringer of joy
Bertha – radiant
Bibi – full of light
Bethany – house of god
Bethel – holy place
Betsy – pledged to god
Bianca – white, shining
Billie – determined
Bindi – a tiny drop
Blair – plain, battle
Blanche – white, pure
Blythe – kind, joyous
Bodhi – awakened, enlightened
Bonnie – beautiful, good
Brigitte – strength
Brittany – strong
Bryn – honorable
Candence – rhythm, flow
Catherine – pure
Caitlin – untainted
Camille – pure, virgin of unblemished character
Cara – friend, she who is dear
Carissa – she who is dear
Carole – joyous song, full-grown man
Cassandra – temptress
Cecilia – blind
Celeste – celestial, heavenly
Cheryl – beloved, dear one
Clio – praise
Constance – unchanging
Cora – young woman
Cynthia – luminous
Dahlia – flower, gentle, tender
Daisy – inspired by the popular flower; the old English word "doeges eage," days eve, refers to the sun-like yellow center of the flower
Danica – morning star
Daniele – feminine form of Daniel, which means "God is my judge" in Hebrew
Dale – valley
Daria – prosperous
Davina – cherished, beloved
Delma – from the sea
Denise – derivative of the greek god Dionysus, the god of wine and revelry
Diane – divine
Donna – lady
Edna – pleasant
Elena – bright, torch
Elaine – light, bright, torch
Elizabeth – God is abundance
Eleanor – bright shining one, light
Eloise – great in battle
Elsa – noble young woman
Esmé – beloved, loved, guardian
Esmeralda – emerald
Estelle – star
Esther – star
Eva – life
Eve – life
Fatima – captivating,
Finley – fair haired, hero, warrior
Frances – free one
Francesca – free one
Gabrielle – God is my strength
Georgia – farmer, earth worker
Gloria- Glory
Greta – a pearl
Haley – heroine
Hannah- full of grace, mercy
Harriet – rules the home
Hazel – victory
Heidi – noble
Hella – the sun
Hera – protector
Hillary – bringer of joy
Hilda – battle
Ida – labor, industrious one
Idalia – industrious
Iman – God is with us
Ingrid – beautiful, fertile
Irene – peace
Iris – rainbow
Isadora – gift, fertile
Isla – island
Jennifer – fair lady
Jaqueline – supplanter
Jane – God is gracious
Jolie – pretty
Kalliope – beautiful
Kamila – free born
Kara – pure
Karen – pure, unsullied
Klohe – blooming, verdant
Kleopatra – glory, father, of a famous father
Katrina – pure
Keara – dark one
Kendra – knowledgeable
Kristin – anointed one
Kyle – she who is pretty
Kyra – sun
Lala – cheerful
Lana – little, soft
Leah – weary
Leandra – lioness
Madelaine – from the tower
Martha – lady, mistress
Mirabelle – wondrous
Mona – alone
Nadia – filled with hope
Naomi – pleasant
Nanette – grace, favor
Nicole – victory the people
Nicolette – people's triumph
Nina – gracious
Noel – Christmas, birthday of the Lord
Odele – song
Odelia – wealthy, prosperous
Ophelia – helpful, successor
Pandora – all gifted
Patricia – aristocrat
Rachael – purity
Renee – reborn
Rita – pearl
Roxanne – dawn of day, radiant
Sadie – princess
Sally – princess
Sarah – princess
Sandra – helper, defender
Sharon – a flat place of ground, a plain
Solange – yearly, solemn
Sophie – wise
Tamara – palm tree
Valerie – strong, healthy
Venus – love and desire
Vera – believed to be a word for faith (vjera) or the Latin word for truth (vera)
Victoria – victory
Viola – inspired by the name of the flower
Violet – also inspired by a flower
Virginia – spring like, flourishing
Vivienne – alive, full of life
Willa – feminine version of William, originated from German word for "resolute protector"
Xena – welcoming, hospitable
Yasmine – jasmine flower
Zadie – princess, mother of Zeus
Zara – flower, blossoming
Zelda – blessed, happy
Zinnia – worthy
Zoe – life
Zola – earth, quiet, tranquil
This article was originally published on