Justin Baldoni Is Calm In a Crisis
The actor on the trauma, pain, anxiety, and the opportunity he sees in this particular crisis.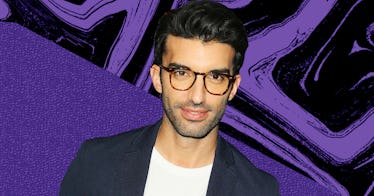 It's no surprise that Justin Baldoni is using his time stuck at home to look inward. The actor who made his name on Jane the Virgin has been the driving force behind so many insightful and emotional projects we're starting to lose track. There's "Man Enough," a video series which aims to interrogate traditional masculine norms and 'My Last Days,' a series about terminal illness. Even his personal Instagram ditches the celebrity selfie for psychoanalysis and Bahá'u'lláh philosophizing. What's he thinking about right now? Well, he started our conversation by offering one of his favorite Bahái affirmations: "My calamity is My providence, outwardly it is fire and vengeance, but inwardly it is light and mercy." He's trying to be thoughtful — to put it mildly. Here's what he's thinking about the moment, and what he's doing to keep it together.
What are you doing now?
Right now I'm watching on kids on the trampoline. We try to steal these moments we normally don't get on weekdays. One of the things that my wife and I were just talking about was the need for structure and routine. Your world gets thrown upside down and we're all creatures of habit and now we have to get better at the routine for the children. It's equally important for adults because we haven't had our routines messed up. These first few weeks have been acclimating. It takes 14 to 21 days to develop a habit. We've tried everything. We've done it wrong. Stayed up too late, woke up too early. And having two kids under 5 is quite a big challenge.
So, you're coping?
This is terrible and devastating and tens hundreds of thousands are going to pass away. It's a disaster. But collectively we're finding it's so easy to dive in and distract ourselves with work or social media or alcohol or other addictions. There is an underlying root, the trauma, pain, and anxiety, that is so easy for us to put a bandaid on when we work more. There's always something that's pulling to distract us from what's really going on.
How do you make the most of this moment then?
There's a beautiful opportunity in being forced to stay with our kids. When we look back, some of us will say, 'What an opportunity we had.' So, why is it still so hard to be still and to be with our family? Look at the why. Ask yourselves why more than once. You need get to the bottom of the why ladder. Then you have an understanding of the true motivations behind what you're doing.
How are you making it work with your wife? How do you have conversations with your spouse in stressful times?
Well, my wife is right here. She can speak to that.
Emily Baldoni: I think how we choose to bring things up is so key. It's something that Justin and I actually practice a lot. I feel like it's important during this time to set aside whether it's half-hour or a whole hour and just check in with each other's mental and emotional state. We're in the age of a pandemic. That creates anxiety even if we're safe. It's important how to bring things up. It's important for a wife and mother like me where the responsibility to take care of the kids falls on me more. I have to be the clown, the cook, the everything to everybody. If I don't have an outlet for that, it turns to resentment. I need to take care of myself. To do my breath work and take time for me. Then I can bring my whole person to my husband and be from a place where you lovingly bring things up. What I'm learning as a mom is that in the moment I may just not be able to hold everything that's happening. I have two toddlers screaming no and there might not be anything I can say to calm them down. So I give myself a time out. You need to know when to remove yourself from the situation.
And you, Justin?
We're really savoring these moments when we can come back together. I hope other dads can steal 10-20 minutes here and there. It's all it takes. Panic and anxiety spreads faster than the coronavirus. So we decided to do better with consumption and self-care.
What keeps you sane?
I got into cold exposure a few months ago, so now I got into a cold plunge. I'm hooked. Stillness is hard for me. As an extreme creative, who is always bouncing back and forth, cold exposure is my outlet, I find that in a 30-second cold shower I force myself to be still, to bring everything to my breath, which becomes all my awareness.
Start off with 15 seconds. Get the Wim Hof breathing app. Work yourself up to 30 seconds. Then 45 seconds. Your body will start to change. We converted one of those freezers into a cold plunge and I'll pop in after a workout —. 6 minutes at 48 degrees. I make it a challenge. I breathe and I focus and at the end of it, I just accomplished something that's very hard. Men are so task-oriented and driven and we need to accomplish something. Cold showers are an accomplishment. They're helpful for sleep too, which is really important right now. I have the biggest smile on my face when I get out of there. All the endorphins… it's happiness dose.
There's a lot of anger and anxiety going around. So, to quote Mister Rogers, what do you do with the mad that you feel?
We talk about it. You have to talk about it. If you don't, you bury it and it eventually will turn to rage and anger and come out on the people that you love. The best marriage advice is to talk about things that make you most uncomfortable. We have to talk about it. If we don't, it turns into other shit — addictions and distractions that show unresolved pain or trauma. When you feel that, do a Zoom call with your buddies, make yourself do it and reach out for help, or call a therapist.
Any more advice for the parents?
Have compassion for yourselves. You're doing a great job even if you think you're failing. Nobody who is actually a great parent thinks they're a great parent. There's comfort in that.
This article was originally published on