Jesse Tyler Ferguson's Ground Beef & Pickle Tacos Recipe Will Win You Over
The actor and dad of two talks about his new podcast, Dinner's On Me, and how fatherhood has changed him before sharing a unique taco recipe that's a family staple.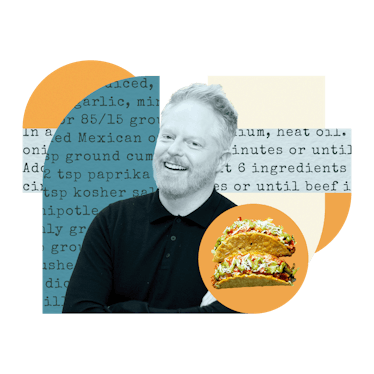 Fatherly; Getty Images
If you're in a restaurant and sitting anywhere near Jesse Tyler Ferguson, chances are high that he'll be eavesdropping on your order. "I love listening in on other people," he says. "I'm one of those people that, when the menu comes, I start craning my head to look at what others are ordering at different tables to see what looks good."
The Tony-award-winning and Emmy-nominated actor's adoration of restaurant ambiance — hearing a server read the specials to another table, listening to the symphonic hisses and clangs of an open kitchen — played a big part in the conception of his new podcast, Dinner's On Me. An interview-style show where Jesse sits down with a special guest to share a meal and conversation, each episode is recorded at various restaurants around the country. Jesse's Modern Family co-star Julie Bowen is the first guest. Fred Armisen, Jesse Williams, and Niecy Nash-Betts are among those featured in the early episodes.
Jesse's a warm, funny host and the conversations are refreshingly vulnerable. The ever-changing setting adds a nice variety to the format and lends a sense of intimacy and authenticity.
"So many wonderful conversations and so many friendships are deepened over really great meals, and I thought, what better place to have a long-form conversation with someone that's either a new friend or an old friend than over a really fantastic meal?" he says. "You also get to highlight these great restaurants that I love going to and highlight the different chefs that work there and their specialties."
Of course, one of the perks of the podcast's format is that Jesse and his guests get to sample some incredible dishes at in-demand restaurants. He takes Jim Parsons to one of his favorite spots in New York, Don Angie. The actors have a warm conversation and split the lasagna for two. "It's served in a pinwheel shape," Jesse says. "It's almost like the lasagna is assembled like a jelly roll and then sliced and baked in these round florets on the platter. It's one of my favorite meals that I've ever had, and Jim had never been to Don Angie so it was really fun to share that meal with him."
The power of a shared meal is something Jesse has always loved, although his love of cooking blossomed later. Early in his career, he lived in New York with a busy schedule and tiny apartment kitchen. It wasn't until he began working in television and moved to Los Angeles that he began cooking. He inherited a larger kitchen, started preparing meals, and began updating his mom's recipes that he'd loved eating when he was a kid.
"I realized, as a child of the '80s, so many of these delicious things that she was making me were casseroles made with canned soups and stuff," he says. "So I was looking for interesting ways to update those recipes and make them a little healthier, a little fresher. And I just began collecting different recipes that were my go-to signatures and I collected cookbooks, and nothing was more exciting for me than cracking open two or three cookbooks and meal-planning a dinner party for a few friends."
Jesse's passion for food and camaraderie translated into the blog-turned-cookbook, 2021's Food Between Friends, in which he and his friend Julie Tanous, a chef and recipe developer, pay tribute to Californian, Southern, and Southwestern cuisine. Inside are joyous riffs on some of their favorite recipes as well as healthier reworkings of those childhood classics.
One of Jesse's favorite recipes in the cookbook — and the one he wanted to share as his Dad Special — is for ground beef and pickle tacos. It's a play on Americanized tacos and an homage to a dish served at the now-closed LA restaurant Malo. When he first saw them on the menu, he thought they sounded a bit strange, but he decided to try them because everyone around him seemed to be eating them. (See? That habit of order eavesdropping pays off.)
"I absolutely fell in love with them," he says. "It reminded me of my childhood. There's a hit of acidity and sharpness from the pickle that just really blends well with the ground beef and the spices."
Now the tacos make a regular appearance at Jesse's dinner table — with a few small tweaks. "It's something my kids love. I definitely ease up on the chili powder if I'm making them in a batch, but other than that it's pretty universal and everyone that I make them for loses their mind for them."
The recipe is easy to throw together on a weeknight, something that Jesse and his husband, Justin Mikita, appreciate. The pair have two children — 3-year-old Beckett and 6-month-old Sullivan — and, unsurprisingly, things are a little bit busy. Sullivan just started eating solid food and, while each week is different, Jesse says Beckett's currently "working on being kind, working on his listening skills, and working on sitting on the toilet."
Beckett is also "enraptured by everything" — a trait that has helped Jesse find perspective. "It reminds you that there's so much joy in the world," he says. "We become very jaded as adults and it's fun to see the world through his eyes. It reminds me to slow down. He reminds me to use my imagination. He also has given me such a rest from the stress of being an actor."
Before kids, Jesse was hyper-focused on his career. "I was always, 'What's next? What's next? What's next?'" he says. "It's very difficult being an actor and looking for what your next job might be, and the hustle is definitely real."
Children helped him reprioritize. "I have another full-time job and that's being a dad to Beckett and to Sully," he says. "I love that being an actor is not the thing that defines me anymore. It's being a parent and then acting is this thing that I get to do on the side."
That, and making great meals.
Jesse Tyler Ferguson's Ground Beef & Pickle Tacos
Reprinted with permission from Food Between Friends.
Ingredients
2 Tbsp grape seed or canola oil
1 medium onion, diced, divided
3 cloves garlic, minced
1 lb 80/20 or 85/15 ground beef
2 tsp dried Mexican oregano
2 tsp ground cumin
2 tsp paprika
1 tsp kosher salt
1 tsp chipotle chile powder
½ tsp freshly ground black pepper
¼ tsp ground cinnamon
¼ cup crushed canned tomatoes
1 (4-oz) can diced Hatch green chiles
½ cup diced dill pickles, plus more for topping
½ cup pickle juice
8 hard taco shells
Shredded cheddar cheese
Shredded lettuce
Directions
Make the beef and pickle: Heat the oil in a large skillet over medium heat. Add ¾ cup of the diced onion and the garlic and sauté until softened, about 4 minutes. Add the ground beef, cinnamon, paprika, cumin, chile powder, oregano, salt, and pepper and cook until the beef is no longer pink, about 8 minutes.
Add the tomatoes, chiles, pickles, and pickle juice. Reduce the heat to medium-low and cook, stirring occasionally, until the juices thicken and the flavors have melded, 15 to 20 minutes.
Assemble the tacos: Spoon the ground beef mixture into taco shells and sprinkle with shredded cheese, shredded lettuce, the remaining ¼ cup diced onion, and some more diced pickle. Top with the sour cream and serve two tacos per person.