Grand Teton National Park
Jackson Lake Lodge Offers The Wildest Wyoming At Your Doorstep
The Tetons call, Yellowstone beckons, but one lodge reminds us that sometimes the place you sleep is the destination.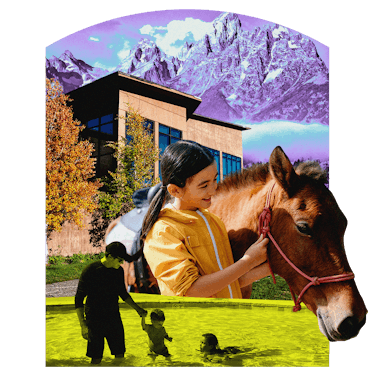 Ariela Basson/Fatherly; Getty Images, Tyghe Trimble
To go to Jackson Lake Lodge for the pool is a little bit blasphemous. For one, this lodge sits in full view of the Teton Range, one of the more stunning sections of the Rocky Mountains — which is saying something. For another, this is the prime launching point for Yellowstone, 30 minutes from the Jackson airport, and one and a half hours to Old Faithful. That's not to mention the bounty of bucket-list hikes within spitting distance in Grand Teton National Park. But when you have kids, especially little ones, a pool can make all the difference. This is especially true when you can splash right by your temporary home, a cozy central location for food and rest, a place where the sightseeing pressure is off and you can reflect on your adventures. Or just laugh and splash and enjoy the pool.
This fact hit me during my stay at Jackson Lake Lodge with my 3- and 9-year-old and, against every adventurous bone in my body, I found myself thanking the heavens for this little heated outdoor pool (plus toddler pool) tucked in a piney corner, past signs for closed trails (due to excessive grizzly bear action), beyond the cottages, and through the parking lot. The 3-year-old, especially, needed time out of the backpack after numerous hikes and ferries, exploring the Tetons by way of Jenny Lake. The 9-year-old was sick of driving — seeing Yellowstone from the backseat for hours on end isn't all that thrilling, if we're going to be honest. And we parents needed the break from constantly tending to the hungry, tired, antsy kids who are ever in tow on wilderness adventures.
Jackson Lake Lodge itself is a spectacular place — one etched in memory by the lobby's massive windows framing Mount Moran and its 12,610-foot peak. Step into its backyard for lunch on the patio — which overlooks acres of bushlands — and you can catch sight of wildlife like elk, moose, birds galore, and grizzlies, all while remaining in awe of the towering Tetons (I'm convinced the human mind is incapable of shaking the vertigo-inducing awe of this mountain range). Turn right and you'll find Lunch Tree Hill, perhaps my family's favorite "hike" for the week — one that the 3-year-old did on his own, with only a bit of stumbling, and the adults found enjoyment in its excellent birding vantage point, and the history. The wildflower-filled field atop the rocky plateau is the very spot where Horace Albright, the first National Park Service Superintendent of Yellowstone, entertained John D. Rockefeller, Jr., his wife, and three children, and hinted to them that if the Teton were not protected, the encroaching commercial tourism might do it damage. (The government soon purchased the entire Jackson Hole Valley to be protected and run by the executive branch.) All this, just a stroll away from the lodge. The call of the rest of the park just becomes more subdued when you're at a lodge that so perfectly captures it all.
I'll admit my idea of a wilderness vacation is defined by movement. The idea is pulled by me, a trail runner and backpacker, and pushed by my partner, who would rather be birding or tracking mushrooms. By these facts, we are not natural fits for a National Park Lodge stay. We're too ready to leave the grounds so we can take full advantage of what's out there to justify to ourselves the fairly steep price of staying at a place like this (where the rooms start at ~$500 per night). But Jackson Lake Lodge exerted its power and held us back.
Sure, we explored Yellowstone and hiked and ferried all over the Tetons — but no matter what plans we laid out in the morning, we always found ourselves lingering at the lodge longer than expected. But we weren't idle. Our daughter loved her short on-site horseback ride. We packed our own lunch, only to spread it out for a picnic right there in the yard with the view. We gave in to every plea to dip toes in the pool. Because sometimes a vacation is about being there, standing your ground, looking around, and breathing in the fresh new air of a place outside your routine. I can think of no better place than Jackson Lake Lodge to do just that.
Things To Do At Jackson Lake Lodge