The Verdict Is In: Hybrid Work Is Good For Us
Workplaces are now attempting to return to pre-pandemic office standards but workers prefer remote or hybrid structures.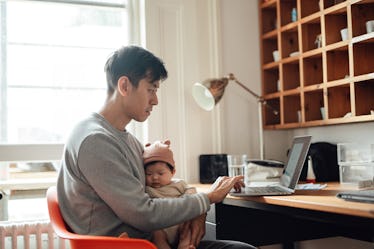 Oscar Wong/Moment/Getty Images
We're about three years into a radical — and, of course, unexpected — experiment into remote and hybrid work models, and the data is clear: Hybrid and remote work, well, works.
Years of data have revealed an optimal number of days for most of us to go into the office, not just in terms of our productivity and satisfaction at work, but also in terms of our impact on the planet. The shift to remote work may have been a hastily patched-together emergency brought on by the beginning of COVID-19, but it's clearly no fad. In fact, one report from Littler Mendelson PC published in May of 2023 found that over 70% of the employees they surveyed still work on some form of hybrid schedule.
In a bid to "return to normal," however, some employers have begun to demand workers return to the office full-time. Those demands might not be useful for workers — or companies — one recent report from Gallup has found.
The demands may also make fully in-office companies part of a small group. Only 16% of employers surveyed in the Littler report required full-time work as of May 2023. Meanwhile, 40% of employers kept hybrid work from 2022 to 2023, and many surveyed offered even more remote work or flexibility in 2023. The data finds that flexibility is good for everyone: One June 2022 Gallup poll found that two to three days in the office was the perfect number of days for hybrid workers, and that remote work was more linked to productivity than being full-time in office.
The Gallup poll of over 16,000 American full-time workers found that requiring employees to work in an office — if their work can be done remotely, at least some of the time — has negative consequences on the workplace, including drops in worker engagement, happiness, and retention, and higher levels of burnout. Gallup also found that over half of employees who work exclusively remotely would look for another job if remote work options were taken away, and 38% of hybrid workers would too.
Workers prefer hybrid because they get the benefits of being in the office (such as having morale-boosting relationships with fellow employees) while enjoying more flexibility in their day-to-day. For example, parents who work hybrid or remotely find it easier to pop out and pick their kids up from school or daycare, a perk that's not necessarily possible with an in-office job.
And while the arrangement seems to make workers quite happy, some of the biggest benefits that remote and hybrid work unlock are ecological. A study published in the Proceedings of the National Academy of Sciences in March of 2023 found, for example, that full-time remote workers reduced their carbon emissions by over half. Hybrid work, too, makes an impact — when workers worked from home anywhere from two to four days a week, they cut their emissions by 29% compared to those who worked in-office full time.
Not all jobs are made the same, though, of course. Remote work isn't for everyone: For jobs that require collaboration with others, the Gallup poll found that people prefer to work in a hybrid model. Similarly, the Littler report found that confirmation bias — when we interpret all the information we receive in ways that conform to our existing beliefs — can play a role in making the shift to remote or hybrid work a bit more difficult a transition. If you worry that remote work will make employees less productive, you may perceive that in the shift even if it isn't empirically the case.
While the polls made it clear that the hybrid model provides the best outcomes for both workers and workplaces, Gallup notes that two to three days in office should still not be required — and that any hybrid work schedule needs to be set up collaboratively.