How To Throw A Party For Adults That Won't Bore The Heck Out of Kids
Advice from party planners, personal chefs, and parents who've been there.
by Sal Vaglica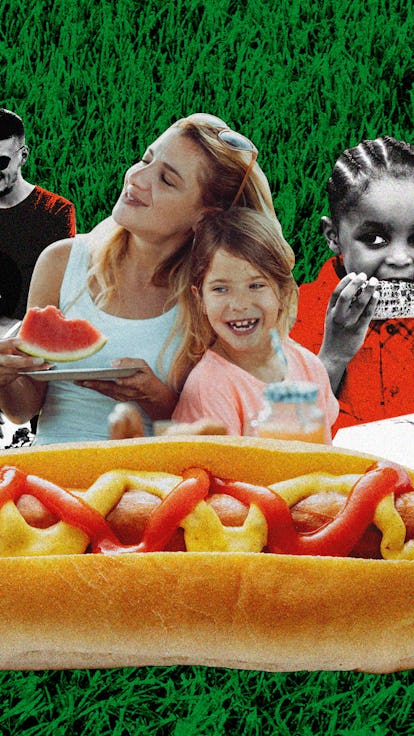 When it comes to hosting a party, the deck is never more stacked than when you're trying to execute the family-friendly backyard bash. The irony there is those who are most likely to enjoy a party — children — are the single biggest impediment to a parent agreeing to attend. Think about it: Every parent has a story about getting stuck talking to a neighbor about lawn care, extreme weather, or some pointless hotdog versus sandwich debate, while at a kid's party (often as you're counting down the days until the kid is old enough to be dropped off). But when was the last time your kid sucked it up through an adult party where maybe the games or the orange dust-covered corn puffs were lacking?
It can happen. And it should. It's just a matter of making some strategic decisions — and adhering to a few party-hosting principles.
If you want to host a successful backyard party where everyone in the family will have a good time, the key is investing as much effort in keeping kids happy as you do their parents. But that doesn't mean throwing a kid's party with clowns, pointy hats, and a piñata.
"A backyard barbecue is enough of a theme that it can influence décor, food, and games," says Aaron Goldschmidt, founder of Shine, a party planner specializing in family events. What you don't want to do is assume a few kids are going to keep themselves busy in the yard all on their own. They'll usually require a little impetus — a T-ball setup, a bucket of caulk and a driveway — set up ahead of time so you're not digging through the basement or garage when the "I'm bored" whines start kicking in.
Your aim as host is to make sure two big categories are covered: food and entertainment. Do that wisely and you'll develop a reputation so that each member of the family looks forward to coming back. Here, according to party-throwing experts, are some ways to achieve that desired result.
1. Don't Overthink The Menu
A lot of the stress of a party centers around food, certainly if you're cooking. But it doesn't have to be that way. "Make a bunch of whatever you're best at cooking," recommends private chef Daniel Ceballos Diaz, a culinary innovator who was Chief Innovation Officer at Juice Press for 13 years. Pay attention to that and less what might seem odd to serve. "It's not the time to experiment, try new recipes, or scale up to feed a dozen people," he warns. What if your go-to dish is lasagna and it's mid-July? Relax. Says Diaz, "even if your friends have already eaten it a bunch of times, chances are they'll love it because it's something that you love to make."
2. Make It Easy For Kids To Help Themselves
Enjoying adult company is hard when a kid is tugging on your pant leg and asking for a juice box. So plan for a separate table, set at their height, which makes it easier for them to help themselves.
"Have a snack and drink table that is kid-friendly set away from the adult stuff," offers Goldschmidt. "You don't want dirty kid hands on your adult buffet table so set up individual fruit and veggie cups for the kids to grab and walk around with."
A cooler set on the patio, deck, or lawn filled with chilled water and approved juice means kids are relying less on parents for drinks.
3. Offer A Quiet Space
Some kids, especially if there will be new children at a party, appreciate a quiet space to retreat to. Set up a room inside with a popular movie playing and a clear floor for seating. For outdoor-only events, a movie beamed from a projector onto a white bedsheet on the back wall of a rudimentary tent works too.
4. Know What Foods Always Work…
"What I've noticed is kids will always eat fruit or from a crudites platter, with a dip that's neutral like hummus or ranch, and cheese they know, like cheddar and mozzarella with crackers," says Diaz. Kids will usually help themselves to very neutral or simply flavored foods like cucumbers and carrots over leafy greens. For dinner, if you offer a cooked protein, keep the sauce on the side so kids can choose. That might mean laying off the marinated steak for kids and only offering it to adults.
5…And What Won't
If the plan is to have kids and adults eating at the same time, then family style or a buffet are the best options. Some parents prefer to make a plate for their kids. But if you're planning for a more intricate dinner for the grown-ups, don't hesitate to fall back on ordering a pizza.
"You could have a kid's platter with the cheese, crackers, dips, fruit, and things like raisins on it and then order them a pizza and they're happy," says Diaz. And the adults can enjoy a more elaborate meal. Don't make the menu planning harder than it is. Pizza is a crowd-pleaser and a lot easier than trying to find out what a dozen kids of varying ages will eat.
6. Have Snacks Waiting
When adults arrive at a party, it's a drink they're most often eager to get their hands on. But with kids, it's food, so have a platter or snacks waiting for them. A kid who is hungry — or even thinks they might be hungry — will not let that concern go unheard.
7. Plan To Start Eating Sooner Than You Think
Here's a rule of thumb: Wait no more than 1 1/2 to 2 hours after the party's start time to serve the main meal. "I think by two hours whoever is coming to the party has already arrived so you're probably not going to get any stragglers," says Diaz. Appetizers will buy you some time with adults, but, generally, guests won't complain about eating too early.
8. Don't Assume Kids Will Entertain Themselves
This may seem obvious. But it bears repeating: The biggest mistake a host can make is assuming kids will entertain themselves just because a few six-year-olds will be in the house. You don't necessarily need to hire a magician but having some activities helps. Things like bocce, corn hole, and Wiffle ball are easy to set up, though might require some parental supervision. But, chances are, there will be at least one parent who's down to swing the bat or toss a beanbag.
9. Know Your Password
Chances are, there will be one or two tween or young teens at a party otherwise filled with younger kids. If you're lucky, they'll supervise youngsters playing games, but be prepared to share the home's Wi-Fi password (especially if you have poor cellular coverage) so they can spend some time online. This can make the party feel like a social media dessert and more inclusive.
10. Don't Overthink It
Seriously. Food. Activities. A few kid-height snack tables. Pay attention to the basics and have a few smart contingencies and every one will have a good time. And even if that good time for a guest only equals 30 minutes of chatting with another adult before their kid started tugging on their pant leg, well, that's time they got to spend as an adult. And that's a win.