How to Start a Tradition That Actually Lasts
Family traditions are an expression of values, identity, and personal history. This is why building one that lasts is such a weighty, and worthy, task.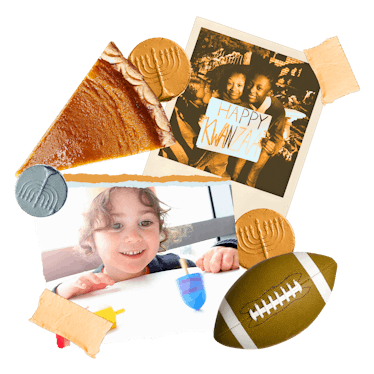 Families have all kinds of traditions around the holidays. The toasts at Thanksgiving, the board games following the feast, the fire and cocoa on Christmas Eve, or the football and potluck gatherings on New Year's Day all point to something deeper than a repetitive activity to help the time pass with family. Research shows that engaging in holiday traditions helps family members feel bonded and, in turn, makes the holidays more enjoyable. It also helps solidify a family's identity and values, says Janine Roberts, Ed.D., professor emerita at the University of Massachusetts, Amherst and coauthor of Rituals for Our Times.
Take the simple act of volunteering. Roberts shares the story of a family who, on the Wednesday before Thanksgiving, cooks 10 pumpkin pies and brings them to a community center that offers a holiday meal to anyone who wants to come. "They also help serve the meal and then eat with everyone," she says. "For them, this is an expression of who they are as a family." Volunteering during the holidays is a tried-and-true tradition for a reason. It is an act that helps the family tell a story about themselves — where they come from and what kind of people they are.
If you feel like something is obligatory or 'needs' to be done, it is not going to be a lasting tradition.
Of course, not all traditions are so easy to accept or hand down. "Sometimes it's 'we have to do this and just get through it,'" Roberts says. "But if you feel like something is obligatory or 'needs' to be done, it is not going to be a lasting tradition." When a new couple or family is choosing the traditions they keep or building entirely new ones, there are some principles that they can lean on to make them last. They should focus on drawing a straight line from the past to the present, being inclusive, and keeping the tradition open to adaptation.
Kwanzaa is a great example of a relatively new holiday and set of traditions that has what it takes to stick. Created by a black studies professor in California in 1966, this weeklong holiday blends facets of multiple African harvest celebrations with the goal of uniting African-Americans as one community. Each night, families light one of the seven Kwanzaa candles and discuss one of seven principles: unity, self-determination, collective work and responsibility, cooperative economics, purpose, creativity, and faith.
Despite existing only for three generations, Kwanzaa is celebrated by some 6 million people (millions more, by some estimates), including community groups, schools, and even religious organizations. The reason: It carries deep significance for African-Americans and helps to reinforce their identity, connecting the present celebration to the struggles of the past. "When lighting the candles for each night — and talking about unity one night, creativity another — that is both active and infused with profound meaning," Roberts says. Like all good traditions, this may mean something different to the younger generation than to those who started it as part of the black nationalist movement.
If you have a protected time and space, you can share those stories. If that information can be passed on, people will understand meaning embedded in these traditions and be more likely to want to carry them on.
The tradition, in other words, offers time and space to discuss a family's current values and how they relate to a past the younger generation cannot see. "If, for example, you have a Hanukkah candelabra or a dreidel brought over from Germany, what is the significance of pulling those out each year?" Roberts says. "There are always stories behind these items, sometimes even photos of the people who owned them, to help convey what it means that they had to be smuggled out of Nazi Germany. If you have a protected time and space, you can share those stories. If that information can be passed on, people will understand meaning embedded in these traditions and be more likely to want to carry them on."
Another key factor in keeping traditions alive is maintaining flexibility. According to Evan Imber-Black, Ph.D., professor and director of the Marriage and Family Therapy Master's Program at Mercy College in New York and Roberts's coauthor on Rituals for Our Times, even the most cherished traditions can crumble if they are too rigid, stagnant, and not reflective of the family's changing dynamics and needs.
"Avoid the idea that a tradition always needs to stay exactly the same," Imber-Black says. "They need to stay meaningful yet not be so rigid that they can't change, because families change all the time: babies are born, people get married, people die." Even, simply, aging will affect traditions, she adds, as it is a different experience to be a 20-year-old versus a 26-year-old — or a 65-year-old versus a 75-year-old—in terms of interests, responsibilities, and abilities.
Think about the common (and very fun) family football game that is played after the Thanksgiving meal. In a good year everyone, old and young, takes part in this the annual ritual. But what happens when a family member gets too old to play? Instead of risking broken bones or conceding one family member's retirement, the older generation should play coach. In this case, the tradition changes but remained inclusive. Everybody can still participate in the game — it's just that for some family members, participation now means playing a role that suited them better.
Even something as routine as buying Christmas gifts for family can take on different forms, without abandoning the tradition completely. "I know a father who was out of work for several months so his family couldn't afford to buy gifts for everyone in their extended family — and they felt the need to be honest about it," Roberts says. "The extended family understood and respected that, so they decided to do a Santa hat drawing so that each person was responsible for only one present. Even after this man got a new job and had more money, the family kept this tradition. They found it more meaningful to take the time to look for something specific for one person versus having a morass of presents."
After all, the gifts themselves are not what makes the tradition. It is the gift-giving, the act of thinking for others that is an expression of this family's values. Holiday gifting is one of the strongest traditions because it requires one to put themselves on hold, to think about others, and to build empathy for another's wants and needs. If a tradition can capture all that, it is a tradition that is built to last.
This article was originally published on