How To Make Doggy Style Sex Even Better
A few tips can take the favorite position from fine to phenomenal.
by Carrie Weisman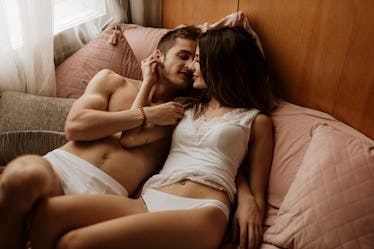 Getty
When it comes to sex positions, "doggy style" is, well, top dog. The position is regularly ranked as the most popular entertained across bedrooms. That's not a huge surprise. The "from behind" favorite has been around for just about as long as people have been having sex and has a home in the holy grail of sexual literature, the Kama Sutra (It's called "Congress of a Cow"). But the position has maintained its reputation as a go-to for good reason. For one, the natural, slight downward tilt of the penis makes rear entry more likely to hit the g-spot. For another, there are many slight variations of the form that allow it to be useful in many situations. And for yet another, it's fun, flattering, and simply feels a bit more wild and unrestrained. If you want to maximize the position a bit more, here are a few tips to make doggy style sex even better.
1. Go Low
Doggy Style typically requires the individual on the receiving end to position themselves on their hands and knees. But a slight pivot can allow for an even more intimate experience. Instruct your partner to extend their arch and support themselves with their elbows instead of their hands. This allows for deeper, more pleasurable penetration.
2. Tighten Up
Ask your partner to position their legs close together, with yours positioned on either side of them. The closed position can provide increased sensation during intercourse. Plus, it allows your partner to better control the depth of penetration.
3. Relieve Some Pressure
Doggy style is great but it can also be a bit hard on the receiving partner's knees. Instead of having them be on all fours, try tilting them forward or bending them over the bed or a table? That relieves pressure and adds a sense of adventure into the mix. Another fun option is to have the receiving partner lay flat on the bed with their backside arched upwards a little while you enter them from behind. This position — a favorite the internet has dubbed "prone bone" — also allows for deeper, tighter penetration and increased sensation to the g-spot.
4. Keep Your Hands Busy
The nice thing about this position is that it leaves your hands free. Of course, that doesn't mean they should remain idle. Use the opportunity to hit some of your partner's erogenous zone. The nipples are just a reach away. If you head a little further south, you'll arrive at the clitoris. Give it some attention.
5. Introduce A Little Something Special
Doggy style provides the perfect canvas to decorate with some kink. Think about giving your partner a light spank. Or maybe grab hold of their hair. Sex can sometimes get a little stale. So long as you're communicating openly about likes and dislikes and everyone is onboard, these kinds of moves can inject some life back into the room.
6. Use A Cushion
Placing a few pillows or designated sex furniture beneath your partner's belly while they're on all fours not only increases sensation-increasing pressure but also helps angle and support them in a way to increase pleasure.
7. Toy Around
Unlike other sex positions, doggy style doesn't require you to plaster your bodies together. That is to say, it gives you some space. Use it wisely. Introduce some accessories like a couples vibrator. It's a fun way to spice things up and provides direct clitoral stimulation during sex. The more you have of that, the more likely she is to climax.
This article was originally published on