How 5 Couples Brought Their Sex Lives Back From The Dead
It's normal to experience a sexual slump every now and then. But it needs to be addressed. Here's how these couples identified and solved the issue.
by Carrie Weisman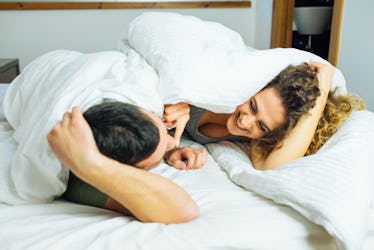 Getty
According to the authors of the book Sex At Dawn, the term "sexless marriage" ranks among the most Googled phrases about sex and marriage. It tops both "unhappy marriage" and "loveless marriage." Of course, there are a number of different factors that may contribute to any sexless circumstances. People age, bodies change, and hormones can take a bite out of our libidos. Finances can be unpredictable. Kids will be born. And stress takes it tolls. Sex will ebb and flow over time. This is to be expected. What we don't always see coming is when these lulls evolve into something a little more permanent.
While there's no shortage of great advice out there, sometimes its best to hear from real couples who found a solution that slots nicely into their particular relationship. So we reached out to a handful of individuals to see what kind of techniques they used to keep the love alive. The answers, of course, vary, though all have a common theme: keep an open mind, embrace something new, and communicate about needs. Here's what they said.
We Saw Who Swiped Right
"We both got Tinder accounts to spice up our marriage," says Shirley. "We would just swipe to get matched. It just felt good to be wanted and really helped get things moving again in our marriage." The Internet is a big place. Hopping into that pool might be a good way to avoid a case of sexual FOMO. And taking your partner along for the ride seems to help give luster to a diminishing flame. In 2016, OKCupid even gave users the option to link their profiles to their partner's and peruse the site as a couple. Of course, you don't have to limit yourself to the realm of online dating apps. The Internet provides a host of erotic activities for couples to pursue together.
We Opened Up Our Marriage
Sensing a lull in their sex life, Marco and his wife Lauren started swinging nearly ten years ago. In fact, they go so heavily into the scene that they decided to found their own community organization. "We organize parties and meetings to find new people like us," he says. Of course, that lifestyle — also known as "the lifestyle" — and open marriages in general aren't for everyone. Still, it wouldn't hurt to approach the subject with an open mind. Experts suggest we embrace novelty to avoid lulls in our sex life. For some, that means breaking with the monogamous tradition.
We Got Some Toys
"I started working at an adult novelty shop two years ago, right after my son turned four," says Sarah. "I never experimented with toys before, so I gave it a try. My partner didn't mind, so we gave it a shot. I kind of got addicted to it." According to statistics collected by Adam & Eve, one of the nation's leading distributors of adult products, upwards of 78 percent of women who have used a sex toy were in relationships. Married women, as it turns out, are more than twice as likely to use vibrators.
We Took A Sexy Trip
"We needed to get away. My job was stressful, the kids were a pain. I stopped associating my bedroom with sex. Getting out of the house really helped," says Dan who got married right out of college. Getting away can be good for your sex life. There's even science to prove it. Apparently, the novelty of having sex in a hotel bed floods the brain with dopamine, which causes a surge in arousal and sexual excitement. And don't think the hospitality industry isn't trying to capitalize on that. Virgin Hotels in Chicago now offer "intimacy kits in their minibars. Tornot's Drake Hotel has an entire "pleasure menu," to offer guests. There are even some "sex-positive" spots in the Caribbean that permit public sex. So yeah, getting away can do a lot of good things for your sex life.
We Started Being Open About Our Fantasies
"Instead of holding back, just try to ride it out in full. Talk about your fantasies," suggests Steve, a father of a rambunctious 7-year-old, now on his second marriage. "You'll probably come right back to earth once you get it out of your system." Of course, different fantasies look different on different couples. Some involve getting it on in a new location, others involve accessorizing. Some require costumes, and others revolve around a more verbal exchange.
What's important is that you allow the opportunity to grow and that you remain open to your partner's desires. Don't just take our word for it. After reviewing more than 60 separate studies on sexual desire in relationships, researchers Kristin Mark and Julien Lasslo identified five prominent themes. One revolved around the concept of "embracing opportunities for growth." Another centered on being responsive to one's partner, meaning maintaining an awareness of their needs and wants. The idea is that increased sexual satisfaction leads to increased sexual desire. The more desire you have floating around, the more sex you're going to have.
This article was originally published on