This Coffee And Berbere Ribeye Is How One Dad Honors His Daughter's Ethiopian Heritage
Two authentic kitchen staples bring a special warmth to steak night.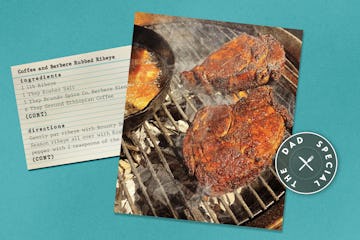 Every time I travel to Ethiopia, I reserve plenty of luggage space to bring dry goods back to the United States. It's not unheard of to fill an entire suitcase with freshly roasted coffee beans from the country where they are said to have been discovered by a 9th-century goat herder named Kaldi. And at least a couple of bags of berbere — an earthy blend of peppers and spices with sweet undertones that is central to Ethiopian cooking — are guaranteed a spot on the return trip.
In addition to conjuring memories of Ethiopian hospitality, berbere and coffee are both ways we keep our daughter connected to the country she was born in. They are smells that filled nearly every home and restaurant we visited when we adopted her the week of her first birthday in 2012. Incorporating both elements into our home is a multi-sensory complement to the art, flags, books, pictures, and soccer jerseys that serve as visual reminders of her heritage.
Despite their ubiquity in Ethiopia, coffee and berbere are rarely used together in recipes. But they go together perfectly as a beef rub, and the rich fattiness of ribeye approximates the clarified butter used in numerous Ethiopian dishes. All of those elements work together to subtly add smoky undertones to the steak and create a satisfying slow burn that starts in the roof of the mouth before moving deeper into the chest and nostrils.
Seasoning the steak well ahead of time is preferable, after removing moisture by patting the meat dry with a paper towel (I always have extra-absorbent Bounty Select-A-Size Sheets on hand for this, and to tackle those inevitable post-grilling messes). After coating both sides generously with salt and berbere, allowing the steak to sit uncovered in the fridge on a wire rack for at least a few hours (and up to two days) dry brines the meat, thus increasing tenderness and allowing the spices to penetrate toward the middle of the steak.
And while there are a handful of different methods for cooking ribeye, I prefer to set up the grill for lower temperature indirect grilling as it's the best method for rendering fat. The end result reminds me of slow-roasted tibs, which is one of my favorite Ethiopian dishes. It's a methodical process fitting for a meal that I enjoy savoring because of its warm flavor profile and the warm memories it elicits.
Coffee- and Berbere-Rubbed Ribeye
Ingredients
1 1lb Ribeye
1 Tbsp Kosher Salt
5 Tbsp Brundo Spice Co. Berbere Blend
6 Tbsp Ground Ethiopian Coffee
2 Tbsp Melted Butter
Directions
Gently pat ribeye with Bounty Select-A-Size Sheets paper towels to remove excess moisture.
Season ribeye all over with Kosher Salt and Berbere.
Place seasoned ribeye on a wire cooling rack, and allow to sit uncovered in the refrigerator for at least one hour, and up to 48 hours.
Remove ribeye from the refrigerator and generously sprinkle with ground coffee. Gently press coffee into the surface of the meat with a paper towel to help it adhere to the steak. Flip the steak over and repeat on the other side.
Set up a grill or smoker for indirect cooking. Bring the temperature to 250 degrees, and then place the ribeye on the grate ensuring that it's not sitting directly over the heat source.
When the internal temperature of the ribeye reaches approximately 135 degrees, remove it from the grill and set it to the side as you prepare the grill for direct heat and raise the grate temperature to 500 degrees.
Lightly brush both sides of the ribeye with melted butter.
Once the grate temperature has reached 500 degrees, return the steak to the grill, making sure this time to place it directly over the heat source. After 45 seconds, flip the steak and cook for another 45 seconds.
Remove the ribeye from the grill and let it rest for 5 minutes. Slice diagonally against the grain to serve.