David And Victoria Beckham Get Refreshingly Real About Resentment
The couple opened up for the first time about the hardest period of their marriage, resentment, and healing.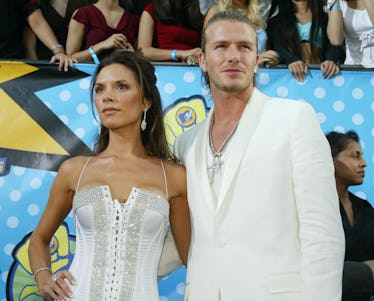 Kevin Winter/Getty Images Entertainment/Getty Images
David and Victoria Beckham are practically synonymous with the term "power couple." And now. for the first time, in Beckham, a Netflix docuseries that just dropped on the platform on October 4, the couple opens up about one of the "hardest times" in their marriage. Their refreshing honesty, especially in celebrity terms, is a useful reminder that you don't know what goes on behind closed doors — if you're struggling in your marriage, you are not alone, and you can rebuild stronger than ever.
In the fourth and final episode of the series, Victoria Beckham spoke very candidly about the struggles the couple faced in 2003 when they were in Spain, and David was playing for Real Madrid. At that time, allegations that David Beckham had an affair with an assistant were rampant in the press — the couple were navigating a tough time interpersonally but also dealing with the pressures of celebrity. While the couple doesn't directly address the affair allegations, they do acknowledge the extreme pressure they felt at the time.
"It felt like the world was against us," Victoria said. "And here's the thing — we were against each other if I'm being completely honest." That kind of disconnection under pressure can feel (and be) fatal in a relationship — seeing inside a marriage on the other side of that, after almost 25 years together, really is inspiring. "You know, up until Madrid, sometimes it felt like us against everybody else, but we were together, we were connected, we had each other," she continued. "When we were in Spain, it didn't really feel like we had each other either."
At another point, she added: "Did I resent David? If I'm being totally honest, yes I did."
"It was the first time that me and Victoria had been put under that kind of pressure in our marriage," David added. "Every time that we woke up, we felt that there was something else. I think we both felt at the time that we were not losing each other, but drowning."
When a stable long-term partnership suddenly goes wobbly, the isolation can be pretty terrifying. It's easy to resent your partner or feel like it's you against them, instead of you two against the world. It can be hard to get through the day in one piece, much less think about the years to come.
"There were some days that I would wake up and think, 'How am I going to go to work on to that training pitch? How am I going to look like nothing's wrong?' I felt physically sick every day when I opened my eyes,'" David admitted.
It's entirely possible for couples to make it through these tough times, and to emerge stronger and better-connected. The key, according to clinical psychologist Carla Manly, Ph.D., author of Date Smart, who previously spoke with Fatherly, is to be team-oriented, flexible, and empathetic.
David and Victoria are hardly the only celebrity couple who have struggled publicly in marriage. But they are more candid in this docuseries about their struggles than they've ever been, and they seem to offer more real insight than we typically hear from Hollywood couples who may be more PR-minded. To hear the real and hard feelings is a reminder — for everyone — marriage can be gruelingly hard work. Work that has rewards.