Danny Freeman's Sheet-Pan Gnocchi Caprese Recipe Is A Summer Dish To Make Again And Again
The TikTok star, better known as DannyLovesPasta, discusses his rise to fame and parenting hopes before sharing a 20-minute recipe perfect for busy weeknights.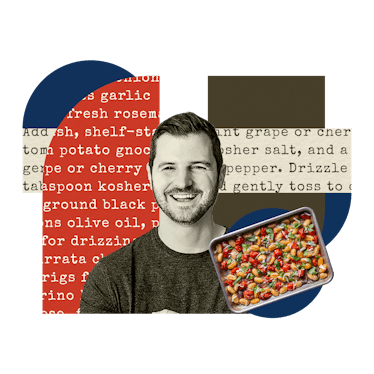 Ariela Basson/Fatherly; Getty Images, Courtesy of Danny Love
We may receive a portion of sales if you purchase a product through a link in this article.
Danny Freeman's kitchen is a magical place — especially to a kid. It's where simple ingredients are transformed into vibrant sheets of dough that are folded and pinched into rainbow-streaked noodles. Familiar characters like Minions and Peppa Pig are brought to life as sauces and soups bubble away on the stovetop. There's always a big colorful bowl of pasta to enjoy.
"We have one of those little towers you pull up to the countertop and my daughter loves to play with the dough," Freeman says with a laugh. "We have a Play-Doh pasta machine, but she likes to use the hand crank of the real pasta machine and we'll put the dough through."
Who can blame her for wanting in on the action? After all, her dad has made a career out of playing with his food.
Better known as @DannyLovesPasta, Freeman is a talented social media chef whose colorful pastas (roasted red pepper tortellini, blue-and-orange farfalle), clever creations (Lorax-shaped lasagna, Lilo & Stitch ravioli), and simple Italian comfort dishes (Lemon Butter Orzo with Roasted Asparagus, Gnocchi Alla Sorrentina) have earned him 1.4 million followers on TikTok.
Pasta has been Freeman's favorite food ever since he was a little kid (a photo of him as a young boy, face smeared in sauce, is in the first pages of his new cookbook, Danny Loves Pasta, which releases June 27). He grew up in an Italian American family in New Jersey where big family meals were the norm. The food was often the work of his grandmother, who taught him the art of pasta-making. While Freeman is close with everyone in his family, the two shared many days in the kitchen as well as an especially strong bond.
"Coming from an Italian American family, the family bond is such a big part of it," he says. "Growing up — and this is probably for everyone — I didn't feel like I fit in and there were times when I struggled, but I always felt like had a place in my family and they always have my back."
Freeman eventually moved to New York, where he became a lawyer, got married, and started a family of his own. But pasta was always on his mind, and his extended family remained a huge part of his life. In December 2020, he was home with his infant daughter and unable to spend Christmas with his relatives due to the COVID pandemic. Seeking comfort, he prepared his family's traditional holiday meal, including his grandmother's fresh pasta. It helped him gain the connection he sought.
A few weeks later, his grandmother unexpectedly passed, and his parental leave was coming to an end. It was a difficult time. To work through his grief, Freeman made fresh pasta every night after his daughter was in bed.
"I just started getting into it," he says. "I liked the way that it was very sort of meditative. It made me feel connected to my grandmother. And then creative."
Eventually, Freeman began posting videos to social media. As his confidence grew, he started to experiment with different colors, shapes, and characters, and opened himself up more to his audience. In addition to his expertly pinched agnolotti and farfalle and clever renditions of comfort foods, he shared personal stories. In one post that helped convince him that his side-project could become more than that, he spoke of his grandmother and her outsized influence.
"A lot of people were writing to me saying, you know, I make recipes for my grandmother, my grandfather, or I'm trying to get into recipes from my childhood," he says. "So, that was a big lesson for me. It's all about connecting."
At the same time, Freeman and his husband were juggling childcare and the courts were about to re-open, meaning their schedules would become much more complex. After some deliberation, he decided to take a one-year leave of absence from work to care for his daughter and pursue his budding pasta career.
"During that time, I was just deciding. Am I going to go back? I loved being a stay-at-home dad, and my pasta-making was taking off a little bit and taking up more time," he says. "By the end of that year, I realized I could make a living doing my pasta and working on my cookbook. It was much more flexible, and so I decided to leave the law behind."
Today, Freeman's social media career is flourishing, and his cookbook is already on the Amazon bestseller list. Best of all, he's able to be with his daughter. "She's amazing," he says. "The best part about my career transition is all the time I get to spend with her."
She's turning 3 in July and "is becoming very opinionated, and very independent," which Freeman describes as both "exciting and exhausting." She loves building blocks and crafts and anything messy. She's currently in a phase where she wants to wear a dress every day and enjoys running everywhere. Freeman and his husband are always chasing her around and trying to keep her busy.
And does she love dad's creations? She's a big fan of pesto, which she calls "green pasta." Her favorite character is Peppa Pig, which is why Freeman devoted a playful series of posts to recreating the long-snouted star. She likes ravioli, too. But she's mercurial about the filling. If she's not in the mood for it, she likes to squeeze the cheese out on the floor for their dog to enjoy.
Ultimately, Freeman sees his role as a dad as one of unending support. It's a lesson he learned from his own family.
"I want her to feel like she doesn't have to do anything to please me, and that she can't disappoint me," he says. "I want her to follow her own path. Whether it's what I would have done or not, I want her to really be the best version of herself. So I try not to raise concerns in a way that makes her feel like she needs to win my praise or to do the right thing for me to show affection for her. I want her to know that no matter what she always has someone who does feel like she's special, and that she deserves the world."
Unsurprisingly, Freeman chose a pasta dish to share for his "Dad Special" that's inspired by his family: Sheet-pan Caprese Gnocchi. A quick, flavorful weeknight meal, it comes together in about 20 minutes. Shelf-stable gnocchi and garlicky cherry tomatoes are roasted in the oven before being mixed with basil, mozzarella, and balsamic dressing. The gnocchi crisp up and the tomatoes become jammy; the basil, balsamic, and cheese bring it together. It's simple, refreshing, and perfect for the season.
"It's the flavors of a caprese salad and feels very summery to me," he says. It reminds him of days spent at the Jersey Shore and the "big, crazy salads" his father would make during that not-quite-dinner-time period when everyone has just returned from the beach and is lounging around.
"It's a very easy recipe to customize," says Freeman. "If you want more cheese, less cheese, more basil, less basil. You can make it your own."
That's something Freeman knows a lot about.
Danny Freeman's Sheet-Pan Caprese Gnocchi
Prep Time: 10 minutes
Cook Time: 20 minutes
Serves: 2-4 people
Ingredients
2 pints cherry tomatoes
1 pound pre-packaged gnocchi
2 tablespoons olive oil
2 garlic cloves, crushed
8 ounces mozzarella balls
¼ cup fresh basil, chopped
2 tablespoons balsamic glaze
Salt and pepper to taste
Directions
Place the cherry tomatoes and gnocchi on a baking sheet. Drizzle with olive oil and sprinkle with salt and pepper. Spread the crushed garlic over top and then lightly mix the ingredients together to distribute.
Bake at 400 degrees for 15-20 minutes, until the tomatoes have softened and started to burst.
Remove from oven and add the mozzarella balls. Return to oven for 1-2 minutes, until the cheese has melted slightly.
Remove from oven again and add the basil, balsamic glaze, and more salt and pepper of desired. Mix ingredients together and it's ready to serve.