Chef Pierre Thiam's Berry Porridge Is A Hit With Picky Toddlers
The Senegalese chef often prepares this breakfast for his two-and-a-half-year-old. It's creamy, comforting, and packed with a secret superfood.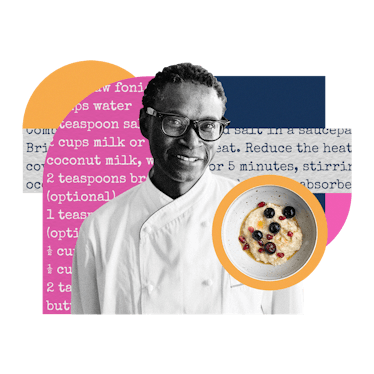 Ariela Basson/Fatherly; Pierre Thiam
Meals served at Chef Pierre Thiam's house are an eclectic affair. Earlier this week, for instance, Thiam, his wife, Lisa, and their two-and-a-half-year-old daughter, Naia, started the day with a traditional Japanese breakfast that includes rice and miso soup (Lisa is Japanese) and ended it with a dinner of Thiam's mafé, a traditional Senegalese stew of lamb and root vegetables in a rich peanut sauce. But anything is possible. "We love food," Thiam says. "We go everywhere for meals: from simple pasta to roast chicken to lamb stew to fish."
There's one food, however, that's almost always part of the family meal: fonio. An ancient grain sustainably grown and consumed mainly in West African countries, Fonio is a type of millet that's nutty in taste, and comparable in texture to couscous. Gluten-free, full of micronutrients and antioxidants, fonio is used in a variety of both sweet and savory dishes, from porridges to pilafs — it's especially good for soaking up the flavors of spices and sauces (that mafé was served over a bed of it). Fonio is sometimes referred to as "the seed of the universe" because it is ultra-resilient, extremely nutritious, and has been central to the West African diet for thousands of years. And Thiam is on a mission to make the superfood a dietary staple around the world.
Born in Dakar, Senegal, Thiam grew up surrounded by the city's rich diversity of West African cuisines, where on practically every corner, he might encounter a different specialty from the region, from akara (black-eyed pea fritters) to crunchy pof pof beignets from the Ivory Coast.
As a young man, he came to the United States in the 1980s to continue his studies and found work in restaurants — he'd learned to cook from his aunt, mom, and grandmother; an uncle from Vietnam also had a major influence on his love of food. Although he enjoyed working in professional kitchens, he longed for the food he'd grown up on — foods like thieboudienne, yassa chicken, and mafé — and made it his life's mission to share West Africa's rich culinary traditions and give back to his home country.
That mission continues to grow. Today, he's the executive chef of Teranga, a fast-casual restaurant that serves homestyle grain bowls featuring dishes from Senegal, Mali, Nigeria, Ghana, and the Ivory Coast. He also co-founded Yolélé, a company that makes and sells packets of quick-cook fonio, fonio pilaf, and fonio chips as well as West African sauces and traditional spice rubs (the products are available in 2,000 stores, including Whole Foods). The company also sells Thiam's cookbooks, which include 2008's Yolélé!: Recipes From Senegal, the first Senegalese cookbook ever published in the English language, and The Fonio Cookbook: An Ancient Grain Rediscovered. (His next cookbook, Simply West African: Easy, Joyful Recipes for Every Kitchen is due out this fall.)
Both Teranga and Yolélé are community-minded enterprises that source ingredients from smallholder farms in West Africa and raise awareness around sustainable, underutilized staples like fonio that could help diversify the world's food supply.
Unsurprisingly, when asked to share a recipe with us, Thiam selected one from The Fonio Cookbook: Creamy Fonio Cereal with Blueberries, Pomegranate, & Brown Butter, a dish he created specifically for Naia and still makes all the time for her breakfast. He likes the contrast of pomegranate and blueberries (and the health benefits of fonio), and Na'ia loves how comforting and colorful the dish is. The brown butter adds a nice bit of richness.
Fonio, like most grains, is simple to prepare. The only step Thiam urges a bit of extra care for is browning the butter. "There's a quick jump from browning the butter to burning the butter," he warns. "Once it starts bubbling, that's when you turn off the heat." The aroma is important. "When smelling the butter, it should be pleasantly nutty."
Thiam says Naia can be picky but generally appreciates most foods. "She especially loves West African and Asian cuisine, the cuisines of her origins," he says. "She has her preferences like anybody, but she has a good balance."
Naia also helps dad in the kitchen whenever she can. "She's my sous chef," says Thiam. "We have a stand designed for her to cook at the counter with me. She picks the herbs, knows the ingredients, comments on what I'm doing."
Fatherhood, Thiam says, has taught him quite a lot about himself. And he tries to view every lesson as a chance to go deeper. It's a mission he takes seriously.
"I am always learning to be patient and knowing that I should take this as an opportunity to grow myself as a human being, as a man, and as a father," he says.
Chef Pierre Tham's Creamy Fonio Cereal With Blueberries, Pomegranate, & Brown Butter
Reprinted with permission from "The Fonio Cookbook," by Pierre Thiam, Lake Isle Press, 2019
Serves 4
Fonio is excellent for breakfast: It is easy to digest and slowly releases energy in your body throughout the day. The choice of fruits is up to you; feel free to substitute those in the recipe with your favorite seasonal fresh fruits. The brown butter is also optional, though it will definitely add a rich, nutty flavor to your breakfast.
Ingredients
1 cup raw fonio
2 cups water
1 teaspoon salt
2 cups milk or full-fat coconut milk, warmed
2 teaspoons brown sugar (optional)
1 teaspoon ground cinnamon (optional)
1⁄2 cup blueberries
1⁄2 cup pomegranate seeds
2 tablespoons unsalted butter
Directions
1. Combine the fonio, water, and salt in a saucepan. Bring to a boil over high heat. Reduce the heat, cover, and simmer gently for 5 minutes, stirring occasionally, until the water has been absorbed. Turn of the heat.
2. Add the milk and stir to combine. Let stand for 1 minute. Stir in brown sugar and cinnamon (if using). Divide the fonio among four bowls and top with the blueberries and pomegranate seeds.
3. In a small pan, cook the butter until it becomes slightly brown and foamy. Drizzle over the fonio and serve.