The 5 Best Hot Dogs For Your Summer Cookout, According to a Chef
You're gonna eat hot dogs this summer. Why not make sure they're the tastiest ones?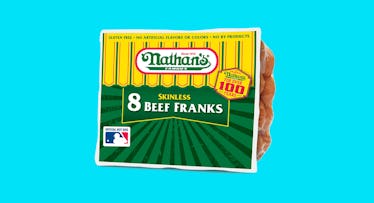 What makes a hot dog worthy of your backyard cookout? With summer officially underway, and the Fourth of July just about here, it's a question we found ourselves pondering a lot lately. And one we decided to ask an expert about.
Claudia Sidoti is the head chef at HelloFresh. After a long career in restaurants (she owned her own NYC spot at age 19), catering, and food publishing (she helped start Food Network Magazine), there's not much in the culinary world Sidoti hasn't explored. And unlike some in the charcuterie community, she's not above grilling up a delicious store-bought hot dog.
"For me, summer officially kicks in after I've had my first hot dog on the grill," she says. "If I host a summer party, I always have hot dogs as a bonus, even if I am doing other things that are fancy."
Sidoti looks for "snap and pop" when evaluating a hot dog. Snap is the texture of the casing and the way it gives in when you bite into it. Pop is the flavor, which should be "a good balance of salty, sweet, smoky and garlicky but without being able to identify any one particular component." But which store-bought hot dog brand does Sidoti recommend? Here are her five favorites.
Hebrew National
Sidoti's number one choice ⏤ and the best-selling hot dog brand on this list ⏤ is Hebrew National Hot Dogs. "While I love that they are all beef," Sidoti says, "really, it's all about the SNAP!"⏤ which comes from a slightly thicker casing. She also praises the balanced flavor of Heebie Nats, as they are affectionately known.
Boar's Head
Boar's Head is a family-owned company known more for its lunch meats than hot dogs ⏤ they're pretty much a staple in delis throughout the Northeast. But Boar's Head also makes a great-tasting hot dog, says Sidoti. "They aren't overly salty, which is a plus, and there's a nice snappy texture."
Nathan's
Nathan's is a skinless dog, so it doesn't have much snap. (It's also less of a choking hazard for kids, FYI.) Still, Sidoti recommends the classic Coney Island hot dog for its flavor alone. There's also a strong case to be made that Nathan's, because of its status in the annual hot dog eating contest on July 4th, is the most festive dog to serve on Independence Day. And if you're planning to eat 72 dogs in 10 minutes, this is the brand for you.
Schaller and Weber
Originally founded by a butcher in Stuttgart, New York-based Schaller & Weber makes a great all-beef hot dog. "The robust natural meat flavor really comes through!" Sidoti says. The all-beef wieners come in a natural sheep casing and are smoked over hardwood. They are also slightly longer than most hot dogs, so if you like your first and last bites to be pure meatiness and unencumbered by bread, look no further.
Applegate Farms Chicken Dogs
All-beef purists can stop reading now. Sidoti doesn't love Applegate's beef dog but admits that "they have a good variety for those who want beef alternatives, like chicken." The dogs are uncured, so they contain no artificial nitrates, and offer a nice healthier alternative for guests who don't want to eat a veggie dog.
Every product on Fatherly is independently selected by our editors, writers, and experts. If you click a link on our site and buy something, we may earn an affiliate commission.
This article was originally published on