Giving Tuesday: The 11 Best Charities To Donate To Right Now
On Giving Tuesday, your dollar goes further.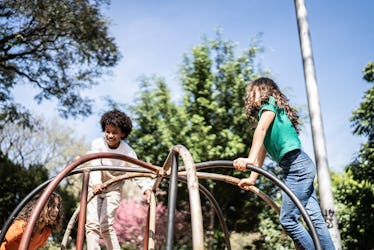 FG Trade/E+/Getty Images
Traditionally celebrated on the Tuesday after Thanksgiving, Giving Tuesday represents a welcome reprieve from the spendthrift consumerism of Black Friday and Cyber Monday as millions donate to nonprofit organizations espousing their values. As the event has grown in size, more and more of those charities have secured matching donations from corporate partners, meaning that money donated on Giving Tuesday tends to go further. This year, Americans will — out of personal conviction and in protest of government policy — donate to migrant rights organizations, environmental organizations, and foundations that look out for the health and wellbeing of children worldwide, but not all of those charities are created equal. Some are vastly more effective while many others invest the bulk of donations into soliciting further donations, offering little activism in return for their supporters' hard-earned money.
For an up to date list of charities to give to on Giving Tuesday, go here.
The list below, which is intended to be timely, includes a variety of non-profits — from RAICES Texas, a migrant advocacy organization, to a playground restoration non-profit — that invest donations into services and good works that need doing.
The Short Pitch: Advocate for kids.The Long Pitch: The Children's Defense Fund helps lobby the federal government and state governments to enact a handful of programs proven to improve the wellbeing of children. These policies aim to end child poverty, increase equity in education, improve children's welfare, and prevent gun violence. CDF also advocates for juvenile justice reform, helping rehabilitate kids who may have committed crimes and diminishing the impacts of juvenile incarceration. Currently, the CDF is pushing for the Family First Transition Act, a total overhaul of America's failing foster and child welfare system. This Giving Tuesday, every donation, including recurring donations, will be matched by an anonymous donor.
The Young Center for Children's Immigrants Rights
The Short Pitch: Guide children through an unjust system.The Long Pitch: In the United States, children as young as two are expected to represent themselves in deportation proceedings. While this is clearly absurd, it's a result of broken immigration policy that does not allow minors to be treated as minors when it comes to immigration court. So, two-year-olds are required to try to establish a credible fear of death or bodily harm in court, and the Young Center for Children's Immigrants Rights aims to help those children by pairing them with court-appointed advocates. The essential non-profit helps unaccompanied migrant minors — there are now at least 4,000 currently in detention across the country — by serving as a court advocate and attempting to help them avoid deportation. The Young Center not only provides children with advocates and attorneys to represent themselves in court but also lobbies to change the system. Ryan Reynolds and Blake Lively are matching every single donation to the Young Center given on Giving Tuesday up to $1 million.
The Short Pitch: Help kids play.The Long Pitch: KaBOOM! builds and maintains playgrounds across the United States. With the majority of American children not getting the physical activity they need daily, KaBOOM! focuses on increasing play space equity by building dynamic spaces in disadvantaged communities (the same communities where many schools have been forced to cut recess and physical education due to decreased funding). KaBOOM! has built 3,100 playgrounds across the country on their own and improved or built upon 17,000 other play spaces. Recently, KaBOOM! Awarded $1 million in grants to the city of Philadelphia to help improve their parks.
Wounded Warriors Family Support
The Short Pitch: Foster better communities for veterans.The Long Pitch: When veterans come home after serving their country, they are often dealing with wounds that may or may not be visible, including wounds left by the stresses and trauma of war. Wounded Warriors Family Support helps provide assistance to the families of those veterans by funding family retreats to places like Yellowstone, where veterans can reconnect with loved ones in a stress-free environment. WWFS also helps those taking care of veterans with supplemental services like housekeeping, helping provide meals, providing child care and transportation services.
The Short Pitch: Fund medical missions to desperate places.The Long Pitch: Doctors Without Borders, known outside Les États-Unis as Médecins Sans Frontières, is an international medical humanitarian organization. Doctors working with MSF offer emergency medical aid to those affected by armed conflict, pandemics, and natural disasters — often working in refugee camps or under the threat of violence. MSF doctors fight ebola, treat Syrian refugees, and care for people in over 70 countries across the world. Their work offers vulnerable populations dignity in care. This giving Tuesday, if you become a monthly donor, your contribution will be doubled for the first six months, thanks to Kent and Mary Taylor.
The Short Pitch: Help reunite families.The Long Pitch: RAICES — also known as the Refugee and Immigrant Center for Education and Legal Services — is a legal aid group that has become the largest immigration legal services provider in the state of Texas. RAICES, which employes 240 attorneys, legal assistants, advocates, provides low or no-cost legal representation to detained migrants and families undergoing deportation proceedings. In 2017, RAICES worked on 51,000 cases without charging a single client for their services. Now, RAICES is working to reunify families who may have been separated at the border through Trump migration policies, helps refer unaccompanied children who are in the Office of Refugee Resettlement (ORR) for legal information and representation in court. RAICES has also provided representation to 90 percent of women detained at Karnes detention center. Beyond helping families with deportation, RAICES also helps families resettle in San Antonio, Texas. They're currently working to reunite at least 200 separated migrant families.
The Short Pitch: Help save the planet.The Long Pitch: The Sierra Club, founded by John Muir in 1892, is a prominent environment nonprofit focused not just on protecting America's national parks and natural heritage. In addition to nature-oriented projects like group hikes aimed at building awareness of the environment, the Sierra Club lobbies for clean energy policies and helps fund an environmental law program. Sierra Club has local chapters you can donate to directly, but also accepts donations to the national organization.
The Short Pitch: Support kids who need it.The Long Pitch: As youth suicide rates skyrocket, the rate of suicide of teens increasing 56 percent over the last decade, the Trevor Project has stepped in to help by running a 24/7 phone and chat suicide hotline for LGBTQ+ youth, responding to some 45,000 individuals a year. Not only does Trevor Project, named after the 1998 film Trevor, help those immediately at risk of self-harm, the group runs a text support line to anyone in crisis. In addition, the Trevor Project funds suicide research and training programs for those offering services to LGBTQ+ youth. This year for Giving Tuesday, Facebook's charitable arm is matching donations.
The Short Pitch: Make a teacher happy.The Long Pitch: If you have a kid in a public school, you've likely heard of DonorsChoose, a nonprofit that's basically a GoFundMe for teachers in need of classroom supplies. Even if you don't know a teacher in need, donors can look into funding campaigns all across the website to help teachers get what they need in their classrooms. Given that teachers on average often spend anywhere from $300 to $700 out of pocket on school supplies yearly, DonorsChoose funding campaigns that help stock class libraries, get Chromebooks in classrooms, pay for art supplies, and supply headphones for kids with sensory processing disorders are deeply necessary. That teachers have to go on something like DonorsChoose is obviously an indictment of public education across the country — but just because it shouldn't have to exist doesn't mean that DonorsChoose doesn't do important work. On Giving Tuesday this year, all donations to DonorsChoose will be matched at 50 percent.
The Short Pitch: Asiste personas desesperado por ayuda.The Long Pitch: This year, No More Deaths rose to prominence when one of the organization's volunteers, Scott Warren, was charged with a felony for providing migrants crossing the desert with gallons of water and shelter. Two trials, which ended with Warren being acquitted of all charges, highlighted a major concern of humanitarian activists: People crossing the border are dying because they food, water, and other basic necessities. In an effort to stop the bleeding, No More Deaths, a faith-based organization, drops gallons of water as well as other necessities across the Sonoran Desert. This giving Tuesday, every single dollar donated to No More Deaths will be directly translated into a gallon of water placed across the desert.
Guide Dog Foundation for the Blind
The Short Pitch: Help people with impaired vision live an independent life.The Long Pitch: Being born blind or developing blindness should not be a sentence of limited mobility for the rest of your life but for many it is. Guide dogs can change that reality drastically by giving those who are blind the ability to move through the world with independence and with dignity. Still, even though guide dogs can be seen by many as an essential social service to the visually impaired, it costs just about $50,000 to raise and train a guide dog. The Guide Dog Foundation does this for free, providing classes and training workshops for their clients and helping visually impaired people work with guide dogs as well.
This article was originally published on