The Best Backyard & Camping Hammocks For Every Activity
From single-person numbers that string up easily and pack down small to monstrous set ups that let three people lounge peacefully.
by Berne Broudy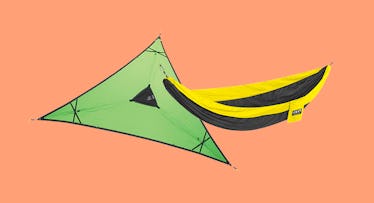 Lawn chairs? Pfffft. In terms of pure comfort, no backyard furniture tops the hammock. With it strung between a pair of trees or on its own independent stand, the fabric canopy is the ideal kick-back spot. Want some sun? Head to the hammock. Working from home? Get a wifi extender and send emails while you sit back and swing. Want to read to the kids under the stars? Hammock time.
When you're shopping for a hammock, consider where you'll use it. If it's staying permanently in your backyard, weight won't be an issue. But if you won't be using it year round, then choose one that you'll be able to store indoors. Some hammocks have spreader bars that mean you have to roll the hammock for storage. Others pack into a stuff sack. If your kids are ruffians, choose a durable hammock not one with lightweight bug mesh that's easy to rip. A lightweight backpacking hammock, while portable, may not stand up to the rigors of everyday casual use.
It's also good to consider how many people will be in the hammock at the same time. Most hammocks are comfortable for one to two people. If you want one that will hold the whole family, choose one with a spreader bar, or with additional attachment points that, when slung, creates a platform not a sling to spread the load.
And if you want to camp out comfortably in your hammock and you live where it's buggy or rainy, buy one that comes with or that you can outfit with a rain fly, a bug net, and other accessories. When you purchase your hammock, be sure to buy the accessories you'll need to hang it. Most hammocks don't come with the straps or freestanding frame necessary to set it up. And if you're going to hang your hammock from trees, choose sturdy trees, buy wide straps, and don't leave the hammock strung to the same place indefinitely—it can damage or kill the trees.
That said, here are four of our favorite hammocks for the backyard and beyond.
ENO Single Nest Hammock
Made by the company that inspired the verb "hammocking," the ENO Single Nest is durable, affordable, and easy to take along anywhere you go with the kids. Made from high strength woven nylon with triple interlocking stitching, it'll hold up to years of wriggling and jiggling and swinging and uh smooching. The Single Nest comes with lightweight aluminum wiregate carabiners that clip to any hammock suspension system. There's a built-in stuff sack for easy packing and, speaking of packing, the single nest scrunches down to grapefruit-size for traveling. Word to the wise: Eno uses fabric remnants to make their hammocks, so if you order online, you may get a slightly different color than you see in the picture. Holds up to 400 pounds.
Byer of Maine Mauritius Hammock
A woven, cotton blend Brazilian-style hammock, the Mauritius has wooden spreader bars at the head and foot, which makes it easier to get into than other similar hammocks as well as less likely to tip, and more comfortable for multiple kids or kid plus parent. The cotton blend fabric is heavier than nylon, but it's cozy feeling all the time; plus, in hot weather it won't feel clammy. The one thing the Mauritius isn't? Compact. It weighs six pounds, and to store it you need to roll it around the wooden bars. Holds up to 330 pounds.
Thermarest Slacker Hammock House
A camping hammock that can also be used as a backyard hammock, the Slacker Hammock House comes with everything you need to sleep out in the backyard, the campground, or the backcountry. The setup includes a polyester ripstop hammock, a rainfly, and integrated mesh bug shelter. It also has tree-friendly suspenders, stakes and cord tensioners. For backyard use, you can skip the rainfly and zip and cinch the bug netting to one side. Just know that it's more fragile than other hammocks. Lightweight fabrics are less tolerant of rough use and abuse, and the bug netting is more fragile than standard hammock fabric. The Slacker Hammock House packs into a single stuff sack, making it easier to keep track of the parts. Holds up to 400 pounds.
Best Hammock For Three People: Tentsile Trillium
The tree fort of hammocks, the Trillium is made for three people. The tensioned triangle platform makes it less likely that you'll roll into each other, whether you're sleeping or just hanging out. The body of the Trillium is made of heavy-duty nylon polyester that's reinforced with more than 60 feet of automobile seatbelt to support the load and keep the hammock flat like a platform instead of slung like a banana. It secures with heavy duty ratchet straps and webbing and the setup is more stable and comfortable than anything else we've tried. Want to use your Trillium to backyard camp? Tentsile also sells a roof you can string above it. The company also claims it takes eight minutes to set up the Trillium. We say the first time it always takes longer. Holds up to 800 pounds.
Every product on Fatherly is independently selected by our editors, writers, and experts. If you click a link on our site and buy something, we may earn an affiliate commission.
This article was originally published on