50 Badass Dog Names for Creatures Large and Small
You're a badass, but your dog's more of a badass — give them a name that counts.
by Jon Gugala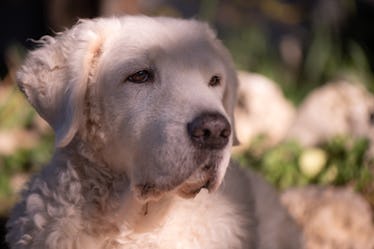 La Su / 500px/500Px Plus/Getty Images
Parents will spend countless hours coming up with a unique baby name but when it comes to dogs — we too often pick a physical characteristic and move one. Right, Spot? Your badass baby deserves a badass name — but the same goes for a badass dog name.
From the grandest Dane to the most minute Chihuahua, this list of wild, surprising, and badass names provides plenty of fodder. Whether you're into art, music, history, or just the ring of the unusual, we've found some of the indisputably coolest dog names for small dogs, big dogs, and every dog in between.
Badass Dog Names From Music
Elvis
Johnny
Sandman
Cobain
Crotchet
Otis
Stallion
Orville
Patsy
Gina
Badass Dog Names From The Arts
Venice
Sistine
Vinci
Dada
Painter
Canvas
Surry
Vincent
Kahlo
Googie
Badass Dog Names From Movies
Rosebud
Rebel
Joker
Hemsworth
Tombstone
Rat Pack
Cheadle
Marlon
McQueen
Redford
Badass Dog Names From Pop Culture
Torta
Rita
South Bend
Mirage
Gawker
Light Beer
Bezos
Recon
Oppo
Ratio
Badass Dog Names Badass Pet Names From Government
Filibuster
Georgia
Caucus
Runaway
Warren
Minnie
Lightfoot
Whitmer
Precinct
White House
This article was originally published on