Andrew Zimmern's Butter-Fried Chicken Is A Crazy Good Family Meal
Elegant, easy to prepare, and extremely delicious, the recipe is one for the regular rotation.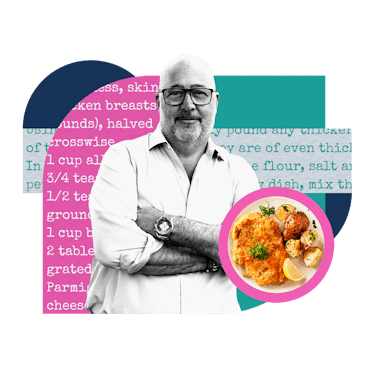 Ariela Basson/Fatherly; Shutterstock, Courtesy of Andrew Zimmern
If you're ever invited to family dinner at Andrew Zimmern's home, there are a few rules to remember: Everyone sits down to eat. You must talk about your day. All diners are required to participate in conversations. And no phones are allowed at the table.
"The only person who gets yelled at about that last one is me," says Zimmern, the bespectacled, James Beard-award winning chef, author, and host best known for introducing viewers to bizarre foods. "I break the rule more than anyone else because there's always someone who's calling me for a reason."
Zimmern admits it's hypocritical to hype up the house rules and then not follow them himself. When the eye rolls and admonishments arrive about why the directives don't apply to him, he busts out a "because it's my house."
"I hated it when my dad said that to me," he says. "But it's coming in handy."
Despite the occasional breach of decorum, the family dinner — and specifically the participatory aspect of preparing the meal and setting the table — has always been a sacred ritual for Zimmern. He considers the act of cooking for and with his family a spiritual practice, "a yoga in the strictest definition." And he understands the power of time around the table, where everyone contributes before gathering to discuss their respective days.
"Even if someone is setting the table, just a simple five-minute exercise in something that produces a joint outcome is so, so, so crucial," he says.
Even if someone is setting the table, just a simple five-minute exercise in something that produces a joint outcome is so, so, so crucial.
While he admits that family dinner in the strictest sense doesn't happen as often as he'd like in his household — sports schedules and other engagements mean that it can sometimes be a bit rushed — Zimmern says he gets everyone fully involved in the process every couple of weeks.
"And then it's like, 'Okay, here's what we're doing. I need your help. We're going to grill. You man the grill. You do this. You take care of the fireplace. You set the table. I need help making 75 pieces of ravioli,' he says. "Whatever it is, I get buy-in on that once every two weeks."
That togetherness is the true nourishment for Zimmern. And for the moment, he's satisfied with how often it happens. It helps that he gets to experience the meal in another way through his series "Family Dinner." On it, he sits down at various households across the U.S., highlighting the unique foods and traditions that bring families together and emphasizing the meal's importance across cultures. It's a showcase of food as a unifying force.
A kid-friendly dinner that often makes an appearance at Zimmern's table — and what he wanted to share for his Dad Special — is his Butter Fried Chicken.
Similar to a piccata, it sees chicken breasts pounded thin, dredged in flour, egg, and breadcrumbs, and then fried not in oil but two sticks of butter. The breasts are then finished in a simple sauce that utilizes some of the butter, as well as bright lemon and briny capers. (Zimmern, who prefers to waste as little as possible, strains and then freezes the leftover melted butter to use for another purpose, be that frying another batch of chicken, starting another sauce, or putting under the skin of a turkey.)
Elegant, easy to prepare, and extremely delicious, the recipe is one for the regular rotation. It'll be all the better enjoyed during a dinner that features contributions from all and good conversation. And, of course, silenced phones.
Andrew Zimmern's Butter Fried Chicken
Servings: 4
Total: 45 minutes
Ingredients
4 boneless, skinless chicken breasts (2 pounds), halved crosswise
1 cup all-purpose flour
3/4 teaspoon sea salt
1/2 teaspoon freshly ground pepper
1 cup bread crumbs
2 tablespoons finely grated Parmigiano-Reggiano cheese
1 teaspoon dried oregano
1/2 teaspoon dried basil
1/8 teaspoon cayenne pepper
4 large eggs
2 sticks unsalted butter
Kosher salt
3 shallots, minced
3 tablespoons capers, drained
1 lemon, thinly sliced
Directions
1. Using a meat mallet, lightly pound any thicker parts of the chicken breasts so they are of even thickness.
2. In a shallow baking dish, mix the flour, salt and pepper. In another shallow baking dish, mix the bread crumbs, cheese, oregano, basil and cayenne. Place the eggs in a medium bowl and beat well.
3. Working with one piece of chicken at a time, dredge in the flour, then dip the chicken in the egg, letting any excess drip back into the bowl. Dredge in the bread crumbs, pressing to help the crumbs adhere. Transfer the chicken to a baking sheet.
4. In a large cast-iron skillet, melt the butter over moderate heat. Add four chicken pieces and cook until golden brown and cooked through, turning halfway, 6 to 8 minutes. Transfer the fried chicken breasts to a serving platter and season with salt. Repeat with the remaining chicken.
5. Add the shallots and capers to the skillet and cook, stirring, for 30 seconds. Stir in the lemon slices. Spoon some of the sauce over the butter fried chicken and serve with the remaining sauce on the side.