A New Hampshire Lodge Offers The Epic Beauty Of A Mountain Vacation — With A Little Less Hardship
Build character in the mountains — but with enough luxury, comfort, and support so as to not scare off the kids.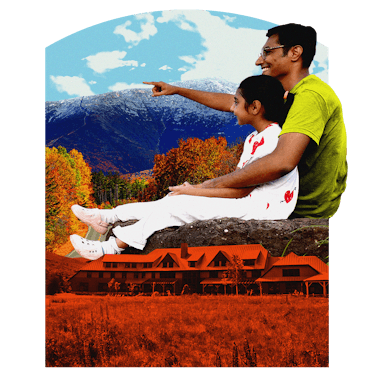 Appalachian Mountain Club
New Hampshire is a rugged beauty. Anchored in the White Mountains, a rocky and tall range covering some 800,000 acres, the state is famous for its mountain culture, which draws tourists seeking rocky crags and incredible vistas, hearty fare and strong beer, and a kind of weathered joy that would feel at home in the Alps. Of course, when it comes to fun in the mountains, there are a lot of incidentals that certain dads might say build character: cold (the peak of Mt. Washington posted a record -108°F last winter), wind (on April 12, 1934, a 231-mile-per-hour gust was recorded by observers at the summit), and, of course, leg-burning and lung-busting ascents. Unless you're looking to drive up Mt. Washington and turn around, this might not seem like the best place for families.
But wait! Parents looking to entice their kids with the rewards and beauty of a mountain vacation without so much character building as to scare them away from the outdoors have an option — and yes, one helluva playground.
Built on the site of the historic Crawford House hotel near the southern base of the Presidential Range, the Highland Center is a lodge run by the Appalachian Mountain Club (AMC), a conservation nonprofit that has been around since 1876 and built up a vast network of campsites, cabins, and lodges that populate the American northeast. The organization's raison d'etre is, in the words of AMC president Nicole Zussman, "ensuring that thousands more people experience that same joy" as she does, waking up every day 4,000 feet above sea level, experiencing views of the untouched forest and fresh air, and summiting the peaks along the Presidential Traverse.
What this means in practice is that the AMC lodge is brimming with accommodating, inviting enthusiasts who want your crew to have the best damn time. When you ask for advice, you're going to get advice — from difficulty levels of trails to weather conditions, highlighted maps, and suggestions for what to pack and wear, and even how much water you'll need. The wilderness knowledge at the lodge is everywhere — quite literally, as the Highland Center is home to the official AMC Library and Archives, with thousands of documents, maps, photographs, and other items that make for brilliant perusing. There are reading couches and cozy fireplaces here for a reason.
The support helps, but the food is your real crutch. While you'll be able to tailor your outdoor adventures to your family's preferences and skill levels, no matter how rainy or windy or scrambly the hike of the day, you'll always start off and end your day with a meal (part of the reservation cost) that is hearty and wholesome and better than it needs to be. This is high-end comfort food that fills you for or after a physical day. It happens to be the kind of fare kids adore. You can grab a beer after dinner and sit by the fire where people just hang out, talking about the weather, views, and what the next day will bring. You'll hear great stories, as this is a popular place for thru-hikers from the Appalachian Trail to pass through and can keep the fun going with guided activities like stargazing.
But about that playground.
A few hundred yards away from the center, along a path that leads to trailheads and the old train depot, is a dreamy, hand-built playground made out of pretty much just wood, rope, and rock. There are boulders to climb, caves to dwell in, rope bridges to cross, and a bunch of simulated terrain that, sure, can get the kids prepped for a real hike but really is just hours of fun. It's maybe not the kind of fun that builds character, per se, but you can just tell it will lead to that.
Highland Center AMC is just near the Crawford Center Depot in Carroll, New Hampshire.
From $252 per night.
Character-Building Hikes Straight Outta The Highland Center
There are plenty of shorter hikes in the area, but you'll have to drive to them and ask for advice. Consider these your bucket-list hikes — straight outta your room at the Highland Center and up to the top.
Distance: 3.1 miles round trip
Elevation Gain: 895 feet
Distance: 4.7 miles round trip
Elevation Gain: 1,935 feet
Distance: 5.7 miles round trip
Elevation Gain: 2,398 feet