Chef Alex Stupak's Dirty Rice Recipe Is A Perfect One-Pot Dinner
The award-winning chef offers his take on the classic Creole dish — as well as some tips for dealing with picky eaters.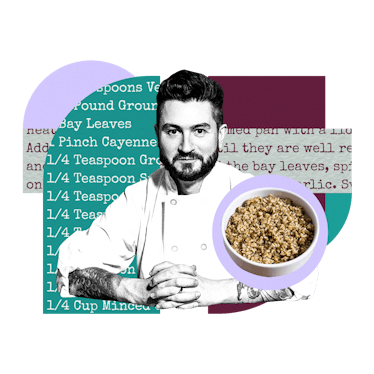 Ariela Basson/Fatherly; Courtesy of Alex Stupak
Pity the poor parent who must follow Alex Stupak on school career day. The chef, set to appear in front of his son's class, is planning to explain a bit about the day-to-day of kitchen life — before teaching the kids how to make ice cream with liquid nitrogen.
"I'm bringing smoke and mirrors and vanilla ice cream," he says with a laugh. "I want to upstage all the other parents."
A former award-winning pastry chef (hence the ease with the nitro ice cream) who left to pursue his passion for tacos, Stupak is most famously the founder and executive chef of Empellón Taqueria and its sister restaurants, Empellón and Empellón Al Pastor in New York City. The restaurants cemented his status as a master of Mexican cuisine — and one of the most creative chefs around. Stupak latest project is the recently opened, and much anticipated, Mischa. It offers an eclectic, ambitious menu of "New American" cuisine that pulls varied influences from across the globe that he hopes will tell a story of how Americans eat.
Stupak also describes Mischa's menu as simply "a collection of dishes that I love and that are personal." One of the most personal is a take on dirty rice. Stupak's dad, Alex Sr. is the son of a chef and restauranteur and had a passion for food. On Sundays, the two would sit and watch PBS programs like Everyday Cooking with Jacques Pepin and The Frugal Gourmet. Alex Sr. would take vigorous notes and pay for transcripts so he could recreate the featured recipes.
The elder Stupak's favorite show was Chef Justin Wilson's Louisiana Cookin'. One afternoon they watched as Wilson prepared the classic Louisiana dish where white rice is made "dirty" with a copious amount of chicken gizzards and livers, among other ingredients. The experience was foundational.
"I joke often that my wife and I are eating glazed-over remnants of macaroni and cheese out of the pot, huddled over the stove."
"It's definitely a fond memory," says Stupak, who chose the recipe as his Dad Special. "I loved it. And if you're interested in trying to get your kids to try new things — and I think liver might be the gauntlet of difficult things to get a kid to try — I love this recipe."
Stupak is now a father himself with two children of his own — an eight-year-old son and a five-year-old daughter. And his version of that dirty rice recipe, made with chicken and not the traditional pork and beef (normally all three are involved), is often prepared.
Lately, he's been sneaking extra vegetables into the recipe because his daughter "won't eat anything." The only way Stupak can get her to eat veggies, he says, is if he peels every bit of green off the zucchini, grates it on a box grater, and incorporates it into various dinners. ("That's a good trick," he says. "If there are children who are extremely averse to green vegetables, that's a way to slip them in there. You grate it and the inside is white and disappears into meals.")
He takes her particularities in stride and finds creative ways to invite her into the kitchen. What's helped recently, he says, is to describe the process of cooking to her as "making potions." He measures out the spices and other mis en place and she adds them to the pot.
His son joins them in the kitchen, too, with his own age-appropriate enthusiasm. Understanding the lifecycle of ingredients helped him considerably. Last year, his son learned how to germinate green beans in science class. He brought them home and they cultivated them together. When they were ready, they made a meal.
"I taught him how to blanch them in boiling salted water, and how to sauté them and brown butter with some garlic, and now that's his favorite," he says.
Stupak manages to make meals at home a few times a week given his schedule. He earns bonus points by occasionally bringing home "cool" ingredients like lobsters that fascinate his kids. But, at the end of the day, he says he and his wife face the food struggles familiar to many parents. "I joke often that my wife and I are eating glazed-over remnants of macaroni and cheese out of the pot, huddled over the stove."
And yes, occasionally they do say, "let's go out to eat" and bring them to Empellón for tacos. "I mean, they freakin' love tortilla chips," he says. "It's sometimes a no-brainer."
Stupak is excited for them to eat in Mischa's airy dining area and enjoy the on-menu dirty rice. He uses Amish chickens. "The gizzards on them are amazing, the liver on them are amazing. And they also have this really deep yellow fat on them," he says. "So in the restaurant, we actually only use the gizzards and the liver, and we actually render the fat from the birds and make our own schmaltz."
Traditionally, dirty rice has almost the same amount of protein as it does rice. But Stupak lightened his version up a bit and made it a bit more rice-forward. The ground gizzards and liver melt in the pan until only small flecks remain. "Mine eats almost like a pilaf, that's studded with those little bits of liver," he says.
"If you're interested in trying to get your kids to try new things — and I think liver might be the gauntlet of difficult things to get a kid to try — I love this dirty rice."
The recipe, Stupak notes, is straight-forward. One thing to keep in mind, he notes, is you do have to be careful when putting the lid on the pot. You want to make sure the flame is nice and low and watch it carefully because it can sometimes catch on the bottom.
If you want to circumvent that issue completely, Stupak offers a pro hack: Before preparing the rice, pre-heat your oven to 350. "When that rice comes up to a simmer and you put the lid on that pot, you can put that whole pot right in the oven," he says. "Then the hot air is much more ambient."
Stupak offers another variation: Rinse the rice, set it aside, sweat your vegetables, add your liver and gizzards, and then put the rice and those sweated vegetables together with the liquid in a rice cooker. Press the sushi setting and let it go. "It comes out great that way," he says.
And when it comes to explaining the components of dirty rice to kids, Stupak shrugs it off. "I think a lot of people don't know what dirty rice it. But I also think that it's a really cool name. And people will often eat things because the name is interesting."
Good branding goes a long way.
Alex Stupak's Dirty Rice
Serves 4-6
Ingredients
2 tablespoons vegetable oil or schmaltz
1/2 pound ground chicken gizzards
2 bay leaves
1 pinch cayenne pepper
1/4 teaspoon ground black pepper
1/4 teaspoon smoked paprika
1/4 teaspoon dried thyme
1/4 teaspoon dried oregano
1/4 teaspoon garlic powder
1/4 teaspoon mustard powder
1/4 teaspoon ground cumin
1/2 cup minced yellow onion
1/4 cup minced celery
1/4 cup minced green bell pepper
2 teaspoons minced garlic
3/4 cup medium grain rice
2 cups chicken broth
1/2 pound ground chicken livers
1 tablespoon soy sauce
1 teaspoon salt
Directions
1. Heat the oil in a heavy bottomed pan with a lid.
2. Add the gizzards and fry until they are well rendered and beginning to brown.
3. Add the bay leaves, spices, onion, celery, green bell pepper, and garlic. Sweat for a few minutes. The vegetables should be soft and aromatic without browning.
4. Add the rice and and stir to integrate it well into the mixture.
5. Add the broth and bring to a simmer.
6. Stir in the chicken livers, soy sauce and salt. Return to a simmer.
7. Turn the heat to low and place a lid on the pot. Cook for 15 minutes.
8. Turn off the heat and allow to rest with the lid on for another 10 minutes. Serve.