Al Frugoni's Grilled Tri-Tip Recipe Lets The Meat Take Center Stage
For this Argentinian chef, open fire cooking is where it's at.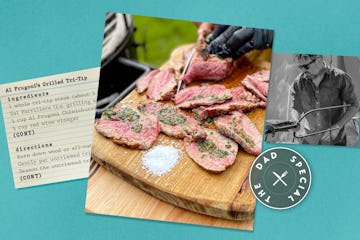 On any given Sunday afternoon, Al Frugoni is likely surrounded by friends and family as he cooks over a fire. Asado — the Argentinian custom that's equal parts cooking technique and social gathering — has been a weekly tradition ever since Frugoni was a boy growing up in Buenos Aires.
"From my earliest memories, we used to go to my grandpa's asado. Then my grandpa passed away and we started doing it at my house. My dad would cook every single Sunday without exception," recalls Frugoni. "It wasn't an obligation. It's part of our culture. That's why I've loved making asado in the United States since we moved here in 2015. Because I'm not only cooking for people, I'm showcasing my culture and my passion."
Currently one of cooking world's most prominent open fire grilling experts, Frugoni blends Argentinian and American barbecue cultures to teach his 1.3 million TikTok followers the joys of asado and inspire them in their own cooking adventures. His crawfish empanadas and creative takes on burgers are fun cross-cultural mashups, though when he's cooking asado for his family and neighbors in Texas, he's usually enjoying a more traditional selection like grilled tri-tip with chimichurri sauce.
Fugoni finds the steak-like tri-tip roast an ideal cut when cooking for groups, and it certainly helps that it's less expensive than other premium cuts of beef.
"Tri-tip is a high-quality beef cut that weighs about two pounds. You can cook it whole, so it keeps more of the juices inside until you slice it, which makes it taste better than some other cuts," he tells Fatherly. "And while tri-tip is tender, it also has a lot of muscular fat and a good layer of fat on one side. That helps protect the meat when cooking it directly over a hot fire and adds great flavor."
Like many Argentinian grilled beef recipes, Frugoni's tri-tip relies heavily on the flavor profile of the meat. Prior to cooking, he removes moisture by patting the meat dry with a paper towel (Bounty Select-A-Size Sheets are a favorite due to their absorbency and variety of sizes), then seasons the roast with only salt in order to draw out natural flavors. Even the presentation and dressing are wonderfully simple. He'll typically add a bit of chimichurri sauce, which relies on vinegar and pepper to add bite. If he's hosting a larger gathering like a birthday party for his kids, he'll sometimes place thin slices of meat between pieces of Italian bread lightly dressed with mayonnaise and tomato so that people can eat while they socialize.
Should you find yourself at an asado, Frugoni assures that you shouldn't be afraid to cozy up to the pitmaster. Cooking takes place in the middle of the party as opposed to on the fringes, and the pitmaster is usually happy to share some laughs as well as some of what they're cooking up. After all, asado is a social event — and that includes the grilling.
"In Argentina, people know that if you stay close to the pitmaster and keep him hydrated, you're going to get the best pieces of meat," says Frugoni. "Because whenever they are serving the table, they always take care of the people who have been around and are making sure they are having fun cooking."
Al Frugoni's Wood-Grilled Tri-Tip Steak
Ingredients
1 whole tri-tip steak (about 3 lbs)
Sal Parrillera (i.e. grilling salt — or other medium grain salt like kosher salt)
½ cup Al Frugoni Chimichurri Sauce Seasoning
½ cup red wine vinegar
1 cup olive oil
Directions
Burn down wood or all-natural lump charcoal to glowing embers until you can hold your hand directly over the grate for approximately 12 seconds.
Gently pat untrimmed tri-tip with Bounty Select-A-Size Sheets paper towels to remove excess moisture.
Season the untrimmed tri-tip all over with the grilling salt.
Expect to grill the tri-tip fat side down for about 80% of the cooking time before flipping for the remaining 20% of the cook. Grill the tri-tip fat side down until it reaches an internal temperature of roughly 110 degrees, which should take about 90 minutes. You will see the juices start to emerge on the uncooked side.
Increase grill temperature to medium heat. Flip the tri-tip and cook for an additional 20 minutes until it reaches an internal temperature of 135 degrees for a perfect medium-rare.
Remove the tri-tip from the grill and let it rest. While the meat is resting, assemble the chimichurri sauce (see recipe below).
Slice the tri-tip against the grain, and serve with the chimichurri on the side. Or, serve thinly sliced on Italian bread with mayonnaise and tomato.
Chimichurri Sauce
Mix a ½ cup of Al Frugoni Chimichurri Sauce Seasoning with a ½ cup of red wine vinegar and allow it to rehydrate for about five minutes.
Add 1 cup of olive oil and whisk or shake in a mason jar to combine.