The Advice Therapists Give Couples Who Have Fallen Out Of Love
Here are the words of wisdom experts tell clients who feel that the spark is no longer there.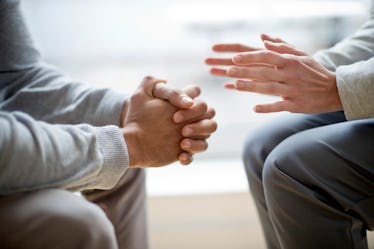 Falling in love is, for the most part, very easy to define. The passion, excitement and connection that two people feel at the outset of a relationship is generally so strong that it's almost unmistakable. However, much harder to quantify is falling out of love. It's difficult to understand the idea because falling out of love doesn't just mean that the passion is gone from your relationship. It's something much deeper and more emotional that's missing. Very often, this happens because couples end up falling into a routine with each other and lose the spark that first drew them together
"Couples who get stuck in a rut may feel as though they've fallen out of love because they're bored," says Amy Morin, a psychotherapist, licensed clinical social worker and editor-in-chief at Verywell Mind. "When they were falling in love with one another, they were most likely curious about one another and had fun learning new things about themselves and their partner. After years of being together, the newness wears off."
However, just because you and your partner may have fallen out of love, doesn't mean that you can fall back in love again. With the stresses of everyday life clouding your passions, you both have to be intentional about rekindling the flame that first brought you together.
"You can fall back in love by treating one another more like you're lovers again," says Morin. "That means acting like you did when you were falling in love — even if you aren't feeling it. When you date one another, treat each other with kindness, and do unexpected things, you can conjure up feelings of romance."
It's not always as cut and dry as that, however. Couples who have fallen out of love must dig deep to find answers and make hard decisions. Here's the advice therapists give to couples who find themselves at this crossroads.
Be Vulnerable
A lack of communication is the first thing that can jeopardize a relationship. If you're looking to reconnect with your partner, that's what you need to take time to do. "Talk about your hopes, dreams, and fears," says Morin. "Discuss things you wouldn't discuss with your friends or extended family. That's what helps separate your partnership from other relationships and it can help you feel romantic toward one another again."
Work Together
If you can both step back and acknowledge to each other that there is a problem with your relationship, you can then commit to working together to change it. This can create a new, stronger partnership in which both of you are fixed on the same goal, namely each other.
"Don't dwell too much on blaming each other," says Becca Smith, a licensed professional counselor and the chief clinical officer at Basepoint Academy. "Instead, work together to identify and fix the root of the issue. This could involve attending counseling, having an open discussion about what needs to change, or exploring new activities together as a couple."
Practice Self Care
It may sound surprising to think of falling back in love with your partner by taking time for yourself, but if you can't be there for you, then it will be impossible to be there for your significant other. "Take some time each day to practice self-care," says Smith. "Doing something for yourself can boost your confidence and open up more discussions with your partner about how you both can become closer."
Be Intimate
This doesn't mean jumping right into bed with each other. In fact, if you're falling out of love, this may not even be an option. But real intimacy between couples comes from physical contact and letting your partner know that you're simply there and wanting to touch them and connect with them physically. "Intimacy is beyond lovemaking and orgasms," says Dr. Tracy Dalgleish. "Couples need to touch each other, including 30-second hugs and six-second kisses. These moments of physical connection release the bonding hormone, oxytocin, and also help reduce stress."
Be Willing to Change
Part of what got you and your partner into this situation is your shared adherence to behaviors and patterns that may have been harmful to the relationship. In order to make a positive leap forward and begin the process of falling back in love, some of those patterns are going to have to be broken. "Make a commitment to work together on resolving these issues and make changes as needed," says Kalley Hartman, a licensed marriage and family therapist and the clinical director at Ocean Recovery. "It's also helpful to remember that although it takes two people to make a relationship work, each individual person has the power to create positive change by actively engaging in self-improvement efforts."
Seek Professional Help
There is nothing wrong with admitting that there are some problems that you can't overcome on your own. If you're open to accepting help, it can go a long way towards both of you learning how to communicate better, reconnect and, hopefully, fall in love again. "Consider seeking out the guidance of a licensed marriage and family therapist who can provide insight into how you and your partner interact with each other, as well as provide practical tools for relationship rebuilding," says Hartman. "Working with an expert in this field can be invaluable in helping you regain closeness and companionship in your relationship again."
If It's Over, Don't Drag it Out
If you and your partner realize that you have irreparably fallen out of love, it's best to break it off sooner rather than later. It may be difficult, and no one wants to look like the villain in the relationship, but it is better for both of you to make a clean break rather than staying together when neither of you are feeling attraction, romantic or otherwise. "Breaking up with a partner can be painful," says Katie Adam, a psychologist at Skills Training Group, "but it's preferable to keeping them with someone who can't love them the way they should be loved. Keep in mind that this is more about how you feel than it is about anything your partner has done, and speak from the heart."