8 Fertility Rites And Rituals From Around The World
A few traditions to cover all your bases.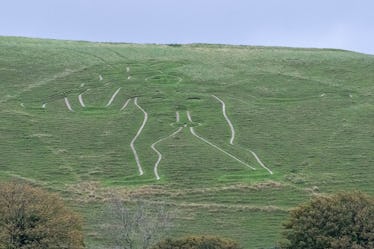 Photography by Dave Bond/Moment/Getty Images
Trying to have a baby, while a lot of fun, can be a real strain if it doesn't happen. It's enough to compel couples to try any number of odd rituals to increase one's chances. Of course, fertility rituals and rites have been used throughout history. A practice with pagan roots, fertility rituals are ancient ceremonies that, when done properly, were believed to increase a couple's change of conceiving.
Statues, special herbs, prayer services, to name just a few, were commonly considered helpful. Fertility rituals are still relied upon all over the world when couples are having problems conceiving. In case you're curious. here are a few enigmatic fertility traditions to cover all your bases. After all, you never know if that giant penis outline in England is going to do the trick.
Fertility Rituals Using Sacred Objects
Fertility traditions around the world are chock full of sacred and magical objects that are said to work wonders on pregnant women. Here are a few you might consider.
The Miracle Chair
The Catholic Saint Maria Francesca of the Five Wounds of Jesus reportedly died in this chair located in Naples, Italy. The saint was canonized by Pius IX who named her the patroness of women with difficulty conceiving. The chair occupies a small apartment in the neighborhood where she lived. The walls of the apartment are covered with birth announcements and women from around the world come to sit in the chair and have their wombs blessed by the nuns who maintain the residence.
Legendary Fertility Statues
Located a bit closer to home, Ripley's Believe-It-Or-Not in Orlando keeps two fertility statues from the Ivory Coast. Carved in the 1930s, the Ripley's legend is that a half-dozen employees became pregnant after touching the sculptures. The oddities museum allows visitors to lay hands on the two seated figures, carved from ebony using primitive tools. And they say there's a strong possibility that guests who do so will be showing off a baby bump. Believe it. Or, you know, not.
Bedroom Dragons
According to Feng Shui tradition, dragons are a fine source of male virility. Experts in the mystic Chinese art of spiritual interior decoration suggest that placing a dragon statue on your bedside table might help get things moving. Though don't go too big lest you lose sleep. It's just one of a handful of home manipulations that Feng Shui practitioners say could increase your fertility. They including not blocking front and back doors and placing a single piece of hollow bamboo in the corner of your bedroom, like you're a panda or something.
Sacred Fertility Locations
Beyond objects, there are said to be places around the planet that are filled with fertile energy. It's just a matter of getting your ticket and sleeping on a giant naked man.
Victor Noir's Grave
There's nothing about the life of French journalist Victor Noir that suggests he would be so powerful in death. After all, being gunned down in a political duel in 1870 doesn't necessarily qualify you as a fertility god.
Nevertheless, Victor's grave in Paris, which features a full bronze statue of his likeness, is visited by ladies on a daily basis. The legend says if she kisses his lips, puts a flower in his top hat, and rubs his bronze crotch, your lady will be in a family way in no time. You can call that a Victor-y.
Cerne Abbas Giant
You've probably seen the giant outline somewhere before. That's because the primitive man depicted in the crude chalk drawing on a hillside in Dorset, England, sports two massive clubs: one in his hand and one between his legs.
The legend says if a woman sleeps for a night on the massive man, she'll be blessed with fertility. But it doesn't hurt that the surrounding countryside has a pretty great birthrate. Maybe it's something in the water?
Chao Mae Tuptim Shrine
Erected in Bangkok, this fertility shrine is located near a hotel. Which is convenient considering you can get a room and test out your new boosted fertility after visiting the phallic monument.
The shrine is said to be inhabited by the tree spirit Chao Mae Tuptim. It's said that if you offer the spirit a penis-shaped object, she will grant you good luck and fertility. She could at least buy you dinner first.
Fertility Rituals
If having a dragon on your bedside table, or having your partner sleep on the ripped abs of a giant English dude, isn't your thing, you might want to try one of the following one-off rituals.
Kanamara Matsuri
This Japanese penis festival occurs every spring and is said to boost fertility while simultaneously helping protect participants from venereal disease. That latter part was the reason the fest was established by ancient courtesans at least.
Nowadays it just looks like a dang good time as people parade a giant pink penis through the local streets. This is one of the few times it appears okay to be a tourist and a dick.
Watering of the Girls
In Hungary, and a variety of other Eastern European countries, girl-watering is actually a pre-Christian cleansing ritual meant to boost fertility in ladies of marriageable age. The ritual, which happens on the Monday after Easter, is pretty simple: The ladies dress up in ritual garb and the dudes just pour water on 'em.
You really don't need to be in Hungary or Eastern Europe in order to perform the watering. But you should probably warn your lady before you dowse her the first day after Easter.
Of course, there's no guarantee that any of these will cause conception to occur. But maybe (just maybe) a little jaunt or ritual performed with your partner will renew your drive to make a baby happen. It can't hurt. At least, not like accidentally sitting on your boys because your undies are too loose.
This article was originally published on