22 Family Adventures For The Bold
For your next family vacation, paddle to your own island, bike from inn to inn, or take a road trip through the most remote regions of the world. What's stopping you?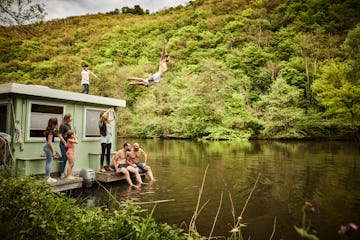 Getty
Sometimes you just want to go to the beach. Swim, lounge, nap, enjoy a cocktail at 4:59 p.m. It's a relaxing vacation but, let's be honest, not very memorable. It's not the kind of time you'll look back on later in life and say, that trip sure was something, wasn't it? "Bucket list," "epic," "once in a lifetime" — these are the descriptors for a different type of vacation. One that requires planning and prep. One that requires patience and some fortitude. An experience that becomes core to the family lore — bringing everyone together with repeated retellings, long after we've settled back into our routines at home.
This list is your launching pad: 22 family-friendly adventures for the bold. The trips all have been experienced by the editors and adventurous friends of the editors of Fatherly, who can vouch that they're the kind of adventure you'll talk about for years to come. These are all suggested with a big caveat: Don't jump into anything that isn't labeled "Easy" if you're new to the activity. Families with young children (under 6) should probably stick to Easy or Moderate. And don't plan a trip based solely on the write-ups below. Planning is part of the fun. Get inspired, do some research, and then call a park ranger (you will find no more helpful person to give a kind but firm real talk). The world awaits.