The Worst States For Working Dads
Data suggests West Virginia, Mississippi, and Nevada are the worst states for working dads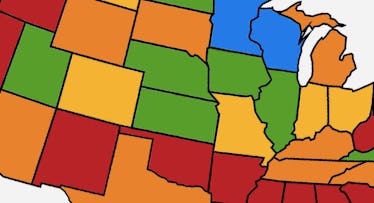 Rejoice, families in Connecticut and Minnesota—those are the two best places for working dads to raise their kids, according to an analysis by WalletHub. The data, culled from public sources including the U.S. Census Bureau and the Centers for Disease Control and Prevention, suggests that fathers in those states benefit from pleasant work-life balances, have ample childcare options, and enjoy the greatest economic, social, and physical well-being. Unfortunately, the same cannot be said for dads in West Virginia, Mississippi, and Nevada.
Here's a map of the best and worst states for working dads:
WalletHub focused on four key factors in their analysis: economic and social well-being, work-life balance, childcare, and health. Each state's final score is the weighted average of its grade on a 100 point scale (so even Connecticut, at 72.58, is barely scratching a C grade).
Consider New York—a solid middle contender, ranking 18 out of all 50 states, with an overall score of 55.51. New York ranked 43rd in the country within the "economic and social well-being" category, which is based on median family income, unemployment rate for dads with kids under the age of 17, rate of kids with dads present who live in poverty, and average high school graduation rate for men. Not a great showing, made worse as it ranked 27th in "childcare" (quality of public schools, childcare costs, pediatricians per capita, childcare workers per capita). But the Empire State made a comeback with "work-life balance", where it ranked 8th overall, largely due to its strong parental leave policies and easy commutes. And New York's relatively low uninsured rate, along with its high life expectancy rate, helped propel it to 13th in the country within the "health" metric. All said, New York's placing 18th out of 50 was not too shabby.
When asked about the biggest issue facing working dads today, sociologist Matthew Weinshenker told WalletHub that men want intense, fulfilling careers as well as deep, personal relationships with their children. Paid family leave policies help, but don't fix the problem. "More young working fathers today want to both support their families economically and actively participate in raising children," Weinshenker says. "The wish to 'have it all' that arose among working mothers in the late twentieth century has now spread to fathers too."
Perhaps wishes do come true in Connecticut. Alas, not in West Virginia.