No One Watches Porn On Friday, But Everyone Watches On Sundays
If dads can make time to watch football, they can probably sneak off for a little porn too.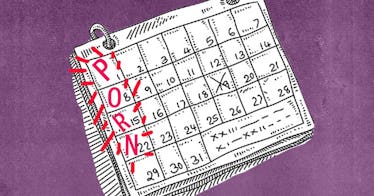 Friday is the least popular day to watch porn, according to a large dataset released by Pornhub as part of the site's annual Year in Review data dump. One key finding: people like to watch porn on Sundays. Friday, not so much. And researchers suspect that it's fathers and family-oriented folk, who are busy on Fridays, who are driving that trend. "Married people have family activities on Fridays and Saturdays. There's no space for self-pleasuring in this narrow window," Edward Shorter, a professor of psychiatry and the history of medicine at the University of Toronto, told Fatherly.
"Sundays offer the best opportunity."
The lack of porn consumption on Fridays makes some sense, Shorter says. Married people are typically trying to unplug from work on Fridays, and have few excuses to sneak off and masturbate. Single people are probably going out on Friday nights. But then, the fairly well-established science of Sunday kicks in. People are more likely to experience insomnia and anxiety on Sundays and studies suggest that, when people are stressed out and unable to sleep, they tend to visit Pornhub.
Another, less intuitive, possibility is that religion may be driving the Sunday porn spike. Studies have shown that the most religious areas of the country have the highest rates of porn consumption, and men who try the hardest to abstain from porn as a result of religious and cultural pressures are, in fact, the most likely to click wantonly. "Experiential avoidance is essential a form of coping that involves avoiding something uncomfortable at all costs," Nicholas Borgogna, a doctoral candidate in Clinical and Counseling Psychology University of South Alabama who has studied this phenomenon told Fatherly. But it tends to backfire. "In other words, the more you try not to think about porn—the more you think about it."
Although it sounds plausible that porn searches peak on Sundays and dip on Fridays, both Borgogna and Short are hesitant to rely on dubious Pornhub's data. Even if it's true, psychophysiologist and neuroscientist Nicole Prause, who studies porn, sex, and masturbation, told Fatherly that the finding is probably far less interesting than it sounds.
People simply have more free time on Sundays, and less on Fridays. And when people have free time, they masturbate. "Just as people are more likely to have sex on a Sunday likely due to more free time, those who do not have a partner are more likely to masturbate when they have more time to do so," Prause says. "There is no reason to think these data reflect anything other than when people are more likely to have free time to enjoy themselves sexually." Case closed.
This article was originally published on