Why Dutch Children Are The Happiest In The World
A lack of pressure and an emphasis on independence are among the key factors that make kids in the Netherlands so happy.
by Patrick Maynard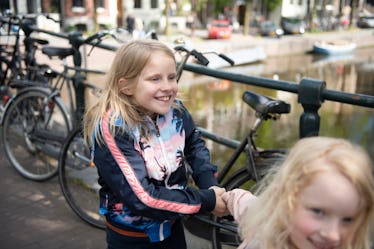 Lucy Lambriex/Getty
If you're a 9-year-old child in Amsterdam's Zeeburg neighborhood and want to go to the main library in the Dutch capital, you have a few options. You can walk to the building, taking tree-lined streets and paths that run along the canals until you reach your destination about an hour later. You can take the number 22 bus, which will be free, thanks to a program that started this summer, or the similarly free number 14 tram. Or you can bicycle, which will be easy, since Amsterdam boasts some of the best cycling infrastructure in the world. In any case, there's a good chance that you will make your way to the city's central public book collection without the supervision of a parent. And your parent will probably be fine with that.
"In the Netherlands, as well as in Germany, autonomy and independence in children is considered important," Dutch child psychologists Cecile Gunning and Claudine Dietz told Fatherly in an email. The school system, they say, is less performance-oriented than in other countries, with kids trusted to spend time playing, building social skills, and setting their own priorities.
This trust from parents and teachers, along with the independence it leads to, are key reasons that Dutch children are ranked among the happiest in the world. The country's emphasis on cycling and transit infrastructure, which facilitate kids' autonomy, doesn't hurt either, says Lisa Corrie, a Netherlands-based education consultant. Nor does the relatively low level of inequality in the country, as inequality can lead to a society where people are less trustful of each other.
All of these factors lead to happy children, and other countries could learn a lot from how the Dutch raise such happy kids.
What Makes Dutch Kids So Happy
According to a recent UNICEF report, the Netherlands ranks 1st in child wellbeing out of several dozen countries studied, with Denmark and Norway following in the rankings. Among English-speaking countries, Ireland ranks highest, coming in 12th, with the U.K. ranking 27th, Canada 30th, Australia 32nd, New Zealand 35th, and the United States 36th.
Because of Dutch society's relative emphasis on cooperation, social learning, and equality over individual achievement, there's "less pressure on kids to perform academically in school," Corrie says. Students don't get any homework until after the primary years. However, children still learn a lot just by exploring the world around them on their own terms: The Netherlands ranks 3rd for academic, social, and emotional skills.
Additionally, 90% of Dutch children rate themselves as "reasonably satisfied with their lives," according to the report. In many cases, this is in large part because their parents use an authoritative parenting style, Dietz and Gunning say, where children are trusted with many choices but parents make it clear that there are some non-negotiables.
One area where the report ranks the Netherlands a bit behind other European countries is parental leave: It ranked 30th out of 41 countries. Dutch parents receive 16.4 weeks of paid parental leave for each child, according to the report. Compared to the U.S., where no paid parental leave is mandated, the Netherlands' parental leave policy may seem generous. However, countries like Estonia give nearly two years per child.
A strong work-life balance makes up for some of the missed parental leave in the Netherlands, Corrie says. Many parents have significant flexibility in how they work. "They have 'mom/dad days off' with their kids, normally Wednesday and Friday. Kids in general have their parents more available to them and time together."
The presence of cycling infrastructure is especially helpful in making kids happy, according to a 2022 report from the Dutch Cycling Embassy (DCE), an organization that shares Dutch expertise on biking. Along with improving kids' ability to move and grow independently, cycling has been shown to boost production and uptake of neurotransmitters such as serotonin and oxytocin, along with general health.
The Netherlands was home to two of the world's top 10 cycling cities in last year's Euronews rankings. Even outside of the major cities, Dutch cycling routes — along with the rail transit needed to connect them — are well-developed. According to the DCE, of all countries worldwide, "the Netherlands has the highest bicycle use." In the Dutch capital, Amsterdam, bicycles even outnumber residents. In addition to fostering children's independence, the prevalence of cycling may also contribute to the Netherlands ranking 9th for kids' physical health.
Corrie says that other big factors helping Dutch children stay happy include a focus on social learning and less "fussing" by parents over children's behaviors, along with plentiful access to nature.
Paradise Isn't Perfect
With all that said, there are still some potential downsides to growing up in the Netherlands.
For one, climate anxiety among young people is high in a country where half of the land mass is below sea level. "We're all afraid for our future," teen climate organizer Joshua Paans told Dutch News in 2021. "The scary thing is, it's not just about our future anymore, it's about our present. We're seeing it all around the world; climate change is here, and if we don't act now, it will only get worse."
(Things have only become more urgent for low-lying Dutch households since then: In the first week of July this year, the global record temperature was reached on four separate days, with each record eclipsing the previous one.)
There are also occasional social difficulties. Gunning and Dietz say that parental leave still tends to be uneven from a gender perspective, with women giving up more time from their careers than men. This can lead to an imbalance in the number of strong female role models on a professional level as girls choose careers.
Gunning and Dietz also argue that blunt honesty, which many Dutch people see as admirable, can be viewed by outsiders as harshness. "Children learn very early… to give their opinion and to share their thoughts," they say, and not always in the nicest of ways. So if Dutch kids grow up to work internationally, they may face adjustment problems.
"Dutch children are assertive, but sometimes also rude," they say. "Setting boundaries is not a talent of many Dutch parents."
Patrick Maynard's writing has appeared in more than a dozen publications; he reported this story from Amsterdam and Berlin, with edits in Vilnius. View more of his work at http://home.patrickmaynard.com.