Why Do I Have Dry Skin On My Penis? A Urologist Explains
Dry skin often means itchiness and irritation, and below the belt isn't a great place to feel either of those sensations. This is how to fix it.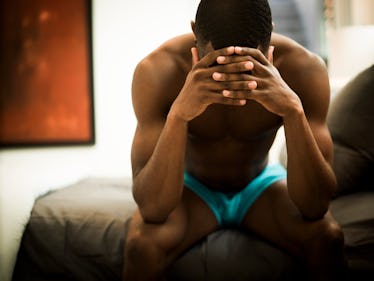 Brooke Fasani Auchincloss/Getty
The skin on the penis, like any other skin on the body, can get dry at times. But unlike rough hands of scaly legs, dry skin on this sensitive spot can be especially uncomfortable, unsightly, and a source of insecurity. There are many reasons why sudden dryness and flakiness might overtake your genitals, but it's generally not something to be overly worried about, says Anika Ackerman, M.D., a urologist and aesthetic medicine expert at Garden State Urology in Morris County.
Luckily, you can take care of dry skin on your penis by yourself with home remedies and small tweaks to your hygiene routine. Here's how.
What Causes Dry Skin On The Penis?
There are a number of potential causes of dry skin on the penis — everything from how you wash your body to an infection can trigger it. This includes:
Harsh soaps. The use of harsh soaps or detergents on your penis can strip the skin of its natural oils, causing it to become irritated and dry. This may be the root of your problem if you recently switched to a new body wash or soap in the shower, or if you've been bathing more than usual recently.
Allergies to detergents. If in addition to your dryness, you've also been experiencing itching or redness, you may be allergic to a new shower soap or laundry detergent.
Lack of lubrication. "Masturbation or intercourse without proper lubrication can lead to irritated and chapped skin," Ackerman says. Be sure to use enough lube when you have sex or masturbate to avoid this.
Systemic skin conditions. Have you ever suffered from a skin condition on the rest of your body? Conditions such as eczema and psoriasis can crop up on different parts of the body over time. Eczema, also known as atopic dermatitis, is a skin inflammation that flares up in a red, dry, itchy rash. Psoriasis is a skin disease that causes similarly patchy, scaly rashes, but it's most common on the scalp, elbows, or knees.
Localized skin conditions. "Balanitis is specifically inflammation of the foreskin and glans of the penis," says Ackerman. It only occurs in uncircumcised men, and it's fairly common among them, affecting about 3% to 11% of men during their lifetime, according to a medical review.
Fungal infection. Your genital area can develop a fungal infection — jock itch, specifically, is a fungal infection that affects the genitals, buttocks, or inner thighs, and it's usually caused by trapped moisture in the area. It's common among athletes, hence its name. Jock itch can be caused by wearing tight-fitting clothing, sweating a lot, wearing your wet, tight bathing suit for long periods of time, or sharing a damp towel with others.
How Can I Treat It?
Just like there are many different causes of dry skin on the penis, so too are there a number of remedies to treat it.
First, be sure to keep the area clean, dry, and moisturized. After bathing or showering, apply lotion to the affected area. Wear breathable underwear and loose-fitting clothing, because this avoids rubbing and friction, and makes sure that the area remains clean and dry. Doing so can solve most cases in a week or less.
If you think your dry skin is caused by a detergent that's either too harsh or giving you an allergic reaction, try using a mild, fragrance-free soap or cleanser to clean the area. "Read labels and use just water or mild soaps meant for the genitalia," Ackerman says.
Make sure you're having sex in a way that won't worsen your condition. "When choosing lubricants, water-based are the least offensive," says Ackerman. "Also, always use ample lubrication during intercourse or masturbation when possible to limit excess friction."
In most cases, these remedies will be sufficient to alleviate dry skin on the penis. If these small changes don't work and the dryness, itchiness, or redness persists for longer than a week — or it's accompanied by burning, pain, swelling, or foul odor — it might be a skin condition, a fungal infection, or another type of infection that needs to be checked out by a medical professional who can recommend a cream or other treatment.
"For balanitis, I typically prescribe a combination of antifungal and steroid creams," says Ackerman. "For recurrent balanitis, circumcision is a possible solution."
Topical antifungal creams or powders will help to clear fungal infections up, she says. "Avoid intercourse while treating a fungal infection, as it can be contagious."
But overall, don't sweat it too much. Your healthcare provider can easily resolve any of these types of dry skin on the penis in a matter of days or weeks. In the meantime, just give the little guy some rest.